Sign up for the Family Tree Newsletter Plus, you'll receive our 10 Essential Genealogy Research Forms PDF as a special thank you!
Get Your Free Genealogy Forms
"*" indicates required fields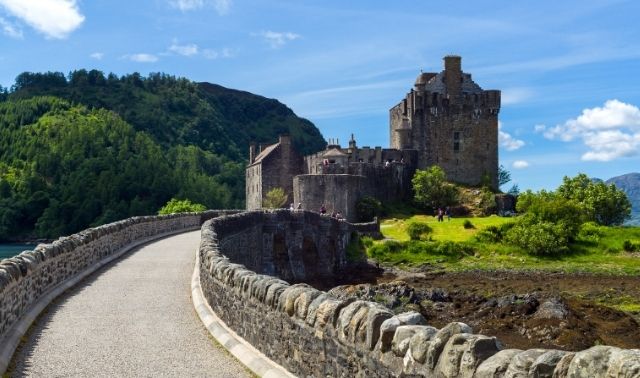 You don't have to be a genealogy buff to recognize that Scottish heritage is tightly woven into America's cultural fabric. We're not just talking about a fondness for plaid or the popularity of golf and movies such as Brigadoon and Braveheart. With 9.2 million people claiming Scottish and Scots-Irish ancestry, Scottish-Americans are not only the United States' eighth-largest heritage group — they outnumber the 5 million Scots in Scotland nearly 2-to-1.
That adds up to plentiful research opportunities for those who want to trace their Scottish family trees. When I began researching my Hume/Home family, who left Edinburgh for Spotslyvania County, Va., in 1740, I had no idea of the depth and breadth of Scottish records online. For someone who specializes in US genealogy, it was thrilling to make the jump over the pond and discover a rich heritage dating back to the 1200s. You can make that exciting leap, too, by following the advice in this guide.
1. Learn About Scotland's Rich History
Scotland's turbulent and violent history can (and does) fill volumes, going back thousands of years. Its written history, however, begins about the time the Romans pushed into Britain, and the famed Hadrian's Wall separated Caledonia (the northern part of the island, or what's now Scotland) from the Roman Empire.
From its beginnings, Scotland seemed to be a favorite target for invasion, enduring attacks from Britons, Anglo-Saxons and Vikings. As a result, Anglo-Saxon (a variant of English) became the predominant language in Lowland Scotland, while Highlanders primarily spoke Gaelic.
Some of Scotland's most important historical events relate directly to the tug-of-war with England for control over the country. Although William Wallace defeated Edward I at the Battle of Stirling Bridge — depicted in Braveheart — and Robert the Bruce defeated Edward II at the Battle of Bannockburn in 1314, constant warring between the two countries continued.
Wars were fought over allegiance to England, religion and succession to the crown. Calvinist preacher John Knox led a religious "revolution," resulting in Scottish Parliament adopting the Scot's Confession in 1560. Although Protestantism spread throughout Scotland, Catholicism remained the chief religion in the Highlands. The con-flict culminated in England's Elizabeth I, a Protestant, famously ordering the execution of her Catholic cousin, Mary, Queen of Scots in 1587.
In 1603, Mary's son, James VI, became James I of England and politically united the two countries. Then in 1707, James' political unification became legal: The Act of Union abolished the English and Scottish parliaments and established the Parliament of Great Britain.
2. Study Scotland's Emigration and Immigration Waves
Scotland's historical unrest led to several key periods of emigration and immigration, which may explain your ancestors' movements — and guide your research. Below are some of the most significant waves on record:
English Civil Wars (1642 to 1651)
This "Great Rebellion" pitted royalists, who were loyal to King Charles I, against "roundheads," the Puritan supporters of English parliament. During the "Scottish Campaign" of 1650 to 1651, English Gen. Oliver Cromwell transported thousands of Scottish soldiers to the Americas.
Jacobite Rebellions (1715 and 1745)
Known as "The Fifteen" and "The Forty Five," these uprisings aimed to return Stuart kings to the thrones of England and Scotland. The attempts failed, but they did result in Highlanders moving to the Lowlands, and 1,600 Scots being banished to the American Colonies.
Lowland Clearances (1760 to 1830)
As tenant farmers were forcibly removed from their farms, tens of thousands of Scots left for Canada and the United States.
Highland Clearances (late 1700s to 1870s)
Highland Scots also were forcibly displaced, to the lowlands and coastal areas. Some evictions were so brutal that modern historians have labeled them as a variety of ethnic cleansing. As a result, waves of Highland Scots immigrated to the Carolinas, Nova Scotia and elsewhere in Canada.
Scots-Irish Emigration (1600s on)
During the 17th century, at least 200,000 Presbyterians migrated from Lowland Scotland to Ulster (in northern Ireland); ultimately, 2 million of their descendants — known as the Scots-Irish, or Ulster Scots — would immigrate to North America. That includes 250,000 Scots-Irish who came to the American Colonies from 1717 to 1775, settling mainly in the Carolinas, Pennsylvania and Virginia. (For help researching ancestors in Ireland, see the March 2008 Family Tree Magazine.)
Even as early as the 1790 US census, more than six percent of America's population came from Scottish origins, with the majority living in Virginia or North Carolina. As a group, Scottish immigrants settled primarily in the Mid-Atlantic and Southern Colonies, although many went west to the wilderness, and became one of the dominant groups in backwoods Tennessee and Kentucky.
The Immigrant Ships Transcribers Guild has passenger manifests for ships that left Scottish ports from the mid 1700s to early 1900s.
3. Trace Your Roots Back to the Homeland
In this land of big history, big battles and big emotions, where should you start your family search? As with all other genealogy research, the first key to trekking up your Scottish tree is talking to family members. Find out as much as you can about which ancestors lived in Scotland and when. The most important information to gather is the first name, surname and date of birth, death or marriage of one of your Scotland-born ancestors — those facts will open your door to Caledonia.
If your relatives don't know specifics (or if you want to confirm what they tell you), you can track down this information in U.S. sources such as passenger lists, naturalization records and obituaries. Resources such as P. William Filby's multivolume Passenger and Immigration Lists Index and searchable at Ancestry.com ($189 per year), are good starting points. You might also look to FamilySearch's International Genealogical Index, which includes data extracted from Scottish parish records.
You'll quickly discover a plethora of Scottish genealogical guidance, databases and records online. Our choice for a jumping-off place is the national tourism agency's VisitScotland, an in-depth site on Scottish history and ancestry research.
You might then head over to FamilySearch to view the Scotland Research Outline, which provides details on available Scottish records. Pay special attention to the Historical Geography and Maps and Gazetteers sections: Because Scottish records are kept and filed by locality, you'll need to understand the country's modern and historical administrative divisions to know where to look for your family — and to be sure a record actually describes your ancestor, not someone else of the same name.
The key jurisdiction to learn is your family's parish: Before civil registration began in 1855, churches recorded vital events (collectively, the records are called "old parish registers"). Even after that, the civil registration districts in rural areas generally coincided with those of the parishes.
Note, too, that "shires" in Scotland are roughly equivalent to counties. Scotland changed its county boundaries significantly in 1975; the map shows the earlier counties for research purposes.
4. Track Down Scottish Records
Scotland is one of the friendliest countries for online family tree climbers — due in large part to ScotlandsPeople. This official government source for Scottish genealogical data represents the motherlode: 50 million records spanning the 1500s to 1900s. Those include civil registrations (which started in 1855; birth records are restricted for 100 years, marriage records for 75 years and death records for 50), old parish registers (documenting births, baptisms and marriages from the mid-1500s until 1854), census records (every 10 years from 1841 to 1901), and wills and testaments covering 1513 to 1901. The site is a joint venture of Scotland's three main record agencies: the national archives, General Register Office and Court of the Lord Lyon (heraldry).
Browsing the indexes won't cost you anything; however, if you wish to look at or download any records or images for reference, you will have to purchase credits and make use of the website's pay-per-view system. For example, you can buy 30 "page credits" for 7.50 pounds (about $10), which are good for two years. You can find a breakdown of costs for various records on the ScotlandsPeople website. US researchers used to free government Web sites might bristle at the fees, but it's no more expensive than ordering films from the Family History Library, and you get instant gratification.
That said, before shelling out any money, take time to review the excellent FAQ section, which answers questions about what to expect in any set of records, and what notations in record margins might indicate.
You'll also find helpful free goodies on the site. Click the Help tab and use the left-side menu to access Research Tools, including an occupations glossary, handwriting help, medical terms and information about everyday life. I especially liked the section that chronicles daily life, whether in a humble cottage or a country mansion. Be sure to explore the Help With Searching and Getting Started areas — they're chock-full of valuable tidbits for getting the most out of the records.
The National Records of Scotland
In April of 2011, the General Register Office for Scotland (GROS) and the National Archives of Scotland merged to become one powerhouse of record keeping: the National Records of Scotland. The department retains birth, death, and marriage records from as far back as 1855 and is now Scotland's main archive for all vital-events documentation. This includes the church records that predated civil registration (parochial registers, 1553 to 1854), as well as military vital records, such as deaths of soldiers in wars and military stations abroad.
Among the most important for genealogists are wills and testaments (available on ScotlandsPeople), maps, Church of Scotland and non-conformist church records, deeds and sasine records (documenting changes in land ownership), and land valuation rolls.
Through the online catalog provided by the former National Archives of Scotland, I was fortunate to find detailed information via a search on James Home, one of my distant Scottish kin. The records detailed information about six brothers in the family who were known as the "Spears of Wedderburn," along with data on their spouses, and the land they owned.
Today, the National Records of Scotland maintains several catalogs from which to mine valuable records, including:
Family History Library
In terms of records access, the next-best thing to ScotlandsPeople — or the best thing, if you prefer scrolling microfilm — is the Family History Library (FHL). The FHL has many Scottish birth, death, marriage, land, census, probate and military records on microfilm, which you can rent for viewing at your local Family History Center.
You can use two tools to identify relevant films and FHL resources. My favorite is FamilySearch's Research Guidance. Choose a record type (birth, marriage or death) and time period, and you'll get search strategies and links to FHL holdings.
Alternatively, you can search the FHL catalog directly. Start with a place search on your ancestors' town or parish, then click the subject heading of the records you want — civil registrations, church records, land and property, and so forth. Cast your net wider by doing keyword searches on place and ancestral names. (Note that FHL books don't circulate to FHCs.) Sure, your Scottish ancestors' legacy is one of fierce battles and political tumult — but you won't face the same struggles in tracing them. With all these resources at your disposal, you'll soon be weaving your forebears' stories into your family tree.
5. Focus on the Names
Your name is more than a string of letters that your friends and acquaintances use to identify you; it can also reveal a lot about your Scottish heritage. For one, Scottish naming traditions looked fairly predictable: the firstborn son would take the name of his father's father. His younger brother would get his mother's father's name. This pattern worked similarly for girls: the firstborn daughter received the name of her mother's mother, the second-born daughter the name of her father's mother. As a result, a single family might have several people with the same name. Before you get too overwhelmed, though, understand that you can adopt a strategy for telling all those Grahams and Graces apart: you can zero in on middle names.
Of course, that distinct naming pattern covers only first names. What about surnames? This is where some knowledge of Scottish clans could come in handy. Many people associate clans with close-knit family structures, which makes sense when you consider that the word clan is derived from clann, Gaelic for children.
However, it is important to note that just because your family lived on clan estate and assumed the clan name does mean that they shared blood with the clan chief. Taking the clan name was often a practical move rather than a family obligation. For example, your ancestor might have settled on the chief's estate and decided that it made sense to claim his name.
Want to plan an itinerary around places significant to your clan? Click over to VisitScotlands's Clan & Ancestry Tours section for suggestions on day-by-day tours. For example, if you opt for the Campbell or MacLean tour, you can expect to travel to Inverness.. Alternatively, companies like Celtic Journeys arrange group trips and private tours.
For help planning your own trip, consult Frommer's Scotland's Best-Loved Driving Tours by the British Automobile Association (Frommers) and Top 10 Scotland by Alastair Scott (DK Travel).
From the November 2008 Family Tree Magazine