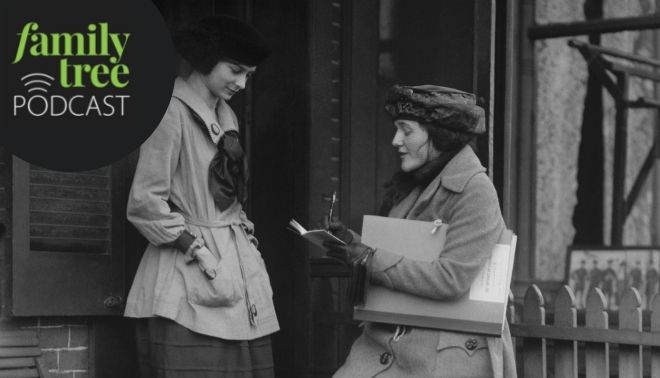 In this episode we get some tips from the experts on using census records to discover your ancestors.
Ep. 12: May 2009
In this episode:
---
The Editor's Desk with Allison Stacy

To kick off this census-themed episode, Lisa and Allison talk about Family Tree Magazine's upcoming webinar Online Census Secrets: Best Web Sites & Strategies to Find Your Ancestors—one of a new series of Family Tree Magazine online workshops. Plus, a contest to win a free genealogy class from GenClass.
Listen to the episode for details, then submit your entry via e-mail by May 30.
---
News from the Blogosphere with Diane Haddad
Genealogy Insider and managing editor Diane Haddad joins Lisa from the National Genealogical Society conference in Raleigh, NC, where she reports on breaking news out of this annual genealogy community gathering.
Visit the Genealogy Insider blog for more details and updates from the conference.
---
Top Tips: Census Clues
The US census is more than those every-10-years head counts—several types of "special censuses" may also hold ancestor answers. In our Top Tips segment, Curt Witcher, department manager for the Historical Genealogy Department of the Allen County Public Library in Fort Wayne, IN talks about the content of these records and where to use them. Read our complete guide to nine types of special censuses in the July 2009 issue of Family Tree Magazine.
---
Best Websites: Footnote
Lisa chats with Footnote's Justin Schroepfer about what's new on the historical records subscription site, including a way to memorialize relatives on Facebook.
---
Best of Family Tree Magazine: Searching Censuses Online
In our last census-related segment, Family Tree Magazine contributing editor David A. Fryxell shares some of his tips for searching censuses online, from his articles in the April 2005 issue and the May 2007 issue.
---
Your Host: Lisa Louise Cooke
Listen to Lisa Louise Cooke's Genealogy Gems and Genealogy: Family History Made Easy podcasts in iTunes and visit her website for great research ideas, podcast episodes and videos.
Have fun climbing your family tree!