Sign up for the Family Tree Newsletter Plus, you'll receive our 10 Essential Genealogy Research Forms PDF as a special thank you!
Get Your Free Genealogy Forms
"*" indicates required fields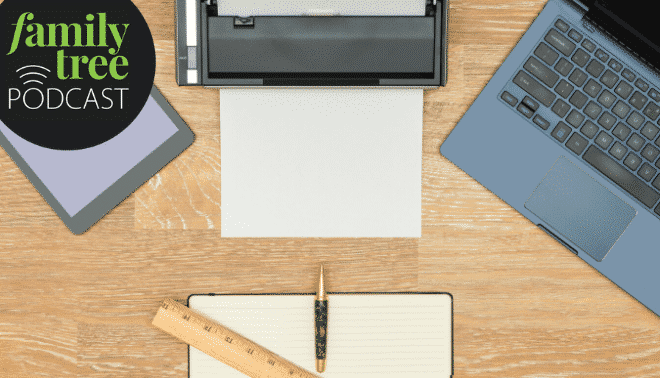 Scanning documents and photos is an important step in preserving family history – but what about those items that are hard to scan (like slides and photo negatives)? In this episode, learn how to scan these items and overcome more common scanning challenges.
Ep. 150: June 2021
In this episode:
---
Tree Talk (01:16)
Family Tree Magazine New Media Editor Rachel Fountain shares readers' thoughts on a place that genealogists know well: the cemetery! See all the reader responses to this discussion question and sound off with your own thoughts on Facebook and Twitter.
Explore Rachel's favorite cemetery, Spring Grove Cemetery and Arboretum in Cincinnati, Ohio.
Be sure to follow Family Tree Magazine on Facebook, Twitter, Pinterest, Instagram and YouTube.
Subscribe to the Genealogy Insider newsletter, sent weekly on Thursday.
Find our podcast listening guide at the link below!
---
Featured Interview: Overcoming Scanning Challenges (07:46)
Though scanning technology has improved over the years, there are still things to consider before you get started. Author Rick Crume's new article Scan-Do Attitude appearing in the July/August 2021 issue of Family Tree Magazine explains how to scan oddball items, such as photo negatives and oversized documents.
Rick's Recommendations
---
DNA Deconstructed: DNA Tests & Privacy (22:04)
It can be fascinating and fun to get your DNA tested and find genetic matches. But with DNA testing comes concerns and questions about privacy. Your DNA Guide Diahan Southard is back to help answer those questions.
---
Best Genealogy Websites: Photo Editing Tools (31:12)
These days there are tools available to not only enhance and fix old photographs, but turn black and white into color. But how much should we be altering our family photos? In Sunny Morton's new article called Touching Up Your Roots she asks the experts to share their opinions and provide a comparison of two of the top photo-colorization tools to help you decide.
Featured Websites
---
Editor's Desk: New 101 Best Websites Page (44:33)
Digital Editor Courtney Henderson tells us about a newly-updated Best Websites landing page.
---
Your Host: Lisa Louise Cooke
Listen to Lisa Louise Cooke's Genealogy Gems Podcast in your favorite podcasting app or with the Genealogy Gems Podcast app in your app store, and visit her website for great research ideas, podcast episodes and videos.
Have fun climbing your family tree!