Sign up for the Family Tree Newsletter Plus, you'll receive our 10 Essential Genealogy Research Forms PDF as a special thank you!
Get Your Free Genealogy Forms
"*" indicates required fields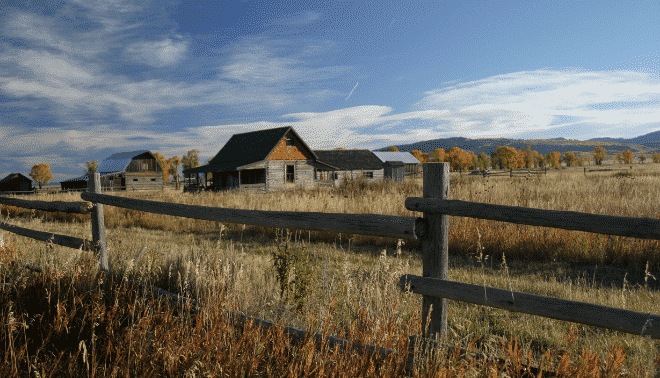 A piece of land to call your own: It's the American dream — and the aspiration that lured your ancestors to the United States, to the frontier, to the suburbs. Each time they bought, sold or claimed land, they left behind a genealogical paper trail.
The type and location of those records depends on who sold the property to your family. In public-land states, the federal government was the initial landowner. Some veterans or their heirs received acreage in the form of bounty-land warrants, particularly in Midwestern areas such as Ohio's Virginia Military District. After Congress passed the massive public land giveaway called the Homestead Act of 1862, westward-bound pioneers began to file applications, or claims, with the federal government's General Land Office. Settlers who stuck it out for five years and made improvements, such as digging wells and plowing fields, got to keep their 160-acre plots.
In state-land states, other proprietors laid their claims before the US government could. You might find records of initial land sales in state archives. Once a private citizen bought land from the initial owner, subsequent transactions were recorded in deeds and titles at county courthouses. Lesser-used land records include tax assessments and lists, which show the tax on your ancestor's property and whether he paid up. Tax records contain little family information but can confirm a residence.
Consult historical maps to pinpoint your ancestor's corner of the world — or see how she got there. The websites, books and organizations below might contain actual land records or just index them for a particular area and time period. You'll also find digitized maps, tools for translating legal land descriptions and confounding place names, and more.
Note: Subscription websites are indicated with a dollar sign ($) net to their name.
Jump to:
General US Websites for Finding Land Records
US State Resources
Canadian and UK Resources
US and World Maps
Books
Organizations
General US Websites for Finding Land Records
These volumes of Congressional papers from 1789 to 1838 include records related to early land claims.
US land records cover most states, including Florida, Illinois, Minnesota and Texas.
Link to records resources, how-to sites, mailing lists and more.
Find information about different types of land records in the United States, tips on how to find them and strategies for optimizing your research.
This Bureau of Land Management (BLM) database, which indexes land patent information from public-land states between 1820 and 1908, is sporadically shut down by lawsuits over the BLM's handling of tribal lands. But when it's up and running, it'll lead you to digitized copies of your relatives' land patents. You can access microfilmed indexes and land tract books for Western states at the National Archives and Records Administration (NARA) in Washington, DC. Eastern state tract books are at the BLM Eastern Lands Office.
Learn about the metes-and-bounds survey system, used in state-land states and parts of Ohio.
This online publication tells you what information you'll find in federal land records and how to get them.
Click your ancestral state and county to find resources for maps and land records.
Can't locate a town? A cemetery? This database provides information on 2 million US places and geographic features — including defunct names. Just click Query GNIS and enter as much information as you know.
How can maps help you learn about your family? This just-the-facts guide from the US Geological Survey answers that question and lists lots of references.
US State Resources
Before Congress passed the Homestead Act, states and territories including Arkansas, Florida, Oregon and New Mexico issued donation land laws to encourage settlement. Look in state archives for records of donation land claims. Below are some resources to guide your research.
New England Historic Genealogical Society Research Members ($99 a year) can access Constitution State land records, as well as other states.
Do a surname search of these records on outstanding land-grant claims in the territory Spain ceded to the United States in 1821.
Search through information on nearly 550,000 sales of public-domain lands in Illinois.
These Hoosier State databases contain tract-book records of the Fort Wayne and LaPorte-Winamac land offices, as well as information on the original purchasers of government land donations for the state capital.
The Bluegrass State gets a gold star for its searchable databases of 4,748 pre-1792 Revolutionary War warrants, 242 Jackson Purchase military-patent images, early settlers' certificates and pre-emption warrants, 4,763 Lincoln County land entries, 70,239 county court patents and more.
Access an index with images of pre-1779 land patents, Virginia Land Office grants issued after 1779, Northern Neck grants issued from 1692 to 1862, and Northern Neck land surveys.
Browse an alphabetical index that links to almost 3,000 deed abstracts.
You won't find records on this site, but you can get contact info and links for Massachusetts county deed offices.
This name index to surveyor general and Court of Private Land Claims files gives you a microfilm number for the land-grant record you're after.
This list of the state archives' land records links to a few searchable collections.
Search information from more than 450,000 state land-office records.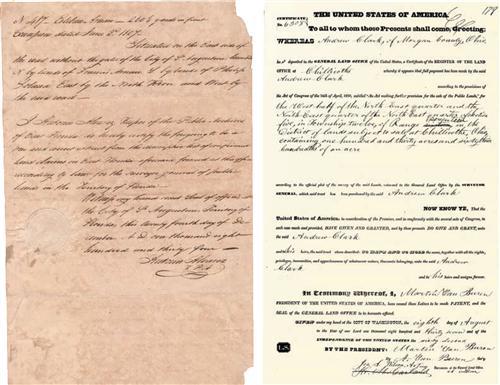 Canadian and UK Resources
Learn where to get land records in Canada's provinces.
Find your British ancestral home with this 50,000-entry place-name index covering common alternative spellings, plus Welsh and Gaelic versions.
You can find facts about your ancestral town and see it on a map in this world place index. Just click on a country, then browse by region or alphabetical listing.
Enter a legal land description, name or keyword to search this database of patents issued in Manitoba, Saskatchewan, Alberta and the railway belt of British Columbia.
Search petitions (often called memorials) of people seeking government land grants in Nova Scotia (1769 to 1799) and Cape Breton Island (1787 to 1843).
Learn how to find Ontario land records, and link to online maps, atlases and records.
Search records of land settlement in New Brunswick from 1765 to 1900.
US and World Maps
View 11,000 18th-and 19th-century maps of the Americas, Europe, Asia, Africa and the world.
Use ProQuest (available for free at subscribing libraries) to search this collection of highly detailed fire-insurance maps.
Explorers and government land surveyors created these maps, which span 300 years of geographic history.
See historical maps showing the territory of Louisiana under French rule.
See topographic and mining maps, plus the Nevada History in Maps collection.
These 1,500 US Geological Survey topographic maps span the 1890s to 1950s.
The main page has links to county-outline maps for some regions. Click on a state abbreviation to find sources for historical maps.
Use these links to find digitized maps from around the world.
View digitized maps — most focusing on the United States — from the Library of Congress' American Memory collection.
Under Gallery at a Glance, click on the link to historical maps to access this collection of early portrayals of North America.
Type in a British place name to generate a map with cool zooming and navigating features.
This library's Web site offers more than 5,700 images of maps from around the world.
Learn what these maps can tell you about your family, then order copies.
Find digital images of New York maps, plus links to other online map sites.
Link to US, state and county maps, as well as maps of American Indian land cessions.
Browse a variety of digitized maps.
Books
• The Beginner's Guide to Using Tax Lists by Cornelius Carroll (Clearfield Co.)
• Braunschweig, Oldenburg, and Thuringia Place Name Indexes: Identifying Place Names Using Alphabetical and Reverse Alphabetical Indexes by Roger P. Minert (GRT Publications)
• Genealogical Abstracts of Revolutionary War Pension Files, 2 volumes, by Virgil D. White (National Historical Publishing Co.)
• Hanover Place Name Indexes: Identifying Place Names Using Alphabetical and Reverse Alphabetical Indexes by Roger P. Minert (GRT Publications)
• Historical Atlas and Chronology of County Boundaries 1788-1980 by John H. Long (G.K. Hall)
• Land and Property Research in the United States by E. Wade Hone (Ancestry)
• The Land Office Business: The Settlement and Administration of American Public Lands 1789-1837 by Malcolm J. Rohrbough (Oxford University Press)
• Locating Your Roots: Discover Your Ancestors Using Land Records by Patricia Law Hatcher (Betterway Books)
• The Origin of Certain Place Names in the United States, 2nd edition, by Henry Gannett (Clearfield Co.)
• Our Landed Heritage: The Public Domain 1776-1936 by Roy Marvin Robbins (Princeton University Press)
• Researching American Land Records by Kyle Betit (Heritage Productions)
• Revolutionary War Bounty Land Grants Awarded by State Governments by Lloyd deWitt Bockstruck (Genealogical Publishing Co.)
• Sixty Million Acres: American Veterans and the Public Lands Before the Civil War by James W. Oberly (Kent State University Press) • Walking With Your Ancestors: A Genealogist's Guide to Using Maps and Geography by Melinda Kashuba (Family Tree Books) • Where to Write for County Maps, 2nd edition, by Desmond Walls Allen (Research Associates)
Organizations
• Eastern States Office, Bureau of Land Management Department of the Interior (BLM-ESO), 7450 Boston Blvd., Springfield, VA 22153, (703) 558-7754, <https://www.blm.gov/eastern-states>
• Homestead National Monument of America 8523 W. State Highway 4, Beatrice, NE 68310, (402) 223-3514, <www.nps.gov/home>
• National Archives and Records Administration 700 Pennsylvania Ave. NW, Washington, DC 20408, (866) 272-6272, <https://www.archives.gov/>
Research Tip: Pay attention to names in deeds and other land records. Your ancestors often settled near family members and friends — researching those people can yield clues that will help you hurdle genealogical brick walls.
From the September 2005 Family Tree Sourcebook. Last updated August 2022.
---
FamilyTreeMagazine.com is a participant in the Amazon Services LLC Associates Program, an affiliate advertising program designed to provide a means for sites to earn advertising fees by advertising and linking to Amazon.com and affiliated websites.