Sign up for the Family Tree Newsletter Plus, you'll receive our 10 Essential Genealogy Research Forms PDF as a special thank you!
Get Your Free Genealogy Forms
"*" indicates required fields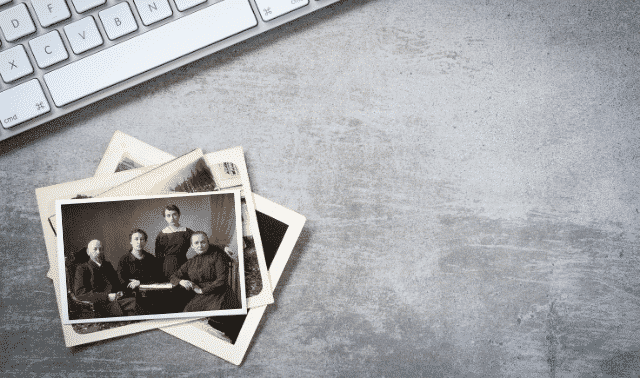 Every family picture represents a story. The who, what, where, when and why build a single image into a part of your family history. Sharing those pictures and stories has never been easier. Digital storytelling websites—essentially, social media for pictures—let you post a photo and tell its tale online, sharing your pictographic history with the world. The sites encourage creativity, and most of them are free. All require registration to post images, but you can view others' contributions without signing up. For genealogy purposes, these sites are excellent tools to further your research or share family memories online.
Tech-savvy publications from Wired magazine to the Washington Post love this internationally popular site. Cowbird's home page evokes Pinterest, with tiled photos. Similar to other social sites, you can "Love" a picture (with a registration), share it, or click the bull's-eye icon for related content. To browse, click the binocular icon in the upper-left corner of the page, or click Search to explore the stories attached to photos.

There's a category for family history, though only a few hundred images are listed thus far. Use this section to document your Civil War photos or early-American portraits with creative captions. For example, user Diane Jardel, a native of Northern Ireland, posted an old picture of her father with the family, captioned with his favorite sayings, including this gem: "Give me patience Mother Dear, for I am to be Queen of the May."
There's a fun and quirky feel to this blog, which is epitomized by its tagline: "Take a picture of a picture, from the past, in the present." Users post pictures in which they hold up an old photo in front of the original setting, and take a new picture. Thus the past and present blend into a new photograph. Most images here are 20th-century photos against 21st-century backgrounds.
One family archivist held a historical picture of his great-grandfather George and his uncle Jack, taken in 1930, in the same modern-day location and took a picture; see it here.
You also could, for example, take your grandmother to her childhood home and bring a photo of her as a kid in the same location. Ask your grandmother to sit on the porch and take a picture of her holding the old photo, so the continuity is displayed side by side. Add a caption to provide historical context. It's a bit like visual time travel, examining how people, places and spaces evolve. Some neighborhoods change; others look just as they did decades before.
Unfortunately, you can't search here. Instead, explore the Archive (arranged by upload date) or, if you find an interesting photo, click its Tags link to find similarly tagged images.
Flickr is one of the oldest and most notable digital storytelling sites. Basic membership is free, but if you want unlimited uploads, become a Pro member for $24.95 a year.
Anyone who posts an image here is called a Contact, and finding new contacts is easy. Once you're signed in to the site, just click on Contacts at the top of the page, then select Find Your Friends. From here you can find historical organizations and other genealogists on Flickr by entering keywords (such as a place name and history) into the search box at the bottom of the screen. This allows you to browse or share photos related to your genealogy research within a like-minded community.
An individual Flickr page is called a Photostream. From a member's Photostream, you can click on the profile to learn more about the organization or person who posted the images and usage rights.
Historypin is the only site in this roundup specifically created to share historical photography. Imagine a globe with pins protruding from a thousand locations. Each pin represents a photo or a stack of images of that place. Like Dear Photograph, Historypin links past and present: Through a collaboration with Google Maps, you can click Street View (beneath the photo) to see the photo superimposed on Google Street View. Note this works only for photos pinned to places where Street View is available.
Enter a place into the search box on the home page to find historical photos. Then click Subject and use keywords (such as house or school) to narrow your search. Take a virtual tour by clicking the Collections link, or see museums on the site using the Channels link. You could look at photos of your ancestor's hometown, or perhaps another user has pinned a photo of your great-grandfather's business. It's fun, fascinating and addictive.
Wish you could save all those images you find online in one place? Pinterest is like a scrapbook of images found on the web. You even can create boards from images uploaded from your computer. Visit the Family Photo Detective page to see Family Tree Magazine readers' mystery photos that I've researched, or explore my personal Pinterest site.
Using Pinterest is simple. After you sign up, find a photo online or upload one from your computer, then add it to a Board (a themed category) along with comments about the photo. You also can follow other "pinners"—such as historical societies and other genealogists—and like or comment on their pins.
Pinterest is a good way to share family photos grouped by person or surname, adding genealogical information as you go. For instance, Family Tree Magazine has boards on everything from Historical Photography to Family Recipes to Family Heirlooms. You'll create an online, illustrated family history.
A version of this article appeared in the September 2013 issue of Family Tree Magazine.