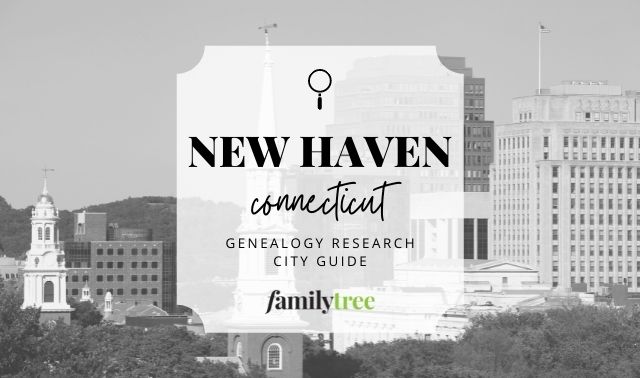 New Haven, Conn., is a city of innovation—the steamboat, lollipops, penicillin and erector sets are among its contributions. Since 1701, it's been home to the prestigious Yale University, whose students are said to have invented the game of Frisbee. The city's rich history and abundant records can make it just as easy to trace your ancestor as to catch a flying disc.
A Brief History of New Haven
The English Puritans who settled New Haven in 1638 originally named it Quinnipiac. The area was home to native peoples and English settlers from Massachusetts. It remained separate from  Connecticut colony until 1664 and alternated with Hartford as the state capital until 1875. Manufacturing dominated New Haven's economy, with factories producing everything from clocks to stocks. The New Haven Clock Co., Candee Rubber Co. and New Haven Arms Co. (later owned by Winchester) were prominent businesses. More recently, the city has attracted health care, professional services, financial services and retail trade companies.
 
In 1839, West African Mendi tribesmen being transported as slaves on the ship La Amistad mutinied and murdered the ship's captain. They were imprisoned in New Haven and the court case began in the city's US District Court before reaching the US Supreme Court. Documents relating to the case are online at the National Archives.
 
African Americans from the South settled here in the late 19th and early 20th centuries. Italians, Jews and more recently, Puerto Ricans also moved to New Haven. 
New Haven Genealogy Records
If you have Connecticut ancestry, count yourself lucky. Records are plentiful and kept either in towns (the state abolished counties in 1960) or in state offices. The Connecticut State Library's (CSL) History and Genealogy Guide is an excellent resource.
Vital records
Since 1644 for births and marriages, and 1650 for deaths, individuals in Connecticut were required to register an event with their town clerk or be fined. Contact the town clerk for vital records before 1897. In addition, the CSL's Barbour Collection of Connecticut Vital Records indexes many of these early vital records, including for the city of New Haven. Search pre-1870 Barbour Collection town records (as well as later indexes) on subscription site Ancestry.com. Microfilm is at the CSL, Connecticut Historical Society (CHS) and the Family History Library (FHL).
The two-volume book Vital Records of New Haven, 1649-1850 (Connecticut Society of the Order of the Founders and Patriots of America) also contains births, marriages and deaths, and is free at the Internet Archive. The Charles R. Hale Collection, which includes newspaper marriage and death notices (1750-1865), is helpful for filling in records gaps. You can access it through the CSL or on FHL microfilm.
The state began keeping vital records in 1897. Find instructions for requesting records from the state Vital Records Office. Marriage and death records are public, but to obtain a birth record less than 100 years old, you must be immediate family or a member of a qualified genealogical society (see the library's page for details).
Church records
New Haven's primary religion was Congregational until the early 19th century, when other denominations—Baptist, Episcopal, Methodist, Roman Catholics, Unitarians and Quakers—arrived. The Knights of Columbus Catholic fraternal organization was established in New Haven in 1882 and maintains a museum and archive. In the 1930s, the CSL gathered records from about 600 Connecticut churches; check for microfilm copies at the CSL and FHL. Otherwise, contact the individual church or if it no longer exists, the religion's administrative archive for record copies.
Censuses
No colonial population censuses exist for Connecticut, but Jay Mack Holbrook compiled a variety of early records into Connecticut 1670 Census (Holbrook Research Institute). Also consult the Connecticut military census taken in 1917 and 1918, which enumerated men over age 16, on microfilm at the CSL and FHL. Look for residents of New Haven in federal censuses from 1790 to 1940 (except for the missing 1890 census) on Ancestry.com, FamilySearch.org and other genealogy data sites.
Land records
Beginning in 1639, landowners had to provide town clerks with record of their property size and history of transfers. Since land usually was transferred within the family, these records can include details on relationships. Contact town clerks for land records and check for microfilm at the CSL and FHL. The FHL has microfilmed land records, including deeds, up to about 1900.
City directories
New Haven city directories date from 1840 and are located at the CHS, CSL and Library of Congress, and are on microfilm through the FHL (1840-1935). Fold3 has the 1860-61 directory. You can access the 1888, 1892, 1894 and 1898 directories, plus Yale yearbooks, on World Vital Records (now part of MyHeritage). The Online Historical Directories site links to other online directories.
Military records
New Haven men served in conflicts from the Colonial period through contemporary wars. The largest collection of manuscripts relating to their military service is at the CSL; see research guides and searchable indexes. For links to online records from New Haven and neighboring towns, visit Connecticut-genealogy.com. A list of New Haven County Civil War soldiers is available online.
Citizens of nine Connecticut towns including New Haven who suffered Revolutionary War losses received land in the "Firelands" of the Connecticut Western Reserve in Northern Ohio. Records relating to these tracts are at the CSL.  Also visit the Firelands Historical Society website.
Naturalizations
Connecticut naturalizations could be filed in city courts, superior courts or courts of common pleas. For records from 1791 to 1906, check the Works Progress Administration index (on microfilm through the National Archives and the FHL). Contact the court or check the CSL for copies. Naturalizations after 1906 are at the National Archives' Northeast Region in Boston or order them online from the US Citizenship and Immigration Service.
Newspapers
Connecticut's first newspaper was the Connecticut Gazette, started in New Haven in 1755. The CSL holds a large collection of New Haven papers on microfilm, including the German-language Connecticut Republikaner. Find more information online. Subscription website GenealogyBank offers several New Haven papers.
Related Reads