Sign up for the Family Tree Newsletter Plus, you'll receive our 10 Essential Genealogy Research Forms PDF as a special thank you!
Get Your Free Genealogy Forms
"*" indicates required fields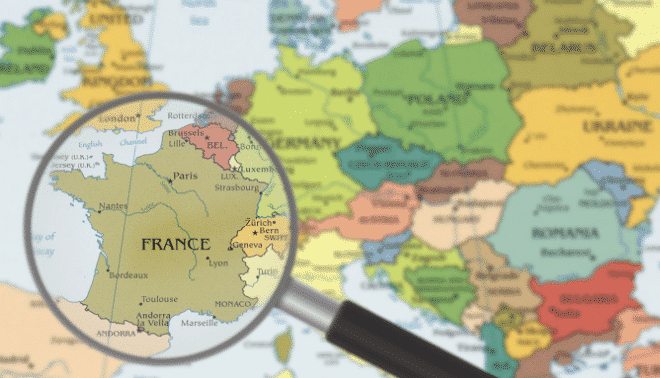 During the past several seasons of the genealogy reality series "Who Do You Think You Are?" celebrity guests on both the American and British versions have traced their family histories to France. In the process, they've highlighted the vast online resources and wealth of surviving records that make researching roots in France such a delight. Whether you're descended from one of the 11,307 US residents of French origin in 1790, or you're one of the more than 10 million Americans who claimed French or French Canadian ancestry in the 2000 census, get ready for an immensely rewarding journey into your past.
Focus on France
France shares borders with Belgium, Luxembourg, Germany, Switzerland, Italy, Andorra and Spain, with England just across the English Channel. These borders have been fluid, however. Many areas now in Germany, Belgium, Luxembourg, Italy and Switzerland came under French rule during and after the French Revolution, but these acquisitions were short-lived. The Council of Vienna and Treaty of Paris in 1815 returned France to its 1790 borders. Nice was shuffled back and forth between France and Savoy seven times between 1691 and 1860, when the Duchy of Savoy and County of Nice were finally ceded to France for good. Germany annexed Alsace-Lorraine in 1871; it was returned to France in 1918. If you have French ancestors from border regions, researching the area's history and geography may be important: It's possible some of the records you need may not be in France.
France has coastline along the Atlantic Ocean, North Sea and Mediterranean Sea. Le Havre on the English Channel and Marseille on the Mediterranean were important departure ports; smaller ports included Cherbourg, Bordeaux and Nantes. French emigrants also traveled to ports elsewhere, such as Liverpool, England. Unlike many other European countries, from which a few mass migrations accounted for the majority of immigrants to the United States, the French trickled in slowly over a long period of time. Huguenots (French Protestants, also called Calvinists) were among the first to America, fleeing France during the 17th century to escape religious persecution.
French immigration to the United States continued in small waves over much of the next two centuries. The waves generally paralleled periods of religious, political or economic upheaval in France, including the political revolutions of 1830, 1848 and 1852, and the Franco-Prussian War in 1870. Emigration from France declined dramatically during the 20th century, especially during World War I (1914–1918) and World War II (1939–1945). In the late 20th century, US states with the most residents with French or French Canadian ancestry were California, Louisiana, Michigan, Massachusetts and New York. This guide will focus on roots in France.
Parlez-vous français?
French has been the country's official language since the 16th century, so most of its genealogical records are in French. While being familiar with the French language is helpful to researchers, a basic knowledge of key numbers, words, and phrases is enough to understand many records. Those include civil registration, parish and census records, which follow a fairly standard format.
In its online learning center, FamilySearch offers free courses to introduce you to the French alphabet and key genealogical words and phrases, and show you how to extract key information from a variety of French genealogical records. Also helpful are the translations of French words commonly found in genealogical records. You can use online translators, such as Google Translate and Babel Fish, too. Even with all the help, though, practice is your friend. The more you work with the handwriting, abbreviations and varied spellings in old documents, the easier they'll become to understand.
For some areas and time periods, you may find French records in other languages. Roman Catholic parish registers, especially the early ones, may be in Latin. German may be used in records from Alsace-Lorraine, which changed hands between France and Germany. Pre–1860 records from some of southeastern France—particularly the present-day departments of Savoie, Haute-Savoie and Alpes-Maritimes—may be in Italian, as control of this region passed back and forth between France and the Kingdom of Sardinia. Records from Corsica prior to 1768 may also be in Italian. Although Flemish, Basque and Breton are spoken in some small areas of France, these languages are rarely found in written records of genealogical interest.
Dates in French records are commonly written out (instead of being indicated by numerals) with the year coming first. You'll quickly learn to recognize phrases such as mil sept cent ("one thousand seven hundred") and mil huit cent ("one -thousand eight hundred"), which indicate the beginning of a date in the 1700s or 1800s, respectively. Dates usually are located near the beginning of most records, although sometimes they appear at the end.
Records created between late 1793 and 1805 provide an interesting twist. During this period, the French used the French Republican calendar, which replaced the Gregorian calendar's seven-day week with a 10-day cycle called a decade. The calendar still basically followed a 12-month cycle, but the first month of the calendar year began Sept. 22, not Jan. 1. Each month of the year was named for the season it represented (so, Fructidor for "fruit" and Pluviôse for "rainy"). Years were counted from the founding of the French Republic (l'an sept de la République Française was "the seventh year of the French Republic"). Learn more about working with French Republican dates and link to free tools for converting them to Julian calendar dates.
Pinpointing the birthplace
March 4, 1790, France was reorganized from a jumble of varying sized provinces into 82 territorial divisions known as departments or départements. The number of departments has fluctuated over time as France gained and lost territory, peaking at 130 in 1809. Today there are 96 departments within the borders of France, plus five French-administered departments outside continental Europe (Guadeloupe, French Guiana, Martinique, Réunion and Mayotte). Each department is identified with a number, initially assigned in alphabetical order, although variations have since occurred as departments were added and consolidated. For example, Yvelines, department No. 78, used to be Seine-et-Oise. Terms such as haute (upper) and bas or basse (lower) in department names were disregarded in the alphabetization.
The department is the key territorial unit of France. Within each department are typically hundreds of communes, which could be tiny villages, moderately sized towns or large cities. Most records of genealogical interest are at the city or town hall (mairie) of each commune. France's three largest cities—Paris, Lyon and Marseille—are further divided into arondissements, each with its own town hall and archives.
Older records are maintained in the commune's municipal archives (archives municipales); copies of these records are typically deposited with the departmental archives (archives départementales). Each departmental archive organizes the records in the same manner—first by series, and then by commune and chronology. This makes it important to know not only the department where your ancestor lived, but also the name of the town, village or city. Otherwise, unless the records have been indexed (and most have not), you'd have to search the records of each commune in a department one by one. Links to each of the French departmental archives, plus information on what genealogical records are available online, are at the French Genealogy Records Online pages.
To find your ancestor's place of origin in France, thoroughly research in US records. Sources most likely to indicate the place of birth or last residence before immigration include living relatives, family papers and photos, vital records, passenger lists, naturalization records and obituaries. Church records may be especially helpful. France is an overwhelmingly Catholic country, and US Roman Catholic records may refer to the immigrant's parish in France. If you've searched all known, available records and are still unable to pinpoint a likely place of origin in France, the website Geopatronyme.com reports the locations of surnames in France during different time periods, plus the departments and communes where a name is most prevalent.
Finding civil vital records
Much of your research of French ancestors can be done in vital records of births, deaths and marriages. These records in France are divided into two categories: civil registers (état-civil) and parish registers (registres paroissiaux). Civil registration of births, marriages and deaths (naissances, mariages and décès, or NMD) in France began in 1792. Records less than 100 years old are typically found in registries at the local town hall; privacy regulations require proof of direct descent from the named individual for access to these recent birth and marriage records. Death records aren't confidential and access is open. Some town halls have websites with contact forms that make it easy to request copies of civil records. In other cases, you'll need to write a letter. I suggest writing it in English and attaching a French translation (you can use Google Translate or other translation software). Keeping your request simple will make it easier for the recipient to read. Consider including a small donation.
Copies of civil registers older than 100 years are generally available from departmental archives. These records are open to the public and most departments have made at least some of their civil registers accessible online. Departmental archives don't conduct research and won't issue certificate copies of records, so if you need assistance getting a record that's not available online, you will need to contact the local town hall or hire a local genealogist (search a directory by location at the Association of Professional Genealogists).
The local town hall and the archives both hold copies of tables decennales (decennial tables or 10-year indexes), of births, deaths, and marriages registered in the commune. Annual indexes also were created. These indexes are usually alphabetical, although sometimes only by the first letter of the surname. Women are almost always recorded by their maiden surname, even after marriage. Some marriage indexes are indexed only by the name of the groom, with no separate index for brides. In some departments, such as Yvelines, you may get lucky and discover indexes covering all communes for a given time period.
Birth
The information found in birth registrations varies somewhat based on locality and time period, but generally includes the child's date of birth and given name; given name, surname, age and occupation of the informant (usually the father); given name and maiden surname of the mother; and the names of two witnesses (usually neighbors). Marginal notes in birth certificates after Aug. 17, 1897, may mention the child's later date and place of marriage and spouse's name. Margins also may have notes giving the date and place of deaths occurring after 1945. For a child born out of wedlock, reconnaissance (legitimation, which gave the mother legal standing over the child) may be noted in the margin.
Marriage
Civil marriage records generally include the date of the marriage, the full names of the groom and bride, their ages, birth dates and places, and occupations, the parents' full names (including maiden names for mothers), and the names of four witnesses with their ages, occupations, residences and relationships to the bride or groom. When applicable, marriage records may also contain the name of a previous deceased spouse, and the dates and places of death for any deceased parents. Grandparents are sometimes identified (from the late 1800s). A divorce occurring after 1886 may be noted as a marginal entry.
Deaths
In most localities and time periods, expect to see the individual's full name, age, date of death, birth place, occupation and residence, along with the names of the person's parents and spouse (whether living or deceased).
Going to church records
Parish registers (registres paroissiaux) are records kept by an ecclesiastical authority. Roman Catholicism has been the predominant faith of France since the sixth century, but many Protestant religions have had footholds in the country at various times.
Catholic
Parish registers of baptisms, marriages and burials (baptêmes, mariages and sepultures, or BMS) are crucial for pre-1792 genealogical research, prior to the start of civil registration. The Council of Trent first mandated recording of Roman Catholic baptisms in France in 1563, but parishes didn't regularly keep these records until 1579, when death and marriage recording also was required. Not all Catholic churches complied from the beginning, and some earlier records have been lost or destroyed. As a result, Catholic registers in many areas date from the mid-1600s. A few earlier records from the 14th and 15th centuries survive in some locations.
Most original parish records prior to 1792 were turned over to departmental archives for safekeeping. As with civil records, many departments have begun putting parish records online. They generally provide less detail than civil records. Most at least include the names of the people involved, the date of the event and sometimes, the parents' names. More recent records may include ages, occupations and witnesses' names.
Protestant
The website Huguenots of France and Elsewhere and the book Tracing Your Huguenot Ancestors: A Guide for Family Historians by Kathy Chater (Pen and Sword) offer guidance for researching Huguenot ancestors. Advice for tracing French Waldensians (followers of Peter Waldo) is on the Waldensian Families Research Website. The Lutheran church was generally tolerated in Alsace, where Lutheran parish records date back to the early 1500s. Many registers are located in municipal or departmental archives, and may be in French, Latin, German or Gothic script.
Some Protestant parish registers (registres paroissiaux protestant), mostly from the Paris region, are microfilmed at FamilySearch's Family History Library. You may be able to view this on digital microfilm at FamilySearch.org or a branch FamilySearch Center. If the microfilm has not been digitized you will need to view the microfilm at the Family History Library in Salt Lake City. FamilySearch.org's free online database France, Protestant Church Records, 1536–1863 includes the Reformed church of Paris, Methodist church and Evangelical church.
Getting more
As rich as they are, civil and parish registers aren't all there is when it comes to learning about French ancestors. The following records can be more difficult to access, but they often provide great research clues:
Census records
Beginning in 1836, France took a census every five years, enumerating all members of each household with their age (sometimes date and place of birth), nationality and profession. Notable exceptions include the 1871 census, which was taken in 1872, and the 1916 census, which was skipped due to World War I. Pre-1836 census records (recencements) do exist, but rarely record more than the head of household's name. Most census records aren't indexed, making them difficult to use unless you know the exact area where your ancestors lived. Many departmental archives have put digitized census images online, however, making them worth exploring. Those not online are accessible through departmental archives, and some are available on microfilm from the Family History Library.
Women in census records are usually, but not always, enumerated with their maiden names. Occupations, number of children and other relatives living in the household can also provide helpful clues about French families. And census records offer an alternate source for identifying the commune of birth when you haven't found it in vital records.
Military Records
Most young men in France were required to register for military service, and the resulting recruitment records (registres matricules) are the most commonly used military records for family history research. These records date back to the 19th century and usually include the individual's name, date and place of birth, parents' names, occupation, height and facial characteristics. You also may find details of service, including battles, wounds and awards. The majority of French departments have at least some of these records online. Unindexed military census records also may be available from departmental archives, although these are rarely found online. The Service Historique de la Défense in Vincennes holds individual files of officers dating from the 18th century, as well as rich collections on French military history.
Notarial records
A public official called a notary, or notaire, would prepare these records (actes notariés) to document contracts dealing with private law, such as marriage contracts, wills, estate inventories, guardianship agreements, apprenticeships, deeds, mortgages and powers of attorney. A notary in France is more akin to a civil lawyer than to a notary public in the United States. In some areas of France, notarial records date back to the 1300s and provide a great deal of genealogical and personal information about the individuals named in them, and their relationships with others.
As valuable as they are, however, notarial records are too often bypassed by genealogists because they can be difficult to find, and are mostly unindexed. You can usually find them in the departmental archives, where notaries are required to deposit records more than 125 years old (although not all have complied). The records are cataloged by the name of the notary and the notarial business (étude). That means in order to find a family's notarial records, if any survive, it helps to know the name of the notary, where he lived, and when the document was created. Most archives maintain a chronological list of notaries in each area, so if you know where your ancestors lived, you may be able to determine which notary covered the area at that time.
Some families, however, used notaries outside of their immediate area, often because they'd been using the same one for decades. A few departments, such as Alpes-Maritimes, have started putting digitized notarial records online.
Cemetery records
Tombstone inscriptions are generally a less helpful resource in France than in the United States. Most cemetery plots are leased for period of time, such as 10 to 100 years. Unless the family renews the lease or pays a large sum to retain the plot "in perpetuity," the bodies are exhumed and moved to a nearby common vault or ossuary, and the plot is again available for lease. If you're not researching a well-off family, tombstones for ancestors buried decades ago may no longer exist. Check with the local town hall, or the cemetery keeper if there is one, for burial or lot lease records. Those may include the deceased's name, age, and birth date and place, death date, place of last residence, and the identity of the last lease holder.
Migration records
French immigrants to America are almost always more easily traced in passenger arrival records than in French emigration records. Relatively few passenger manifests (listes des passagers) have survived from French ports in the 18th and 19th centuries, and extant lists are scattered and incomplete. See the FamilySearch Wiki for details on a few surviving French emigration indexes.
Research in France isn't without its difficulties, most notably a language barrier, changing borders, and scarcity of national-level records. Departments offer different means of accessing online records. Privacy laws also can make it difficult to research French ancestors born after about 1905. But the pluses—including a wealth of records stretching back to the 1500s and the French government's efforts to make historical records available online—ultimately makes researching French ancestry rewarding and, well, a lot of fun.
A version of this article appeared in the September 2015 issue Family Tree Magazine
FamilyTreeMagazine.com is a participant in the Amazon Associates Program, an affiliate advertising program. It provides a means for this site to earn advertising fees, by advertising and linking to Amazon and affiliated websites.