Surname Research: Your Complete Guide
READ MORE
FREE RESOURCES FAMILY TREE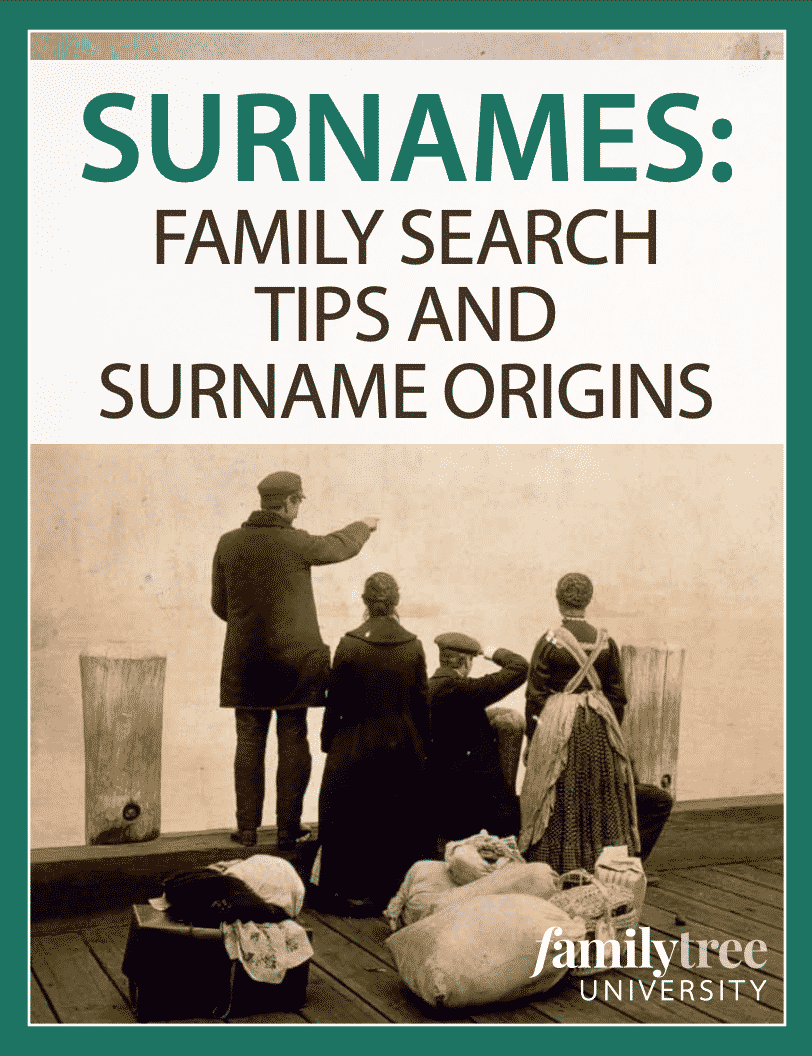 Surnames: Family Search Tips and Surname Origins Free eBook
Surnames are the skeleton key of the genealogy world. Here's a free ebook full of hints and strategies for searching family surnames.
Surname Origins and Meanings
Common and Uncommon Surnames
Maiden Names
FILIPINO
GERMAN
GREEK
JEWISH
SCANDINAVIAN
SPANISH
Surnames and DNA
Surnames Research Resources
ONLINE SURNAME SEARCH
WEBSITES (GENERAL)
Cyndi's List: Surnames, Family Associations and Family Newsletters Index
American Names: Declaring Independence
Top 100 Most Common Last Names in the United States
WEBSITES (BY NATIONALITY)
Chinese
101 Most Common Surnames in China and Their Meanings
Czech
Danish
Dutch
Olive Tree Genealogy: Dutch Patronymics of the 1600s
English
Independent: The 25 most common surnames in Britain – and what they say about your family history
German
What Does Your German Last Name Mean?
Hispanic
Most Popular Hispanic Last Names and the History Behind Them
Italian
Italy Heritage: Italian Surnames
Italian Naming Traditions and their Ramifications
Irish
Jewish
Norwegian
Understanding Norwegian Naming Patterns
Polish
Scottish
Welsh
BOOKS (GENERAL)
Christian Names in Local and Family History by George Redmonds (Dundurn Press): This book shows how English first names (or Christian names) are just as important as surnames in genealogy. Other works on given names usually concentrate on etymology, but Redmonds goes a step further: He believes every name has a precise origin and history of expansion, meaning you can trace your first name to a specific region or town. This book will inspire you to review first names in your family history with a more critical eye.
Dictionary of American Family Names, 3 volumes, edited by Patrick Hanks (Oxford University Press): Look up the origins and meanings of more than 70,000 names common in the United States, including those of foreign nationalities. The unique "Forebears" sections within some surname listings provide undocumented genealogical notes about the progenitors who carried those surnames to America, possibly giving you clues to your ancestry. You'll also find the introductory material extremely interesting and helpful. Besides discussing the study of names (known as onomastics), the series' introduction contains sections outlining names used by 23 ethnic groups, each with a bibliography for more information. Because of its hefty price tag, you'll probably want to look for this dictionary in the reference department of your local library.
Discovering Surnames: Their Origins and Meanings by J.W. Freeman (Shire Publications)
Nicknames Past and Present by Christine Rose (Rose Family Association)
Trace Your Roots with DNA by Megan Smolenyak Smolenyak and Ann Turner (Rodale)
BOOKS (BY NATIONALITY)
Chinese
Chinese Names: The Traditions Surrounding the Use of Chinese Surnames and Personal Names by Russell Jones (Pelanduk Publications)
In Search of Your Asian Roots: Genealogical Resources of Chinese Surnames by Sheau-Yue Chao (Clearfield Co.)
English and Welsh
Dictionary of English Surnames by R.M. Wilson and P.H. Reaney (Oxford University Press)
A Dictionary of English and Welsh Surnames With Special American Instances by Charles Wareing Bardsley (Clearfield Co.)
The Surnames of Wales: For Family Historians and Others by John and Sheila Rowlands (Genealogical Publishing Co.)
German
A Dictionary of German-Jewish Surnames by Lars Menk (Avotaynu): This tome identifies more than 13,000 German Jewish surnames from pre-WWI Germany. You'll find the etymology and variants of each name, plus the region, town and time period in which the name was used. Several tables list name suffixes, the distribution of common surnames, and names based on towns, geography, personal traits and occupations. These details can provide clues to how your ancestors got their names—and where your family might have come from.
Hispanic
Hispanic Surnames and Family History by Lyman D. Platt (Genealogical Publishing Co.): You'll learn about the development of surnames in Spanish speaking America with this comprehensive work. The book covers the top 1,000 US and Latin American surnames, more than 12,500 Hispanic surnames from the 1980 US census, and surnames unique to Latin American countries, plus a bibliography of published family histories. It's a good reference for people with Hispanic roots.
Irish
Clans and Families of Ireland: The Heritage and Heraldry of Irish Clans and Families by John Grenham (Book Sales)
The All New Surnames of Ireland by Edward Neafsey (Irish Genealogical Foundation): Discover some 200 family histories — each accompanied with a map of Ireland showing clusters of the surname — in this tome, which combines historical research with the locations of Irish families today. The introduction gives an overview of how Irish surnames are handed down; it also discusses prefixes such as Mac- or Mc- and O'-. This book is a great reference for families with surnames from Adamson to Yeates.
Special Report on Surnames in Ireland by Sir Robert E. Matheson (Genealogical Publishing Co.)
Genealogist's Guide to the Various Spellings of Irish Names by Michael C. O'Laughlin (Irish Genealogical Foundation)
Families of County Cork, Ireland: From the Earliest Times to the 20th Century: Irish Family Surnames with Locations and Origins by Michael C. O'Laughlin (O'Laughlin Press)
Italian
Our Italian Surnames by Joseph G. Fucilla (Genealogical Publishing Co.): Originally published in 1949 and recently reprinted, this is still the most widely consulted book on Italian names. It discusses given names as well as the evolution of surnames, and explains how names were derived from places, kinship, animals, insects and occupations. Rather than a dictionary approach, this work covers names in a narrative form, so you'll find the extensive index useful.
Jewish
A Dictionary of Jewish Surnames from the Russian Empire by Alexander Beider (Avotaynu)
A Dictionary of Jewish Surnames from the Kingdom of Poland by Alexander Beider (Avotaynu)
Jewish Surnames from Prague (15th-18th Centuries) by Alexander Beider (Avotaynu)
Polish
Polish Surnames: Origins and Meanings, 2nd edition, by William F. Hoffman (Polish Genealogical Society)
Scottish
Collins Guide to Scots Kith and Kin: A Guide to the Clans and Surnames of Scotland (HarperCollins)
The Scottish Macs: Family Names of Scotland and the Scots-Irish by James B. Johnston (Irish Genealogical Foundation)
Surnames of Scotland: Their Origin, Meaning and History by George F. Black (Churchill & Dunn, Ltd)
The Origin and Signification of Scottish Surnames: With a Vocabulary of Christian Names by Clifford Stanley Sims (Palala Press)
FAMILY TREE PODCASTS