6 Steps to Start Genealogy in Religious Records
Read More
FREE RESOURCES FROM FAMILY TREE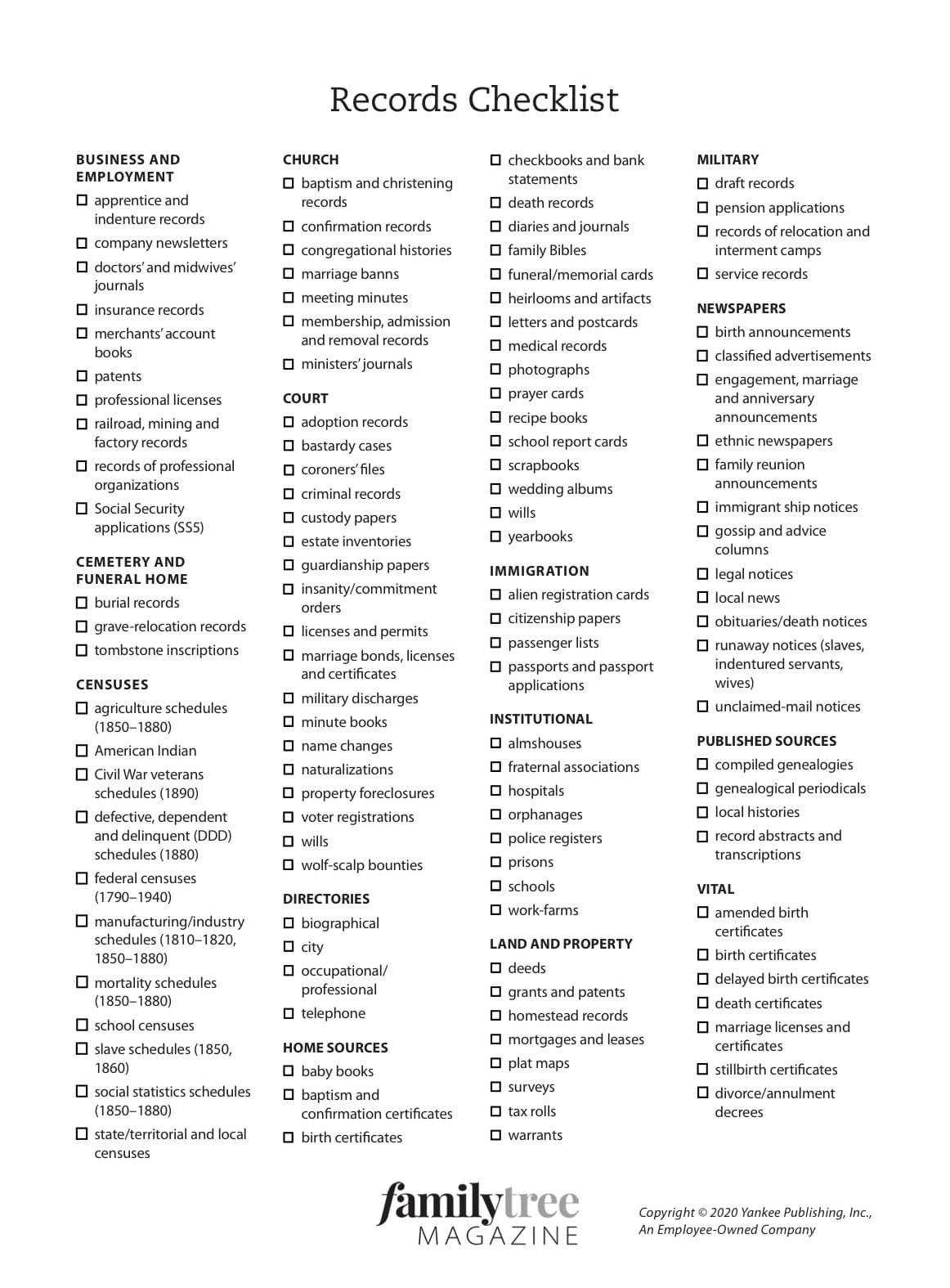 Records Checklist
Think you've hit a brick wall? Don't assume you're stuck yet! Use this rundown of record types (including church records) to guide you to others you may have missed.
Researching Ancestors by Religion
Church Records Resources
WEBSITES (GENERAL)
Association of Religion Data Archives Denominational Trees
FamilySearch Wiki: United States Church Records
WEBSITES (BY RELIGION)
Baptist/Southern Baptist/Free Will Baptist
American Baptist Historical Society
Southern Baptist Historical Library & Archives
National Association of Free Will Baptists
Catholic
American Catholic Historical Society
The Catholic Internet Directory
Catholic Diocese and Bishop Addresses
CatholicLinks.org: Archives, Libraries
Church of the Brethren
Brethren Historical Library and Archives
Church of Jesus Christ of Latter-day Saints
Church of Jesus Christ of Latter-day Saints Church History Library
Congregational Christian Church
Episcopal
Greek Orthodox
Greek Orthodox Archdiocese of America
Lutheran
Concordia Historical Institute
Evangelical Lutheran Church Archives
Huguenot
Mennonite
Pennsylvania and Mennonite Research Center
Methodist
Methodist General Commission on Archives & History
Moravian
Presbyterian
Presbyterian Historical Society
Reformed Church in America
Reformed Church in America Archives
Quaker
Swarthmore: Friends Historical Library
Seventh-Day Adventist
Seventh-Day Adventist General Conference Archives
Shaker
BOOKS AND PUBLICATIONS* (GENERAL)
The Encyclopedia of American Religions, 7th edition, edited by John Gordon Melton (Gale Research)
German Church Books: Beyond the Basics by Kenneth L Smith (Picton Press)
Handbook of Denominations in the United States, 11th edition, by Frank S. Mead, revised by Samuel S. Hill (Abingdon Press)
A History of Christianity in the United States and Canada by Mark A. Noll (William B. Eerdmans Publishing Co.)
How to Find Your Family History in US Church Records by Sunny Jane Morton (Genealogical Publishing Co.)
National Directory of Churches, Synagogues, and Other Houses of Worship, four volumes, by John Gordon Melton (Gale Research)
New Historical Atlas of Religions in America by Edwin S. Gaustad (Oxford University Press)
A Religious History of the American People by Sydney E Ahlstrom (Yale University Press)
A Survey of American Church Records, 4th Rev Ed. by E Kay Kirkham (Everton Brothers)
Researching American Religious Records by Kyle Betit & Beverly Whitaker CG (Heritage Productions)
Searching American Church Records by Fran Carter (American Genealogical Lending Library)
Understanding and Using Baptismal Records by John T. Humphrey (Humphrey Publications)
Yearbook of American and Canadian Churches edited by Eileen W. Lindner (Abingdon Press): Published annually since 1916.
BOOKS AND PUBLICATIONS* (BY RELIGION)
Catholic
US Catholic Sources: A Diocesan Research Guide by Virginia Humling (Ancestry)
Huguenot
Tracing Your Huguenot Ancestors by Kathy Chater (Pen and Sword)
Presbyterian 
Guide to the Manuscript Collections of the Presbyterian Church by Robert Benedetto (Greenwood Press)
Quaker
Encyclopedia of American Quaker Genealogy, six volumes, edited by William Wade Hinshaw (Edwards Bros.)
Monthly Meetings in North America: An Index, 2nd edition, edited by Thomas C. Hill (self-published)
Our Quaker Ancestors: Finding Them in Quaker Records by Ellen Thomas Berry and David Allen Berry (Genealogical Publishing Co.)
*FamilyTreeMagazine.com is a participant in the Amazon Associates Program, an affiliate advertising program. It provides a means for this site to earn advertising fees, by advertising and linking to Amazon and affiliated websites.