Sign up for the Family Tree Newsletter Plus, you'll receive our 10 Essential Genealogy Research Forms PDF as a special thank you!
Get Your Free Genealogy Forms
"*" indicates required fields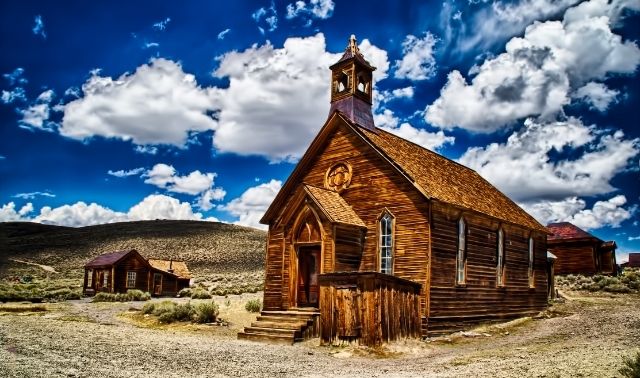 The story of Methodism in the United States reflects the story of the nation itself. Many early colonists were transplanted British citizens, and Methodists started out here as transplanted Anglicans. After the Revolution, Methodism too broke free of mother England. The young American church spread rapidly, its lay leadership and community-building spirit pairing well with democratic ideals. If your ancestors were Methodists, a variety of church records and histories can reveal their lives: The church's methodical record-keeping works to your benefit today.
Methodism's American roots
In the late 1730s, English missionaries John and Charles Wesley began a revival movement within the Church of England. Their followers became known as Methodists because of their methodical study of the Bible and rigorous devotion to a holy lifestyle.
Immigrants to the United States and English lay preachers spread Methodist ideas in Maryland, Virginia, New York and Philadelphia in the mid-1700s. But the 13 Colonies' break with England created difficulties for Anglicans on this side of the pond. In 1784, the Methodist Episcopal Church (MEC) organized, fully independent from the Church of England.
Methodism spread gradually from Mid-Atlantic states via missionaries, settlers and circuit-riding preachers. It reached the Mississippi Valley, Alabama and Texas by 1820. Missions opened in Kansas City in 1830, Oregon in 1834, San Francisco in 1850, and Denver in 1858.
African Americans embraced Methodism from the beginning, but often in a segregated fashion: The first three offshoots from the MEC were black churches. Two of these were the African Methodist Episcopal Church (commonly called AME) and the African Methodist Episcopal Zion Church, major denominations today with about 2.5 and 1.5 million members respectively. A Southern branch—the MEC South—broke off in 1844; many enslaved blacks attended with their owners. After the Civil War, the MEC South created the segregated Colored Methodist Episcopal Church (now the Christian Methodist Episcopal Church), which today serves about 850,000 members.
Today, Methodist and Wesleyan churches claim more than 13 million adherents in the United States. The largest, with 8 million members, is the United Methodist Church (UMC), successor to the original MEC and the home of the former MEC South, the Methodist Protestant Church, the United Brethren in Christ and the Evangelical Church. The Wesleyan Church, which broke from the MEC in 1843, remains independent and claims about 122,000 members in the United States and Canada.
United Methodist Church Records
You can trace Methodist ancestors in the following UMC records. For other Methodist denominations, find contact information on our Church Records page
Annual conference archives maintain official records mentioned here (the term "annual conference" applies to both a regional body of congregations and its yearly business meetings). The General Commission on Archives and History (GCAH) is the central church repository for church materials and publications. It's housed along with the Methodist Library in the United Methodist Archives Center at Drew University. In addition, regional historical societies and Methodist-affiliated universities and seminaries often have collections of regional interest. Find a list of all these libraries and archives at www.ghac.org (click Contact Directories).
Ministers' records
In the early years, traveling ministers called circuit riders served assigned geographical routes, which changed over the years with settlement and membership growth. Ministers recorded baptisms, marriages and funerals in journals, which they reported officially only as statistics. Journals were ministers' personal property. Many were lost or remained in private hands, but some are now at regional historical repositories or GCAH. Learn a minister's name by searching licenses of Methodist preachers in county records, or ministerial appointments in annual conference journals (maintained by annual conference archives, described later).
Sacramental records
Methodists practice infant baptism. Adult converts may join the church without baptism if they've previously been baptized in another church. Confirmation occurs between ages 11 and 14. Records of these events may include the date, celebrant's name and parents' names.

Marriage records typically contain the date and names of the bride, groom, officiant and witnesses. Sacramental records are generally open to the public—request them from the local church office. If a church has merged, look for records in the merged church; if it has closed, look in the annual conference archive. Some records have been microfilmed and are available through FamilySearch Centers: Search under the county or town in the catalog.
Funeral and cemetery records
Funerals generally aren't noted in congregational registers. Other than in ministers' papers, these records may be few and far between. Some Methodist congregations maintained cemeteries, but many are inactive or have changed hands. Try asking about cemetery records at congregational offices and at local genealogical or historical societies.
Additional congregational records
Methodist congregational life historically encompassed Sunday schools, prayer meetings, women's auxiliaries, missionary outreach, camp meetings and assemblies (vacation villages such as Chautauqua, NY). These might have generated meeting minutes, class rolls, donor lists and membership directories (later ones with photos) and compiled histories. Local churches may archive this material themselves but many choose to send it to their annual conference archive. The GCAH keeps a church file collection: Check holdings at archives.gcah.org/xmlui/handle/10516/1131 (click on Local Churches).
Obituaries
Annual conference journals published obituaries for fully ordained ministers and missionaries. Your ordained ancestor would have had a title such as elder, deacon, deaconess or reverend, as opposed to lay teachers and exhorters. Search the conference journal index at www.gcah.org (go to Research, then Conference Memoirs Index); this site also gives information about ordering records. Obituaries appear in newspapers, too.
Related institutional records
Methodists were fond of forming societies for various social causes. Membership rosters, donors' lists and meeting minutes might list ancestors involved—or at least describe group doings—in organizations such as the Freedman's Aid Society (see records at www.auctr.edu) or the Women's Christian Temperance Union (whose records are in a library and archive you'll find described at www.franceswillardhouse.org and in various state-level archives).
Newspapers
The weekly Methodist Christian Advocate began publication in 1826 in New York. It included obituaries and marriages of lay members, not just ministers and missionaries. Regional papers sprang up throughout the 19th century, including Zion's Herald (Boston), Missionary Journal (Charleston, SC), Western Christian Advocate (Cincinnati) and Southern Christian Advocate (Macon, Ga.). The Nashville Christian Advocate became the voice of the MEC South in 1846. Some titles have been microfilmed and/or indexed: Check with genealogical and Methodist libraries and look online (the Southern Christian Advocate is indexed at www.wofford.edu/library/archives/archiveobituary.aspx.) The Methodist Library  at Drew University has an extensive newspaper collection, and you'll find a full catalog of Methodist serials at www.gcah.org (click Research, then Bibliographies and Catalogs).
 
 
A version of this article appeared in the December 2012 issue of Family Tree Magazine.