Sign up for the Family Tree Newsletter Plus, you'll receive our 10 Essential Genealogy Research Forms PDF as a special thank you!
Get Your Free Genealogy Forms
"*" indicates required fields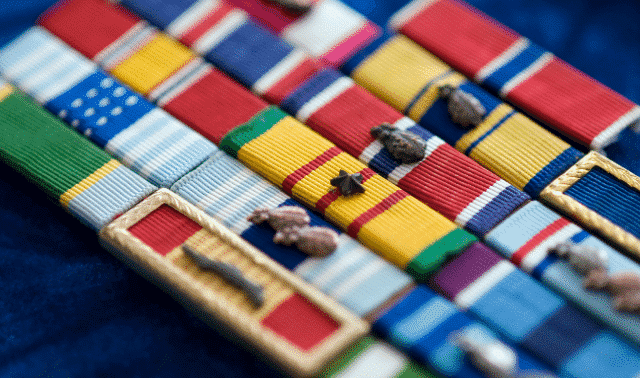 In this article:
Ideas for Displaying Military Heirlooms in Your Home
Preserving Military Uniforms
Military uniforms are made tough and see a lot of action, which often leaves them worse for wear. But preserving your ancestor's dress blues, red coats or camo greens doesn't have to be a battle.
Here are some basic steps to follow to preserve military uniforms for yourself or family members:
1. Protect the military uniform from sunlight, moisture and insects.
The most important guideline: Protect your heirloom textiles from sunlight, moisture and insects. Don't keep the clothes in the attic or basement—the temperature extremes and risk of water damage are too dangerous.
2. Remove surface dust and dirt, then leave cleaning to the experts.
It's best not to attempt to completely clean vintage duds yourself. However, you can remove some dust and dirt. Use a hand-held vacuum set to the lowest setting. Put a nylon screen over the vacuum nozzle (old pantyhose works nicely) to prevent damage. For a deep clean, find a dry cleaner who specializes in antique clothing, or consult a conservator. If the uniform is modern, clean it as its care instructions dictate, and then store the uniform as carefully as you would a vintage one.
3. Limited storage on a hanger is OK.
It's OK to keep the suit in a closet on a padded hanger for the short term. You can pad a hanger with polyester batting and wrap it in unbleached, washed muslin to create a custom fit. But for the long term, you'll want to store the uniform horizontally.
4. Preserve uniform and accessories in archival boxes for longer storage.
Flat garment boxes are available from any of the suppliers such as Gaylord Archival, Hollinger Metal Edge or University Products. (Never store heirloom textiles in plastic bags.) Wrap individual pieces with acid-free tissue paper, and be sure to pad folds with tissue paper, too, to prevent creasing.
Store hats, gloves and shoes in archival boxes with acid-free tissue padding to help the items keep their shape.
5. Be mindful of your storage location.
Store boxed uniforms in an interior closet free from extreme temperatures and moisture, and far away from pipes that may burst. To reiterate: that means no attics or basements! Keep uniforms away from direct light.
6. Display your military uniform heirloom for only six months at a time.
If you want to display the uniform, keep it out for six months at a time at most, followed by six months in storage.
Grace Dobush and Sunny Jane Morton, from the November 2009 (Dobush) and May 2011 (Morton) issues of Family Tree Magazine.
Preserving Medals
When preserving metal heirlooms, it's a good idea to try and identify what metal the object is made of. Some metals such as silver or bronze may require additional care to extend their life. The American Institute for Conservation has a helpful article on their website that goes into more detail about preserving metal heirlooms.
Here are a few general tips for medal preservation:
Wear cotton gloves when handling medals to avoid corrosion
Clean military medals with a soft, dry brush and remove any foreign objects such as rubber bands
Store metals in acid-free, archival grade materials
Avoid exposing medals to high-intensity lights or heat
Preserving Flags
When it comes to old flags: you may be tempted to proudly display them by running them up a pole or hanging outside a window. But flying Old Glory—if it's truly old—could irreparably damage your family heirloom. Even washing the flag is a no-no. Your colors may indeed run, and the stress could cause tears in the fabric.
Textiles are especially vulnerable to light, dirt, extreme temperatures, humidity, bugs and pollution. The best course of action is to buy an acid-free flag box and interleave the fabric with acid-free tissue paper. Some climates require different methods of protection, however. In desert areas, use unbleached cotton instead of tissue paper; in semitropical and tropical climes, you need to take extra care to keep insects away.
If you're considering having your flag cleaned or appraised, consult a conservator.
Grace Dobush
Ideas for Displaying Military Heirlooms in Your Home
Honor your ancestors' military service by creating a unique display with heirlooms, photographs and other memorabilia. Spark new family history conversations and inspire yourself to learn more about their wartime experiences.
My husband's most prized military heirlooms relate to his grandfather's service in World War II. John Morton was attached to the U.S. Army's 302nd Combat Engineer's Battalion. We have his wool shirt and jacket, medals and bars, a 1942 battalion yearbook filled with photos and news clippings, and a thick file of original paperwork. Among this precious collection is a love letter from "somewhere in the Philippines" to the woman who would later become his bride.
I wanted to create a display that would keep Grandpa Morton's service fresh in our memory. Perhaps it would even prompt conversations with my children about patriotism, military service and family history.
First, I needed a tabletop mannequin to display the army shirt and jacket. You can purchase tabletop mannequins, but I built one from a jewelry display bust, which for additional height and stability I secured to a large, inverted clay pot. To help the clothing keep its shape, I stuffed it with polyester fiberfill wrapped in cotton cloth (the latter kept it from sticking to the wool uniform).
Second, I set the yearbook on a stand and laid the decorations out. I didn't affix the medals or bars to his uniform both. I haven't researched the proper placement, and I don't want to poke holes in the wool. Finally came the fitting backdrop—a pallet flag made by a relative—unifying the little assemblage of items.
Embellished framed photo
The most important part of the display, though, is the framed photo of John Morton in uniform. My stepmother-in-law ordered this custom framing job. Wording from his original commendation paperwork lays over a copy of the photo and some World War II decorative embellishments. You can recreate the same look of an old-school typewritten message by using a typewriter font.
Another nice touch are the imitation dog tags secured to the frame. Craft stores typically carry little metal blanks and alphabet stamping sets for those who want to make their own dog tags (here's a tutorial). Alternatively, you can have one made for you at a sites such as Dogtags.com or Medals of America.
When you own an heirloom, you have to decide whether to protect it in archival storage or enjoy it on display. However, the latter puts it at risk for damage. Therefore, this will be a temporary display for just a few months. It isn't something I'd advocate for the long-term preservation of these family military heirlooms. John Morton's fragile paperwork is in archival enclosures, but we display these other items for the value they communicate to our family life today.
Sunny Morton
Last updated, May 2023