Unexpected Details in Vital Records
Read More
FAMILY TREE FREE RESOURCES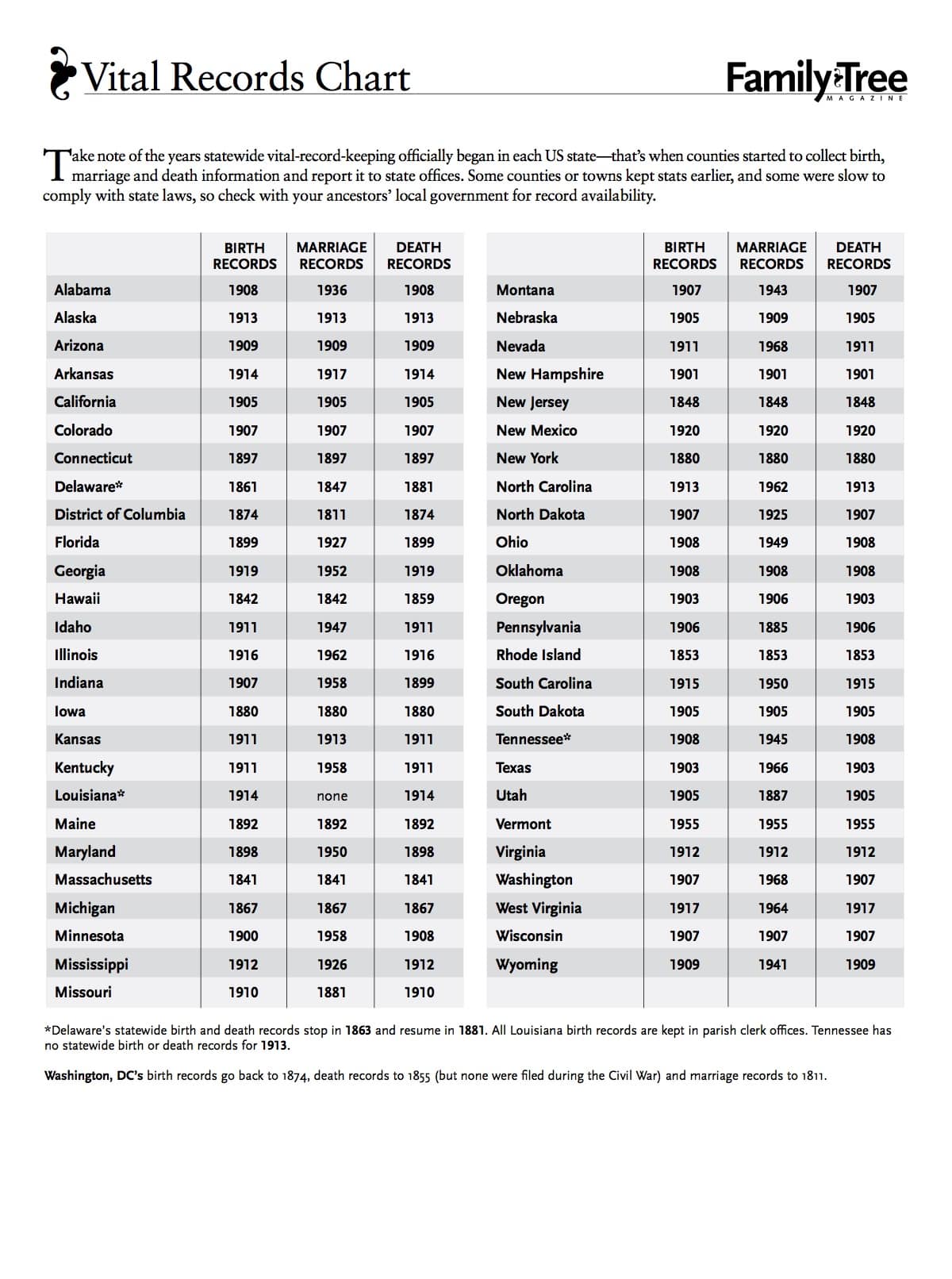 US Statewide Vital Records Chart Download
See at a glance the years that each US state began keeping state-level birth, marriage and death records. (Note that many counties began recording these events earlier.)
Free Vital Records Forms from Family Tree Magazine
Locating and Using Vital Records
Vital Records Research Resources
US NATIONAL AND REGIONAL WEBSITES
American Ancestors: Vital Records
Ancestry.com: Birth, Marriage & Death: A US subscription includes a trove of online records and indexes, including vital statistics. To see states and years covered, search the card catalog.
CDC: Where to Write for Vital Records: Get details about all state vital-records offices.
Cyndi's List: Vital Records: Link to dozens of sources for birth, marriage and death information.
Rootsweb Wiki: U.S. Birth, Marriage, and Death Records
USGenWeb state pages: Each US state and county has a USGenWeb site. Genealogical goodies vary, but many sites feature links to small databases of vital-records transcriptions.
VitalChek: Order copies of vital records from all US states through this commercial site.
VitalRec.com: Billed as "the most comprehensive resource for ordering vital records on the Internet," VitalRec.com points you to resources and instructions for getting your kin's vital stats.
VitalSearch: You have to sign up for a free guest pass, and you'll be assaulted by ads, but you can access a bonanza of birth, marriage and death data here — most notably indexes to California and Texas records.
US STATE WEBSITES
Find vital records information for each specific state on our Explore Genealogy by State interactive map.
INTERNATIONAL WEBSITES
British Columbia Archives' Vital Event Indexes: Search indexes of births (1872 to 1903), marriages (1872 to 1929) and deaths (1872 to 1984).
FamilyRelatives.org: See images of UK birth, marriage and death indexes for 1866 to 2002, with transcriptions for 1866 to 1920 and 1984 to 2002.
FamilySearch: Vital Records: Click on the Search tab, then Vital Records Index to access Scandinavian and Mexican birth and marriage data. Check the International Genealogical Index for European ancestors, too.
FindMyPast.com: This database has UK births, marriages and deaths starting in 1837.
Foreign Consular Offices in the United States: These offices may be able to advise you on vital-records requests from countries with hard-to-access records.
FreeBMD: Volunteers are furiously transcribing UK vital records for this database; coverage varies by year.
Genlias: This Dutch site has mostly 19th- and 20th-century baptism, marriage and death records.
Genline: Search more than 12 million images of Swedish church records.
National Archivist: This commercial site offers databases licensed from the British archives. Collections include registers of Births, Marriages and Deaths at Sea (1854 to 1890) and Index to Divorce and Matrimonial Causes (1858 to 1903).
New Brunswick Vital Statistics Search Engine: Search nearly 700,000 Canadian vital records from the 1800s and early 1900s.
ScotlandsPeople: This site offers a fully searchable index of Scottish births from 1553 to 1904, marriages from 1553 to 1929 and deaths from 1855 to 1954.
BOOKS AND PUBLICATIONS* (US)
The Barbour Collection of Connecticut Town Vital Records, 55 volumes, edited by Lorraine Cook White (Genealogical Publishing Co.)
Birth, Marriage and Death Records: A Guide for Family Historians by David Annal and Audrey Collins (Pen and Sword)
Boston Births, Baptisms, Marriages, and Deaths, 1630-1699 and Boston Births, 1700-1800 by William S. Appleton (Genealogical Publishing Co.)
Early Pennsylvania Births, 1675-1875 by Charles A. Fisher (Genealogical Publishing Co.)
The Family Tree Resource Book for Genealogists edited by Sharon DeBartolo Carmack and Erin Nevius (Family Tree Books)
A Guide to Kentucky Birth, Marriage and Death Records, 1852-1910 by Jeffrey Michael Duff (Kentucky Department of Libraries and Archives)
Indiana Source Book, 10 volumes (Indiana Historical Society)
Pennsylvania Vital Records, 3 volumes (Genealogical Publishing Co.)
Printed Sources: A Guide to Published Genealogical Records edited by Kory L. Meyerink (Ancestry): The Vital and Cemetery Records chapter contains listings of books for each US state.
Red Book, 3rd edition, edited by Alice Eichholz (Ancestry)
Sourcebook of Michigan Census, County Histories, and Vital Records edited by Carole Callard (Library of Michigan)
The Sourcebook to Public Record Information, 6th edition (BRB Publications)
BOOKS AND PUBLICATIONS* (INTERNATIONAL)
Following the Paper Trail: A Multilingual Translation Guide by Jonathan D. Shea and William F. Hoffman (Language & Lineage Press)
International Vital Records Handbook, 4th edition, by Thomas Jay Kemp (Genealogical Publishing Co.)
Phillimore Atlas and Index of Parish Registers, 3rd edition, by Cecil Humphrey-Smith (David Brown Book Co.)
Birth Records
Birth Records Research Resources
WEBSITES
BOOKS AND PUBLICATIONS*
Marriage Records
Marriage Records Research Resources
WEBSITES
Ancestry.com: Marriage & Divorce
FamilySearch Wiki: United States Marriage Records
USGenWeb Archives Marriage Project: Click on your ancestral state to see what records volunteers have transcribed.
Western States Historical Marriage Record Index: This growing index has 360,000 records from Arizona, California, Colorado, Idaho, Montana, Nevada, Oregon, Utah, Washington and Wyoming.
BOOKS AND PUBLICATIONS*
37,000 Early Georgia Marriages by Joseph T. Maddox (self-published)
Early Alabama Marriages, 1813-1850 (Family Adventures Publishing)
Early Connecticut Marriages by Frederic W. Bailey (Genealogical Publishing Co.)
Early East Tennessee Marriages, Early Middle Tennessee Marriages and Early West Tennessee Marriages by Byron and Barbara Sistler (self-published)
Early Massachusetts Marriages Prior to 1800 by Frederic W. Bailey (Genealogical Publishing Co.)
A Guide to Kentucky Birth, Marriage and Death Records, 1852-1910 by Jeffrey Michael Duff (Kentucky Department of Libraries and Archives)
Iowa Marriages Before Statehood, 1835-1846 by Shela S. Fretwell (self-published)
Kentucky Marriages, 1797-1865 by G. Glenn Clift (Genealogical Publishing Co.)
Louisiana Marriage Contracts: A Compilation of Abstracts From Records of the Superior Council of Louisiana During the French Regime, 1725-1758 by Alice Daly Forsyth (Polyanthos)
Marriage Records of Early Texas, 1824-1846 compiled by Norma Rutledge Grammer (Fort Worth Genealogical Society)
Marriage Records in the Virginia State Library: A Researcher's Guide, 2nd edition, by John Vogt and T. William Kethley Jr. (Borgo Press)
Maryland Marriages, 3 volumes, by Robert William Barnes (Genealogical Publishing Co.)
Missouri Marriages Before 1840 by Susan Ormesher (Genealogical Publishing Co.)
New England Marriages Prior to 1700, 6th edition, by Clarence A. Torrey (Genealogical Publishing Co.): Also see supplements compiled by Melinde Lutz Sanborn (Genealogical Publishing Co.).
New Jersey Marriage Records compiled by William Nelson (Genealogical Publishing Co.)
The New Orleans French, 1720-1733: A Collection of Marriage Records Relating to the First Colonists of the Louisiana Province by Winston DeVille (Genealogical Publishing Co.)
North and South Carolina Marriage Records From the Earliest Colonial Days to the Civil War by William Montgomery Clemens (Genealogical Publishing Co.)
Oklahoma Territory Weddings by Frances Murphy Bode (Pioneer Book Committee)
Pennsylvania Marriages Prior to 1790 edited by John B. Linn and William H. Egle (Genealogical Publishing Co.)
South Carolina Marriages, 2 volumes, by Brent H. Holcomb (Genealogical Publishing Co.)
South Carolina Marriages, 7 volumes, by Barbara R. Langdon (self-published)
Death Records
Death Records Research Resources
DEATH RECORDS WEBSITES
Glossary of Archaic Medical Terms, Diseases and Causes of Death
Online Searchable Death Indexes and Records
Online Searchable Death Indexes for the USA
US Census Bureau: Mortality Schedules
Vermont Chronicle Marriage and Death Records Transcriptions: Search a surname index to death and marriage notices in the weekly Vermont Chronicle from 1826 to 1898.
OBITUARY WEBSITES
Historic Congressional Cemetery: Search 20,000 obituaries and death notices, plus other documents relating to the 60,000 people buried here.
Louisiana Biography and Obituary Index: Search obituaries and death notices from New Orleans newspapers dated 1804 to 1972, plus information from historical Louisiana biographies.
Massachusetts Obituary and Death Notice Searches: You can request an obituary search of most post-1875 Massachusetts newspapers (but you won't get a refund if your ancestor doesn't turn up).
Newspapers.com: Look for wedding announcements and obituaries in this searchable index with images of US, Canadian and UK newspapers from 1765.
Obituary Central: Locates, categorizes and presents obituaries online. The Obituary Links Page is arranged by state and county, with thousands of links to online obituaries, cemetery transcriptions and death notices.
Obituary Daily Times: Lists not only newspapers that are being indexed, but those that are in need of indexers. If the newspaper has a website, there will be a link to it.
ObitsArchive.com: It's free to search this index of recent obituaries (dating back only to the 1970s) from 500 newspapers, but you pay to see an article or for a 30-day pass limited to 30 downloads.
Obituary Depot: This site's links to obituary resources are organized by state.
Obituary Links Page: Navigate to statewide and local obituary databases from this state-by-state directory.
Obituary Search — Pine Bluff, Arkansas: Access obituaries and death notices appearing in the Pine Bluff Commercial from 1950 to 1968, 1970 to 1973 and 1989 to the present.
RootsWeb Obituaries Database: Tap into 114,000 user-contributed death notices covering more than 38,000 surnames.
USGenWeb Archives Obituary Project: This volunteer-run database categorizes obituaries by state and county or by publication name.
CEMETERY WEBSITES
FUNERAL HOME RECORD WEBSITES
Ancestors at Rest: Scan the photos and transcriptions of coffin plates, funeral cards, obituaries, wills and other death records for your ancestors' names.
Canadian Funeral Home Directory: Look up contact information for your ancestor's funeral home.
Cyndi's List: Cemeteries & Funeral Homes: Links to sites with obituary data, cemetery transcriptions and funeral home records.
funeralCENTRAL: Publishes funeral notices similar to those submitted by funeral homes to newspapers. It's a free service, but the funeral home must send the notice for inclusion in the database.
Funeral Net: Locate cemeteries and funeral homes, as well as search for obituaries. The database of funeral homes was compiled from The National Yellow Book of Funeral Directors.
USAFuneralHomesOnline.com:Track down your ancestors' death records with assistance from this comprehensive guide to the nation's funeral homes.
BOOKS AND PUBLICATIONS*
The American Blue Book of Funeral Directors (Kates-Boylston)
The Family Tree Cemetery Field Guide: How to Find, Record, and Preserve Your Ancestors' Graves by Joy Neighbors (Family Tree Books)
The History of Death: Burial Customs and Funeral Rites, from the Ancient World to Modern Times by Michael Kerrigan (Lyons Press)
"Nineteenth-Century Death Records: How Dependable Are They?" by William B. Saxbe Jr., National Genealogical Society Quarterly 87 (March 1999)
My Ancestor Died of Scarlet Fever: Family History, Diseases and Death Certificates by Ruth Alexandra Symes (Portrayer Publishers)
"Read Between the Lines: Interpreting Modern Death Records" and "What Killed Aunt Rhody? Interpreting Old Death Records" lectures by William B. Saxbe Jr.
Tracing Your Ancestors Through Death Records: A Guide for Family Historians by Celia Heritage (Pen and Sword)
Your Guide to Cemetery Research by Sharon DeBartolo Carmack (Betterway)
Divorce Records
Vital Records Substitutes
FAMILY BIBLE AND CHURCH RECORDS WEBSITES
Ancestor Hunt: Search a master index of surnames extracted from family Bible records, as well as images of pages from a few Bibles.
Bible Records Online: One dedicated genealogist has transcribed and digitized records from 1,100 Bibles containing more than 3,000 surnames.
British Origins: Databases here include large collections of church records and Boyd's Marriage Index, with 7 million names from 1538 to 1840.
The Central Database of Shoah Victims' Names: This searchable database contains about 3 million names of Holocaust victims gathered from family members' Pages of Testimony identity cards and other victim lists.
Family Bibles: Browse this blog of Bible records and page images.
Family History Online: This UK Web site's databases include more than 55 million records, many from churches. Search the name index for free; use prepaid vouchers to view index entries for about 9 cents each and transcriptions for about 13 cents each.
FamilySearch: International Genealogical Index (IGI): Click on the Search tab, then select the IGI link from the left frame. The Church of Jesus Christ of Latter-day Saints' mammoth vital-statistics collection encompasses millions of births and marriages in the United States and abroad. Much of the data was extracted from original records; church members submitted the rest. If you have Scottish ancestors, try using Scots Origins' special IGI interface to search records by parish, which you can't do on FamilySearch.
The Genealogy Spot Family Bibles and Genealogy Records: Link to researcher-contributed Bible records, some with page images.
GENUKI Church Database: Find locations of 1800s UK parishes.
Index to Online Bible Records: This chart links to transcriptions from dozens of family Bibles.
Locating Catholic Church Records in New Mexico: Find tips for locating your ancestors' church and the records it kept.
Mission 2000: The Tumacácori National Historical Park website hosts Spanish mission records from southern Arizona and northern Sonora, Mexico. The database documents 8,000 baptisms, marriages and burials spanning the late 17th century to the mid-19th century.
National Society Descendants of Early Quakers: This website has useful information on researching Quaker ancestors.
Olive Tree Genealogy: Church Records of New Netherland/New York: Scroll down to see the church names and available records you can peruse on this site.
The Research Program in Historical Demography: Looking for kin from Quebec? This University of Montreal site lets you search 758,500 baptisms, marriages and burials from pre-1850 Catholic parish registers for free.
UNESCO Archives Portal: If you're trying to locate overseas church archives, check this portal — it'll connect you to more than 300 worldwide.
USGenWeb Church Records Project: This USGenWeb Archives project links to church histories, registers and other records organized by state.
Western Reserve Historical Society Bible Records Index: Search an index of more than 35,000 Bible record entries.
*FamilyTreeMagazine.com is a participant in the Amazon Associates Program, an affiliate advertising program. It provides a means for this site to earn advertising fees, by advertising and linking to Amazon and affiliated websites.