Sign up for the Family Tree Newsletter Plus, you'll receive our 10 Essential Genealogy Research Forms PDF as a special thank you!
Get Your Free Genealogy Forms
"*" indicates required fields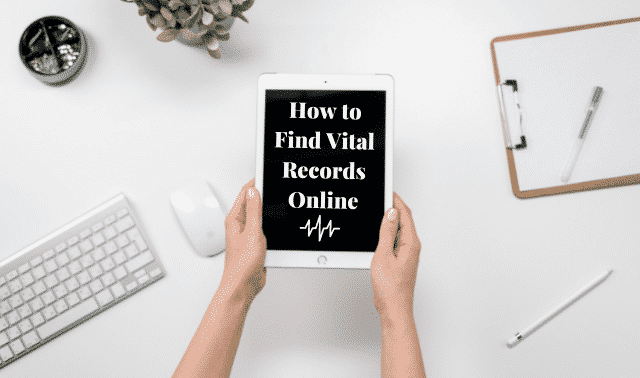 Family historians live and die by vital records. The key family tree details in birth, marriage, divorce and death certificates breathe new life into your research. But to get them from government agencies, you have to deal with bureaucratic red tape — which can kill your genealogical momentum. And though vital records have joined the parade of family tree documents marching onto the web, they're not always easy to find. Just as fees and access policies vary from state to state, so does online availability.
Consider the contrast between New York and Minnesota: The Empire State charges genealogists $22 for a copy of a death record (more if your search request exceeds a three-year span). Alas, that higher-than-average fee doesn't buy you blue-ribbon service: You can expect to wait nine to 10 months before your photocopy finally arrives in the mail. Worse, New York's microfiche indexes are available only at four in-state locations. Minnesota, on the other hand, has adopted a convenient high-tech access approach: From the Minnesota Historical Society's (MHS) Web site, you can search a 1906 to 1996 death index, then request an $8 photocopy of the record, which will arrive within 15 to 20 business days. MHS is tackling an online birth index, complete with digitized copies of the original records. No more waiting by your mailbox.
With online vital stats so scattered, how do you know whether the keepers of your clan's records have embraced 21st-century technology? And what if your ancestors' states haven't emerged from the horse-and-buggy days — can you find the data anywhere else on the Web? Follow these five steps to find out.
Step 1: Go to the government websites.
To get vital records the old-fashioned way, you'd start with state agencies — and they're the first place to look online, too. We found vital-records indexes (as well as some transcribed and digitized records) for a handful of states, mostly in the Midwest.
Most indexes don't provide all the record details, so you'll still need to order copies of the originals (or find them on microfilm). But you can use indexes to verify a record's existence before requesting a copy — which saves you time and money, since state vital-records offices usually charge a search fee even if they don't find the record. Indexes also help you identify which record to order and which office to request it from. By searching state vital-records indexes for everyone with a certain surname, you also could find relatives you never knew existed.
These government-sponsored sites offer the most extensive online compilations of their states' vital records:
Arizona Genealogy Birth and Death Certificates: Genealogists would rejoice if every state had a Web site like this one. You can search indexes of births that occurred at least 75 years ago and deaths that occurred at least 50 years ago. Then simply click to download PDF copies of the original records.
Colorado Marriages Search and Dissolution Search:The Colorado Department of Health and Environment maintains these indexes to marriages from 1975 to the present, and divorces from 1851 to 1939 as well as 1968 to today. Start by searching on just a first name or a last name. If you get too many matches, add another name, a county or a date to narrow your search.
Illinois Statewide Vital Records Databases: You can search three statewide vital-records indexes here. The Illinois Department of Public Health has cataloged deaths from 1916 to 1950. The state archives is indexing earlier deaths and, along with the Illinois State Genealogical Society, is working on a 1763 to 1900 marriage index (which actually includes some nuptials up to 1920). Make sure you read the site's tips for searching these indexes and the instructions for getting copies of the original records.
Kentucky Death Index: The University of Kentucky hosts this database of almost 2.7 million deaths in the Bluegrass State from 1911 to 1992. You'll want to read the explanatory notes to find out what the codes mean. The indexes to marriages and divorces from 1973 to 1993 also could come in handy for tracking down living relatives.
Library of Virginia (LVA) Digital Library Program: The Death Records Indexing Project, a collaboration of LVA and the Virginia Genealogical Society, aims to catalog the state's death registers from 1853 to 1896. It covers 15 cities and counties so far. LVA's Web site contains other resources for birth, marriage and death data, including indexes to newspaper marriage notices and obituaries. Use the Archives and Manuscripts Catalog to search digital images of 6,000 family Bible records.
Michigan Genealogical Death Indexing System: The state Division of Vital Records and Health Statistics, working with local genealogical societies, created this index to more than 170,000 death records. Though it claims to cover 1867 to 1884, some records go up to 1897. If you don't know a woman's married name, search on her first name and enter her maiden name in the Father's Last Name box.
Minnesota Birth and Death Certificates Indexes: MHS' death index now covers 1906 to 1996. So far, the new birth index spans only 1900 to 1907, but more years are on the way.
Click on Add to Order to request a copy. You'll receive death certificates by regular mail; birth certificates are delivered online. You also can go to your public library and order microfilmed death records via interlibrary loan (up to six rolls).
Missouri Birth and Death Records Database: These abstracts of 185,000 pre 1910 birth and death records include just about all the information in the original records. (The originals lack parents' names, unfortunately.) Transcribing is in progress, so if you don't find a name, check the list of available records. Click the Detail button to view the full record abstract and instructions for ordering a photocopy of the original for just $1 per page.
Ohio Death Certificate Index: The Ohio Historical Society's Web site catalogs 2 million deaths from 1913 to 1937. Each entry gives a name, date of death, the volume number and the certificate number. You can get copies for $6 (click on Obtain Death Certificates).
Since the index was created using Optical Character Recognition (OCR) software, it does contain errors. If you don't find your ancestor, read the Frequently Asked Questions for tips to locate incorrectly transcribed names.
South Dakota Birth Records: Even though South Dakota didn't start registering births on the state level until 1905, people born earlier still could file records of their births — which many did. This index encompasses 124,000 records from 1856 to 1905. You can search on the names of the baby and parents, birth date, and city or county.
Step 2: Scour other statewide (and local) databases.
So you struck out with state-government sites. Don't give up on statewide sources just yet — commercial genealogy Web sites host numerous vital-records indexes, as well as town and county sources. Since tax dollars don't fund these databases, most require subscriptions.
Ancestry.com: The US membership gives you a compendium of statewide vital stats — representing 39 states and various time frames — as well as local birth, marriage and death records.
Searching the entire category lets you cover a lot of ground at once. But if you know where your target ancestor lived, select a single database to take advantage of extra search options. For example, the category search lets you specify only the country of death, but the South Carolina death index lets you search on the county of death — handy if you're researching a common name.
Genealogy Library: With this Genealogy.com subscription, you can search vital records (mainly marriages) from several states. If you know your ancestors' residence, you're better off focusing on a single database than searching the entire library at once. But locating relevant databases takes some diligence. For example, the site lists several Indiana and Massachusetts collections under the Historical Records heading, but others appear haphazardly in the Family Books and 1850 Census Images. (Hint: Click Expanded Directory and check the Places and Records subheadings.)
HeritageQuest Online: The 25,000 volume Family and Local Histories Collection includes tomes containing birth, marriage and death details copied from several states' town records, newspapers and church records — especially Massachusetts'. You can access this collection by visiting a subscribing library or genealogical society (some organizations allow remote access, so you might be able to log in from home).
When you're searching HeritageQuest Online for a vital record, do a People search first. If that doesn't work, try the Publications search to browse promising family and local history books. Click on Search Books, then Publications, then Search Publications. To find published vital records for a particular town, type the name of the town and state plus the word registers in the Subject box, like this:Concord Massachusetts registers. Then click on Search. To browse a book, click View Image and Table of Contents. Start with the index, if the book has one.
NewEnglandAncestors.org: The New England Historic Genealogical Society's website contains a cornucopia of members-only databases. In addition to transcribed vital records for various New England towns, you'll find indexes to Maine vital records and transcriptions of many Rhode Island vital records up to 1850. The society is working on an 1841 to 1910 Massachusetts vital-records index whose entries link to digital images of the original records.
To limit your search to vital records, select Vital Records from the Categories pull-down menu on the Master Search page (click the Research tab, then Databases). To select a specific database — and take advantage of its custom search options — click on Databases by Record Type or Location, followed by Vital Records. (Hint: Read each database's search tips for instructions on doing wildcard, proximity and phrase searching.)
Vitalsearch: As its name implies, this site is the Goliath of online vital-records indexes.
Vitalsearch catalogs 80 million records from 12 states, and you can access most data for free. Coverage goes as far back as 1877 and up to 2003. You'll have to put up with prolific banner ads, difficult navigation and some hard-to-read records, but the site's wealth of data — most of which you won't find elsewhere online — makes it worthwhile.
Vitalsearch's indexes to California births (1905 to 2001) and deaths (1905 to 2000) are especially useful for genealogists. You'll need to sign up for a free "guest pass" to search. Another option is to purchase a membership — you'll avoid some ads and be able to view more indexes, most of which cover recent years.
Step 3: Search online directories.
Of course, not all vital-records databases reside in such visible locations. Others lurk on the sites of county agencies, genealogical societies and volunteer groups. Luckily, you don't have to scour all of cyberspace in search of them: Online directories can save you from needless surfing. Use these sites as stepping-off points to hundreds of vital-records databases:
Cyndi's List: Click here for nearly 500 links to both general resource sites and state-related sites. You'll find guides to writing vital-records requests and links to databases. Be sure to follow the links to the individual state pages, which have a category called Records: Census, Cemeteries, Land, Obituaries, Personal, Taxes and Vital (Born, Married, Died and Buried). You can keep track of additions to Cyndi's List by subscribing to the site's mailing list.
Online Searchable Death Indexes and Records: A sister site to the aforementioned marriage-records directory, this portal points you to online indexes and other death-date sources, including obituaries, cemetery records, burial records and probate indexes.
Government databases and subscription Web sites can ease your access to birth, marriage and death certificates — but they're not the only vital-records resources. The death certificate above is from an online database of burials for Washington, DC's Historical Congressional Cemetery.
Public Record Finder.com: You'll find loads of links to free Web resources at Public Record Finder.com. The bulk of its vital-statistics listings cover California, Florida and Texas, with a handful for other states.
USGenWeb: Check any applicable county pages for vital-records indexes, transcribed records and related links.
For a state-by-state database listing, check the vital-records chapter in my book Plugging Into Your Past (Family Tree Books).
Step 4: Harvest hidden sources with Google.
More and more vital records are hitting the Web all the time. How do you find newly unveiled databases that directories haven't yet listed — and the ones that have escaped portal sites altogether? An Internet search engine can help you uncover them.
Start with a search engine such as Google. In the search box, enter a place name and record type, such as "Allegany County" "New York" "vital records." (Surrounding a phrase in quotation marks tells the search engine to return only pages on which those words appear together in that order.) To limit matches to a specific record type, you could replace "vital records" with "birth records," "marriage records" or "death records." Many hits will just tell you where to write for vital records, but you might find online records, too.
For example, I recently discovered that the county where I live has posted vital-records data online. The Clay County, Minn., website now has indexes to marriage records from 1872 to 1939 and death records from 1872 to 1980 — in which many of my relatives' names appear.
It's worth looking for birth, marriage and death data on county-government Web sites for your ancestors' locales. Many of their Web addresses (also called URLs) follow the same format: In the Clay County example, just replace clay with the county name and mn with the state's two-digit postal abbreviation. So you'll find Ontario County, NY, at <> and Frederick County, Va..
You won't always hit pay dirt with vital-statistics indexes, but county-government Web sites often include other useful resources, such as maps, local history, photocopying fees and county offices' contact information.
Step 5: Research in other online sources.
If you've checked all these online sources without any luck, maybe your ancestors' vital records just aren't online — or perhaps their births, deaths or marriages weren't recorded in the first place. After all, many states didn't mandate systematic vital-record-keeping until after 1900.
But don't give up on finding your forebears' vital stats: You can cull birth, marriage and death information from many other sources, including church, funeral home and census records; family Bibles; obituaries; and wills. A growing number of those documents are being digitized, too — check sites such as Cyndi's List, USGenWeb and subscription Web sites.
Even when such sources aren't online, the Web can help you locate them offline. Search phone directories, such as InfoSpace, for the addresses of churches and funeral homes. For guidance on getting vital records the old-fashioned way, visit Vitalrec.com or Where to Write for Vital Records.
And while you're waiting for those certificates to arrive by Pony Express — er, we mean the mail — maybe more low-tech states such as New York will jump on the online vital-records bandwagon. The prospect sure gets your pulse racing, doesn't it?
A version of this article appeared in the June 2005 issue of Family Tree Magazine.