FROM OUR PUBLISHING PARTNER
County Courthouse eBook
The County Courthouse Book is a concise guide to county courthouses and courthouse records.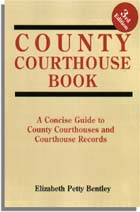 Courthouse Records Resources from Family Tree
Courthouse Research Supply Kit
Before you trek to the courthouse, pack the following supplies in your tote along with your regular on-the-road research materials:
prioritized list of records to look for
change for photocopiers and parking meters
phone or digital camera and charger
pens or mechanical pencils
notepad
magnifying glass
white cotton gloves
hand wipes
dust mask
snack and water bottle
Researching Courthouse Records
---
Overcoming Burned or Missing Courthouse Records
---
Types of Courthouse Records
---
Courthouse Records Resources
Information provided by Christine Crawford-Oppenheimer, Sunny Jane Morton and Judy G. Russell in the June 2003 (Crawford-Oppenheimer) and the May/June 2013 (Morton and Russell) issues of Family Tree Magazine, and the September 2005 issue of Family Tree Sourcebook.
Some of the following websites provide scanned or transcribed court documents. Other resources index wills or legal cases. If you find your ancestor in an index—or you know about when his estate was probated or his criminal case was prosecuted—write the court clerk to request copies of documents. For the most part, though, courthouse research involves traveling to your ancestral county or voyaging to the state archives and scrounging around in a dusty file room for the records you need. When planning your trip, consult the how-to websites and books we recommend here—and call ahead to check on record availability, office closures and access restrictions.
WEBSITES (GENERAL)
American Colonial Probate Records
Ancestry.com: Where else could you find Kansas voter registrations from 1854 to 1856; Kent County, Del., probates from 1680 to 1800; and a broad assortment of other court records? Subscribe to this collection yourself — or visit a library that subscribes to the institutional version, Ancestry Library Edition.
BlackSheepAncestors.com: If you suspect family ne'er-do-wells, visit this site and link to prison and criminal court record sources, as well as outlaw lists.
Board for Certification of Genealogists: Analyzing Wills for Useful Clues
Court Records: Finding Your Ancestors: Learn about several types of court records and how to find them.
Court Websites: Find contact information and link to websites of county courthouses across the United States.
Cyndi's List — Courthouses: Follow links to dozens of websites.
Cyndi's List — Wills and Probate: Cyndi does it again with this collection of links to records abstracts and transcriptions, plus research assistance.
DoHistory.org: How to Read Probate Records
Glossary, Administrative Office of the United States Courts
How to Read Probate Records: Once you get the record, this tutorial will help you learn what it means.
Jailbirds in the Family Tree: This article explains how to locate criminal court records.
RootsWeb's Guide to Tracing Family Trees: Court Records: Read this beginner's lesson on courthouse research.
Sampubco.com: Browse indexes to wills and guardianships, among other records. You can order record copies, but be sure to follow the instructions to the letter.
What Do You Do When the Courthouse Burns?: Heed these hints for getting your research around those pesky courthouse fires.
WEBSITES (BY STATE)
Alabama Court Records: Browse this name index to Wilcox County wills from 1850 to 1858.
Colorado Historical Records Index: This records index from the Centennial State's archives includes a variety of court data, such as the State Penitentiary Index (1871 to 1973) and Gilpin County Chancery Cases (1862 to 1878).
Illinois Trails: Earliest County Courthouse Records: Consult this chart to learn the dates various record types were available in Illinois counties.
Index of Probate Records in the Union County, South Carolina Courthouse, 1782-1865: Browse this alphabetical index, which gives you the name, storage-box number, package number and year for each probate record.
Indiana State Archives: Posey County Circuit Court Records: Search this index to 1,200 cases dating from 1815 to 1855.
Marion County, South Carolina Genealogy and History: Indulge in this smorgasbord of records indexes, including deeds, estate records, wills and probates, plus helpful research information.
Minnesota District Court Records — County List: Got ancestors from the Land of 10,000 Lakes? Find out whether the state historical society holds the district court case files for the years you need.
New England Historic Genealogical Society: Research Members ($75 per year) can search court-record indexes and abstracts for Maine (1696 to 1854); Middlesex County, Mass. (1649 to 1675); Bristol County, RI (divorces from 1819 to 1893); and Onondaga County, NY (guardianships from 1815 to 1849) — plus probates and wills from various New England states.
State and Local Government on the Net
USGenWeb state pages: Click on your ancestral state and county to see what court records — usually uploaded by volunteers — might be transcribed or indexed online. You'll also find details such as county boundary changes, directions to the courthouse and record availability.
WEBSITES (BY COUNTRY)
British Origins: In addition to other records, search the Bank of England Will Extracts Index (1717 to 1845), the Prerogative Court of Canterbury Wills Index (1750 to 1800) and the Archdeaconry Court of London Wills Index (1700 to 1807).
Canadian Genealogy Centre — Wills: Learn where to locate historical wills in Canada.
DocumentsOnline: It's free to search the index of a million-plus wills proved in the Prerogative Court of Canterbury between 1384 and 1858. If you find a promising will, you'll pay a fee to download the image.
Gloucestershire County Council: Genealogical Database: Find information from court records, including an index of all wills proved between 1541 and 1858, and names of inmates at the county gaol from 1815 to 1879.
Scottish Documents: This site lets you search 520,000 wills and testaments, covering 1500 to 1901, for free. You can purchase a record image for a fee.
England Wills Exchange Database
National Archives of Scotland — Wills and Testaments
BOOKS AND PUBLICATIONS* (GENERAL)
County Courthouse Book, 3rd edition, by Elizabeth Petty Bentley (Genealogical Publishing Co.)
Courthouse Indexes Illustrated by Christine Rose (CR Publications)
Courthouse Research for Family Historians: Your Guide to Genealogical Treasures by Christine Rose (CR Publications)
Criminal Justice in Colonial America, 1606-1660 by Bradley Chapin (University of Georgia Press)
Estate Inventories: How to Use Them by Kenneth L. Smith (Masthof Press)
The Family Tree Problem Solver by Marsha Hoffman Rising (Family Tree Books)
The Family Tree Resource Book for Genealogists edited by Sharon DeBartolo Carmack and Erin Nevius (Family Tree Books)
Find Public Records Fast, 4th edition, edited by Michael L. Sankey and Peter J. Weber (Facts on Demand Press)
The Handybook for Genealogists (Everton Publishers)
A Law Dictionary Containing Definitions of the Terms and Phrases of American and English Jurisprudence by Henry Campbell Black, available on Google Books.
Probate Jurisdictions: Where to Look for Wills, 5th edition, by Jeremy Gibson (Genealogical Publishing Co.)
The Researcher's Guide to American Genealogy, 4th edition, by Val D. Greenwood (Genealogical Publishing Co.). In particular, see chapters 15-17.
The Source: A Guidebook of American Genealogy, 3rd edition, edited by Loretto D. Szucs and Sandra Hargreaves Luebking (Ancestry)
Women and the Law of Property in Early America by Marilynn Salmon (University of North Carolina Press)
BOOKS AND PUBLICATIONS* (BY STATE)
A Digest of the Early Connecticut Probate Records, 3 volumes, by Charles William Manwaring (Genealogical Publishing Co.)
Early Court Records of Pulaski County, Georgia by Lee G. Barrow (Southern Historical Press)
Genealogist's Handbook for New England Research edited by Marcia D. Melnyk (New England Historic Genealogical Society)
Inventory of the County Archives of West Virginia, no. 16, Hardy County by the West Virginia Historical Records Survey (Work Projects Administration, out of print): You may find a similar Work Projects Administration — first known as the Works Progress Administration — survey of your county's records. Ask the local historical society or search the Family History Library online catalog. (Select Author Search, then type work projects administration or works progress administration as the author name.)
Over the Mountain Men: Their Early Court Records in Southwest Virginia by Anne Lowry Worrell (Genealogical Publishing Co.)
Red Book: American State, County and Town Sources, 3rd edition, edited by Alice Eichholz (Ancestry)
St. Clair County, Missouri, County Court Records, 1841-1861 by Carolyn M. Bartels (C.M. Bartels)
BOOKS AND PUBLICATIONS* (BY COUNTRY)
English Estates of American Settlers: American Wills and Administrations in the Prerogative Court of Canterbury, 1800-1858 by Peter Wilson Coldham (Clearfield Co.)
How to Use Chancery Court Records in Tracing Your Ancestry by Donald Ray Barnes (Connecticut Society of Genealogists)
Inheritance in America: From Colonial Times to the Present by Carole Shammas, Marylyn Salmon and Michel Dahlin (Frontier Press)
Wills and Probate Records [UK]: A Guide for Family Historians by Karen Grannum (The National Archives UK)
SOCIETIES AND ORGANIZATIONS
National Association of Counties: Click About Counties, then Find a County for courthouse locations and websites.
FAMILY TREE MAGAZINE PODCAST
*FamilyTreeMagazine.com is a participant in the Amazon Associates Program, an affiliate advertising program. It provides a means for this site to earn advertising fees, by advertising and linking to Amazon and affiliated websites.