Sign up for the Family Tree Newsletter Plus, you'll receive our 10 Essential Genealogy Research Forms PDF as a special thank you!
Get Your Free Genealogy Forms
"*" indicates required fields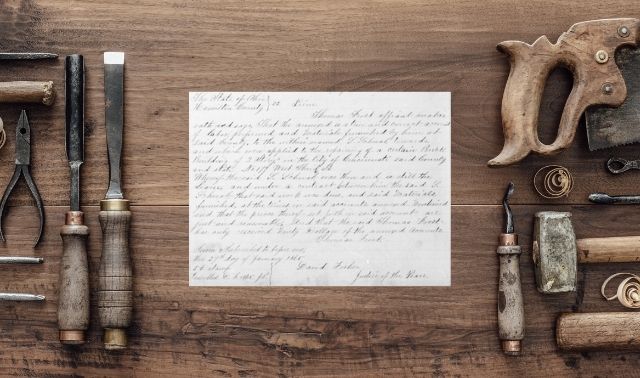 Genealogists researching old court records generally expect to find records like deeds, probate files and trial proceedings.
I was lucky to discover an interesting one by chance, and it told me a lot about a few days in the life of my third-great-grandfather Thomas Frost, a carpenter. Even luckier, the record was online.
The Hamilton County (Ohio) Genealogical Society has a downloadable PDF "sundries" index, kept for non-deed documents, from the county recorder's office. I casually scrolled through and spotted Thomas' name with "mechanic's lien."
My first stop was FamilySearch's collection of Hamilton County, Ohio, records. It's not yet indexed, so you can't search it. Instead, I browsed to Land and Property records, then to the book, volume and page number referenced in sundries index: Mechanic Liens Vol. 7 (1864-1869), page 50.
The document outlines the materials and labor Thomas provided to a Mr. S. Schwab on a two-story brick building at 177 West Third Street, October 26-28, 1864. The list included "Repairing front gutter and trimming same and making new cornice and turning and furnishing tin spouts to rear of house," "Time & Trouble Fixing Clossets" and "nine square and 20 ft. of Shingling at $2.00."
I had to look up what a mechanic's lien is. It serves as security for a person working on a construction project. The tradesperson receives interest in the property title, and if the person in charge of the project doesn't pay his workers, they can be paid from the sale of the property. Similar laws have existed for centuries, according to Wikipedia, but Thomas Jefferson conceived of mechanics liens in their modern form to encourage construction in Washington, DC.
Thomas was owed $391 and at the time he filed the lien Jan. 27, 1865, he'd received only $90. If I'm interpreting this correctly, it looks like he did receive payment.
You can bet I looked for an old map to find the location and see if the building still exists. Unfortunately, it's a parking lot now.