How to Determine Relationships with Shared DNA Matches
READ MORE
FREE FAMILY TREE RESOURCES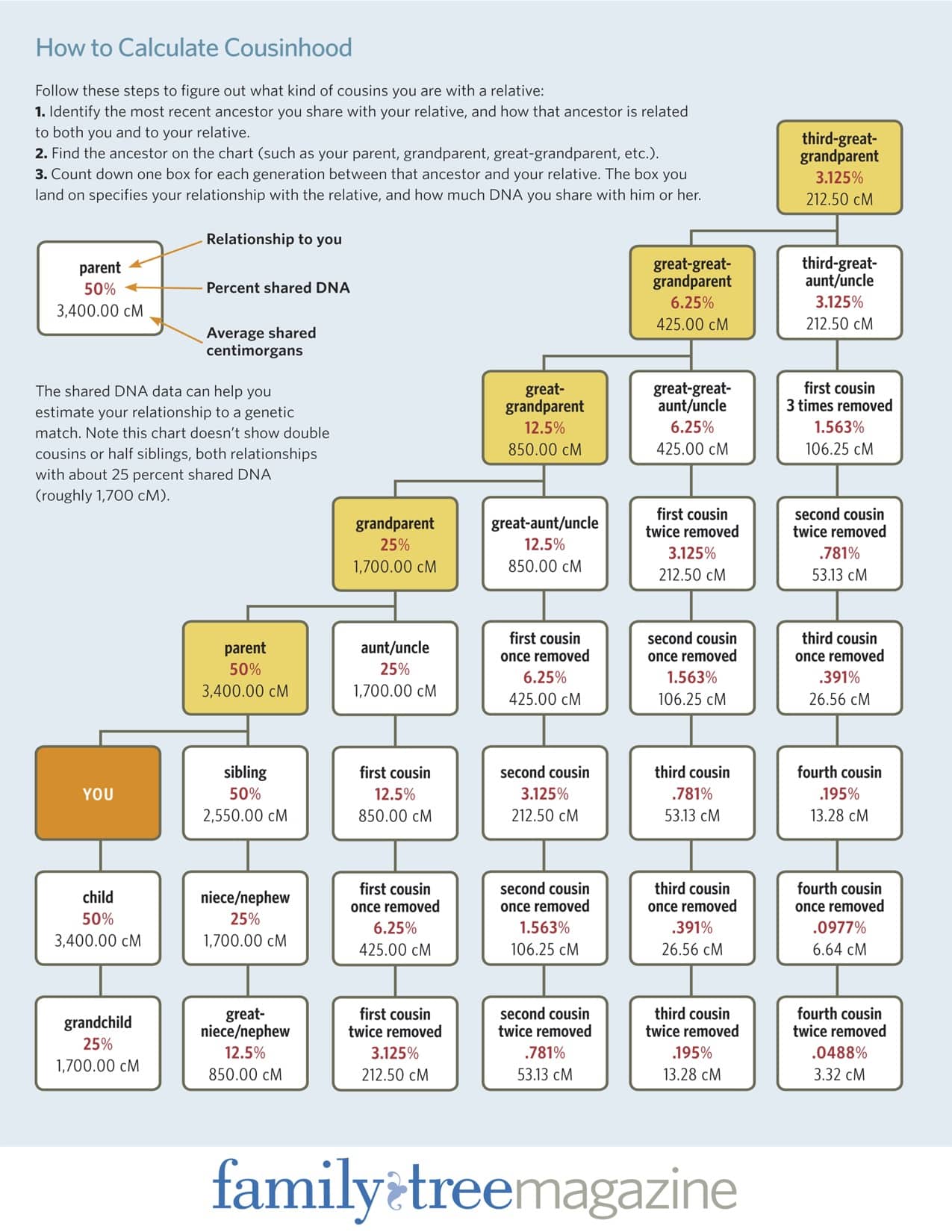 DNA Match Cousin Relationship Chart
Follow the steps on this cousin chart to figure out what kind of cousins you are with a relative, including percentage of DNA matches and average shared centimorgans.
DNA Test Results
You had your DNA tested, but now what's next? Solve genealogy mysteries with these indispensable, free online tools to analyze your DNA test results.
READ MORE
Don't just twiddle your thumbs while waiting for your DNA results. Get ready to put them to use with these 4 tips.
READ MORE
DNA results can sometimes reveal distressing truths about your family relationships—and even your identity. Here's how to handle such situations.
READ MORE
Your mtDNA results can vary between companies. Learn what the differences mean and how they can tell you more about your ancestry.
READ MORE
---
Ethnicity Estimates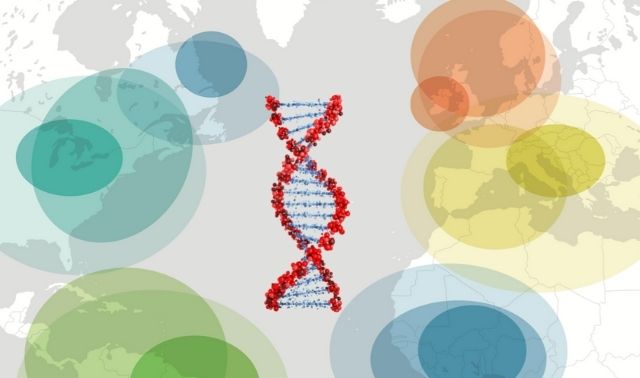 AncestryDNA Communities, MyHeritage Genetic Groups, and 23andMe Recent Ancestor Locations all assign your DNA to a time and place. Are they accurate?
READ MORE
What can you do with ethnicity estimates? Which company has the best? Our DNA expert weighs in.
READ MORE
DNA mapping and ethnicity estimates are a big draw of home DNA test kits. Learn more about them here.
READ MORE
---
Shared Matches and Genetic Genealogy
It's easy to get overwhelmed with organizing DNA matches. Learn the best approach, plus three additional techniques for keeping track of all those cousins.
READ MORE
It's hard to know which of your hundreds of DNA matches are most important. Learn how to sort through them to find those most useful to your research.
READ MORE
Yes, you still can use your DNA matches even if there's no tree or genealogy information attached. Here are six ways to make no-tree matches work for you.
READ MORE
If you're struggling to understand the relationships between DNA matches, our expert is here to help!
READ MORE
Return to top
---
Using DNA Tools and Features
Transferring your DNA results means you can take them from one company to another. Here's why and how to take advantage of this research technique.
READ MORE
Use your DNA for more-intense genealogy research (and take control of your data) by downloading your raw results from AncestryDNA.
READ MORE
Check out the AncestryDNA Match experience and ThruLines, which proposes possible family relationships to your matches based on trees and DNA.
READ MORE
MyHeritage Theory of Family Relativity uses DNA, trees and historical records to theorize how you're related to your DNA matches. Here's a closer look.
READ MORE
Create a Family Health History from DNA Test Results
Family Health History Books
The Practical Guide to the Genetic Family History by Robin L. Bennett and M.S. Bennett (John Wiley & Sons)
Past Imperfect: How Tracing Your Family Medical History Can Save Your Life by Carol Daus and Jeanne Homer (Santa Monica Press)
How Healthy Is Your Family Tree? A Complete Guide to Tracing Your Family's Medical and Behavioral History by Carol Krause (Gale Group)
Genetic Connections: A Guide to Documenting Your Individual and Family Health History by Danette L. Nelson-Anderson and Cynthia V. Waters (Sonters Publishing)
Applying DNA Test Results to Genealogy Research
Discovering Birth Families and Relatives Through DNA Results
GEDmatch and Other Third-Party DNA Tools