Sign up for the Family Tree Newsletter Plus, you'll receive our 10 Essential Genealogy Research Forms PDF as a special thank you!
Get Your Free Genealogy Forms
"*" indicates required fields
Evolving, inconsistent ethnicity reports have been disconcerting to some DNA testers. Many loved the novelty factor, and some who had little-known origins appreciated them. But others found their ethnicity reports disappointingly vague or just plain wrong. Your ancestors' origins clearly didn't change over the past 10 years. So why have your reports?
In part to answer these questions (and to provide a new feature), some testing companies began leveraging their growing data sets to overhaul ancestral origins reports. They identified unique genetic signatures of small, isolated, or culturally cohesive communities, then looked for test takers who matched those signatures.
Today, 23andMe, AncestryDNA and MyHeritage DNA still report broad ethnicities. But they now also report on these new signatures—genetic connections to thousands of specific historical populations. Through their respective tools, these companies seek to connect your DNA with a time and a place—such as "Jews in Central & Eastern Europe" at AncestryDNA or "Volga Germans in USA" at MyHeritage DNA.
These unique strands of DNA say "Your ancestors were here." (Or, at least, "Your ancestors all hung out together here.") But should you trust the tantalizing, specific populations that may now appear in your results?
Let's take a look at the science behind these historical group placements (23andMe Recent Ancestor Locations, AncestryDNA Communities, and MyHeritage Genetic Groups), and what insight they can give you into your family's history.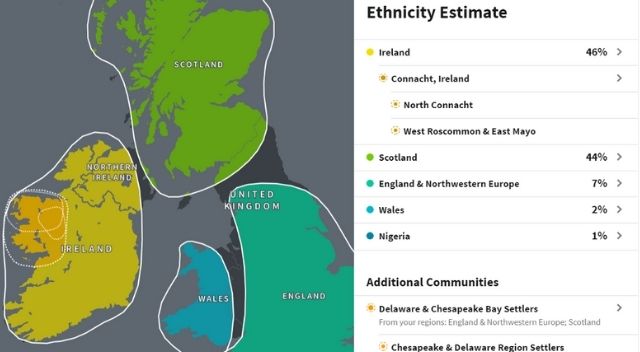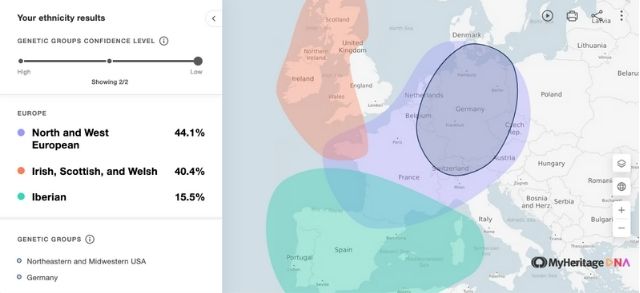 How Group-Based Results Work
Each company uses its own proprietary methods to identify your ancestral communities:
23andMe's Recent Ancestor Locations point to where your ancestors likely lived within the past 200 years. The company looks for identical pieces of DNA you share with reference population members. Then they run more targeted analyses to ensure you are genetically similar to people with recent ancestry from that region.
AncestryDNA's Communities identify your DNA with historical groups within the past 75 to 300 years. The company creates Communities by clustering DNA testers who share genetic similarities. Then Ancestry looks for patterns in each group's family trees to identify what historical connections they share.
MyHeritage's Genetic Groups associate you with specific historical and migrant populations, based on the unique genetic signatures MyHeritage has identified for those groups. The company created Genetic Groups by looking for microclusters of genetically related individuals, and then for common connections based on trees and ethnicity results.
As you can see, 23andMe relies entirely on genetics. (Theirs is basically a more refined version of their ethnicity estimate.) But MyHeritage DNA and AncestryDNA both use a two-step "genetics + tree" method that consults the tree data attached to many of their testers' profiles.
If you test at more than one of these companies (or test at one of the others, then upload to MyHeritage), you should see similarities in your historical groups. But you may reasonably see a few differences, too. Their testing pools are different. One company may have uniquely pinpointed a certain historical community. Even AncestryDNA and MyHeritage DNA, whose methods seem similar at first glance, differ in their complicated algorithms and tree data.
Furthermore, your DNA needs to show sufficient evidence of belonging to a group, and what qualifies as "sufficient evidence" may vary by site. Confidence-level tools can help you explore possible ancestral communities that are open to question:
23andMe: Under Ancestry > Ancestry Overview, click View Report under DNA Painting. Then click Change Confidence Level and select an option from the drop-down.
MyHeritage DNA: Look for a slider bar across the top of your ethnicity breakdown.
AncestryDNA: The company reports a confidence level for high-level ethnicities (click the arrow by each region), but not for Genetic Communities.
Other bells and whistles in these reports vary by company. All include maps and narratives. AncestryDNA and MyHeritage DNA add timelines and let you view your matches' shared groups. MyHeritage DNA includes other data about each group: similar Genetic Groups, as well as common names, places and ethnicities of Group members. 23andMe also provides information on Neanderthal ancestry and a high-level haplogroup for your maternal line, and (if you're a genetic male) your paternal line.
Migration Group Tools Compared
Here's a quick summary of the tools offered by 23andMe, AncestryDNA and MyHeritage DNA:
| | | | |
| --- | --- | --- | --- |
| | 23andMe | AncestryDNA | MyHeritage DNA |
| Estimated no. of samples | 10 million | 18 million | 4.5 million |
| Name of tool | Recent Ancestor Locations | Genetic Communities | Genetic Groups |
| How many groups represented | 150-plus Recent Ancestor Locations; 45 ethnicities | 1,400-plus regions including ethnicities and Communities | 2,100-plus regions including 42 ethnicities and Genetic Groups |
| Where testers can find historical groups | Ancestry > Ancestry Composition | DNA > Discover Your DNA Story | DNA > Ethnicity Estimate, scroll down to see Genetic Groups |
| List of all historical groups | Link | Link | Within test results, click Show All Available Regions |
Figures accurate as of September 2021
Applying Groups to Research
Millions of DNA testers have been assigned to one or more Recent Ancestor Locations at 23andMe; Genetic Communities at AncestryDNA; or Genetic Groups at MyHeritage DNA. Those who test at multiple companies may receive even more. And as time passes, more of these historical groups continue to be defined and added to your DNA ethnicity results.
Placement in historical groups can be meaningful as well as provide new locations for genealogical research. Test takers can use their group designations to aid in research where paper trails fail. And they might feel more emotionally connected to their ancestral places thanks to these results, and use the groups to start new conversations with relatives about the family's origin.
Not all test takers have been placed in groups yet. In some cases, their ancestors were part of a community that's yet to be defined. Expanding communities—or the ability to identify communities with more precision—will require companies to do more research (and collect more samples).
For others, genetic evidence may have become too diluted over the generations. For example, my grandmother's AncestryDNA results assign her to Communities in southern Sweden and parts of England, but my own results only recognize general Swedish and English ethnicities.
All these results speak to the fact that mapping ancestral groups using DNA is complex, and efforts to do so with any level of detail are works in progress. Like ancient geographical maps of partially-known places, your ethnicity maps and historical group assignments have big blank spots—distortions and errors that gradually fade over time as more is learned.
But they are maps nonetheless, and can still guide your journey into the past. "I'm learning how my DNA fits into the history of the wandering Jews," test taker Leora Hatchwell says. Her baseline ethnicity estimates didn't represent her documented ancestry. But new migration group results (and comparing results across multiple companies) gave her a fuller picture of her family's history.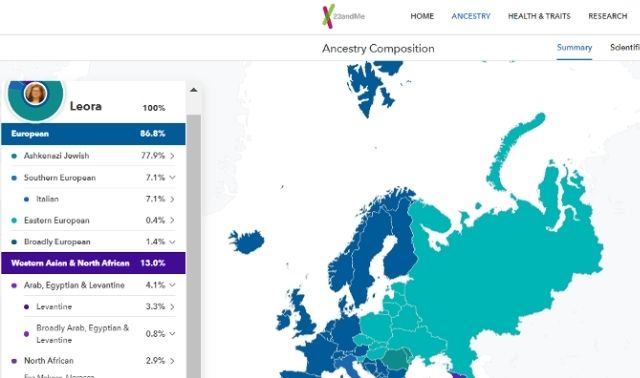 "When you know history, you can start to piece things together and it starts to make sense," she says. "I can then fill in the blanks where these groups fit into my story—and where my story fits into them."
A version of this article appeared in the November/December 2021 issue of Family Tree Magazine.