Sign up for the Family Tree Newsletter Plus, you'll receive our 10 Essential Genealogy Research Forms PDF as a special thank you!
Get Your Free Genealogy Forms
"*" indicates required fields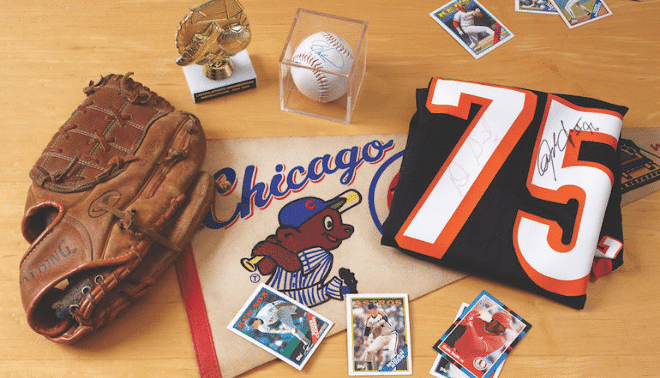 Whether it's your grandfather's baseball card collection or your own jersey, learn how to correctly store and preserve sports memorabilia.
1. Treat vintage leather gently.
Avoid cleaning with oils or creams. Also, do not attempt to revive leather with oil or other dressings. The additive is pushed back to the surface of the glove, causing "spew," which has a white, mold-like appearance. Wear white cotton gloves and remove surface dirt with a soft brush or cloth—oils from hands and fingerprints can leave permanent stains on artifacts. Let dry away from sunlight or heat sources and use a soft cloth to apply a leather conditioner that's free of wax and silicone.
2. Store leather with care.
Sports museums store baseballs, gloves and pigskin footballs in controlled temperature and humidity. At home, keep leather items in an archival box in a living area closet. This provides a stable environment while protecting against light, dust, pests and handling. Cushion items with acid-free tissue paper, padding gloves with crumpled tissue or polyester craft batting.
3. Display souvenirs in a dust-proof acrylic case designed for souvenirs.
Rotate these items (such as autographed helmets or footballs) to minimize damage from UV light. Specially-designed mounts and supports will help show off your souvenirs to the best advantage and protect them from handling. See several display case options at archival suppliers such as Gaylord Archival. If you'd prefer to store these items, place them separately in acid-free boxes with acid-free tissue or polyester batting.
4. Keep trading cards under wraps.
As for most paper memorabilia, cards may fade in bright light or sunshine. Store your collection in specially sized acid-free boxes or in archival plastic "pocket pages" inside a binder. Protect valuable cards with individual archival plastic sleeves.
5. Preserve paper items like ticket stubs and programs.
Do this by storing them in an acid-free envelope or archival plastic sleeve. Ticket stubs and game-day programs are typically tossed into the trash post-game, but sports collectors often haunt auction websites for souvenirs of landmark games and sport superstars. Look for plastic that has passed the Photographic Activity Test (P.A.T.), which assesses ability to safeguard against deterioration. Then store these souvenirs inside a metal filing cabinet or in a dark closet away from heat, moisture, light and pests.
6. Digitize newspaper clippings.
These can add color and interest to any big-game sports story, but newsprint is also one of the most toxic materials in archival collection. Use a flatbed scanner or digital camera, then print a copy on acid-free paper to add to your family archive. Frame and display a printed copy of the original in any frame for long-term viewing—no need for costly archival materials on copies.
If you'd like to display newspaper photos or articels on their own, use acid-free backing and a mat board with UV-filtering glass to slow paper decay and yellowing. Hang them away form direct light and heat.
7. Wash worn items before storing.
Whether the uniform is a replica of your favorite soccer star's or it's your peewee-league fullback's from last season, wash and thoroughly dry it before storing in an archival box or Tyvek garment bag. Dry clean jackets or sweaters with embroidery, patches or other embellishments; just remove the dry cleaner's plastic bag and let the item air before packing away.
8. Frame jerseys.
These large shirts can be tricky to archivally frame behind glass. Museum-style frame kits make display easy with acid-free materials and UV-filtering acrylic glazing. Look for frames with acid-free backing, a sturdy archival hanger, and protective UV glass or acrylic. Display your framed textile away from direct light, heat and moisture.
9. Save signatures.
If you're the proud owner of an autographed baseball, pennant or football jersey, you might want to display it, but we recommend you don't. Signatures are apt to fade if left in the light. It's better to store the item in an acid-free archival box and bring it out to share on special occasions. Before handling, wash your hands well or wear cotton or nitrile gloves to avoid transferring oils from your skin.
10. Gently clean wooden bats.
Avoid using polishes, waxes or cleaners on wooden bats. Instead, use a soft cloth to remove dust and loose dirt. Avoid handling with your bare hands. Archival suppliers make long, narrow boxes just for collectible baseball bats, or store wrapped loosely in polyester craft batting.
11. Help ball caps stay in shape.
Have them professionally dry cleaned and store, lightly stuffed with acid-free tissue (don't fold the hat), in an acid-free archival box.
Family History Q&A: Preserving Autographed Baseballs
Q. My dad has a shoebox full of autographed baseballs from the 1960s. Is there a better way to take care of them?
A: In her role as director of collections at the National Baseball Hall of Fame and Museum in Cooperstown, NY, Sue MacKay keeps watch over more than 7,000 vintage baseballs. "The Hall keeps its baseball collection in acid-free boxes, in a consistent temperature and humidity, away from any source of light," she notes. Temperature fluctuations, humidity, light and acidic materials can irreversibly damage a baseball and, over time, cause a signature to fade. "You can't prevent the fading process," MacKay adds, "but you can slow it down." Whether your souvenir ball commemorates your favorite Little Leaguer's big game or a Major League World Series victory, preservation begins when you hand over the pen and ball to be signed. MacKay says acid-free pens, available at art supply and scrapbook stores, offer the best chance for the signature's longevity.
You should move your dad's autographed baseballs to a box made of acid-free, archival board—not plastic. Plastic can trap moisture and lead to mildew, while a board box is breathable, creating a better environment for the leather ball. Artifact boxes with dividers will accommodate multiple balls in one box while separating them to prevent friction.
Although it's tempting to display signed baseballs and other sports memorabilia for visitors to enjoy, MacKay cautions against this. Most homes can't provide the optimal environment needed for preservation. Instead, she says, "Store these pieces out of the light until they need to be viewed, and then return them to their storage areas." Wear white cotton gloves if you need to handle the items to avoid transferring oils from your hands.
Information provided in this article appeared in the July/August 2016, September 2018 and September/October 2020 issues of Family Tree Magazine.
Related Reads