FREE RESOURCES FROM FAMILY TREE
Organize Your Family History Writing Project Worksheet
Use this worksheet to help you collect your thought before beginning a family history writing project. Record which stories you want to include, who your audience will be and more.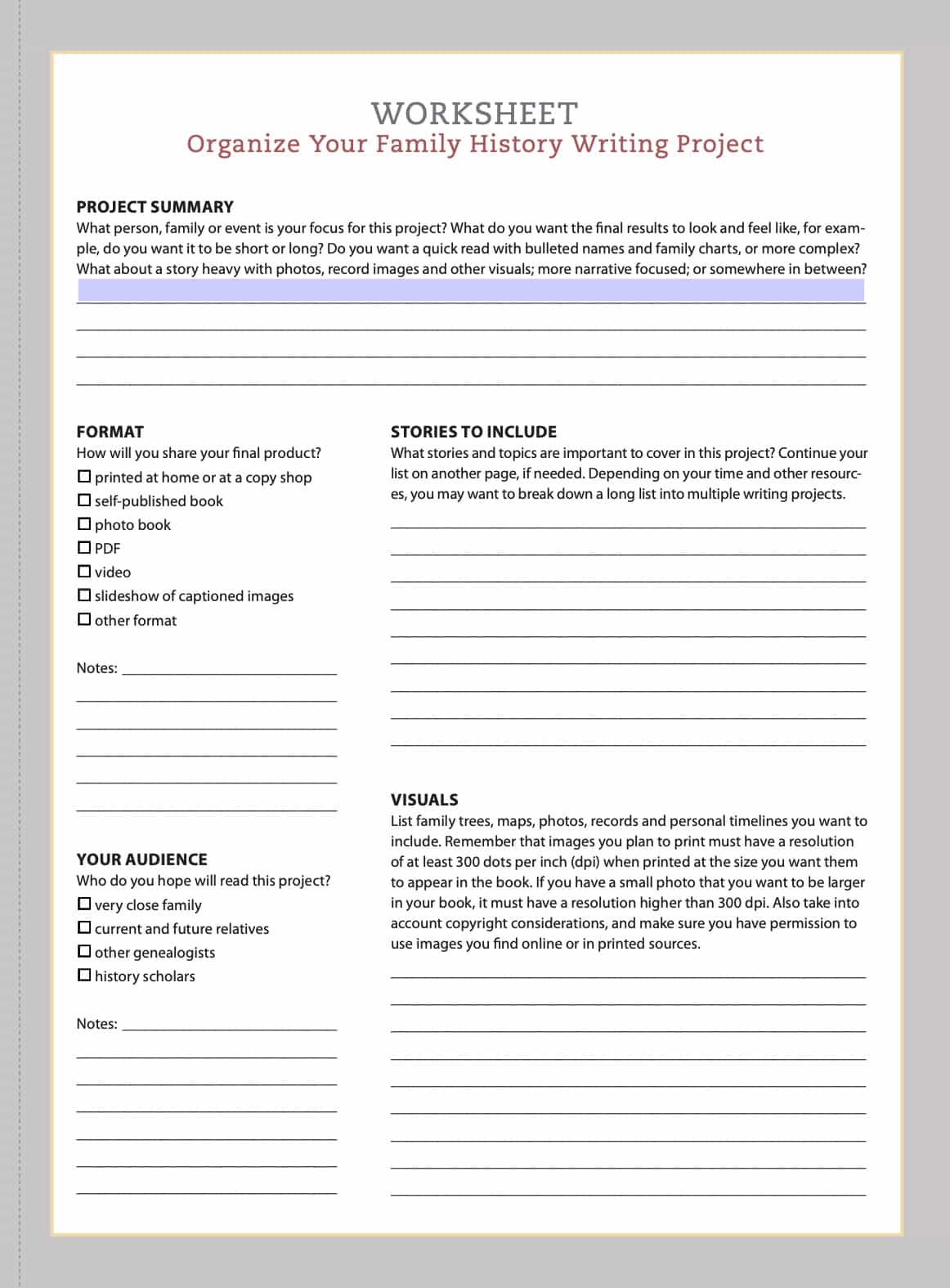 Family History Writing Prompts to Get You Started
Family History Book Writing Tips and Advice
Family History Writing Prompts
Alternatives to Writing a Traditional Family History
Resources for Writing Your Family History
Compiled by Sharon DeBartolo Carmack, from the February 2001 issue of Family Tree Magazine (updated August 2021)
PUBLISHERS
BOOKS AND PUBLICATIONS*
Family Tales, Family Wisdom: How to Gather the Stories of a Lifetime and Share Them with Your Family by Robert U. Akeret and Daniel Klein (Henry Holt)
Writing the Memoir: From Truth to Art by Judith Barrington (The Eighth Mountain Press)
Writing Personal Essays: How to Shape Your Life Experiences for the Page by Sheila Bender (Writer's Digest Books)
Reaching Back: A Workbook for Recording Your Life's Most Meaningful Moments to Share with Future Generations by Alice Chapin (Betterway Books)
From Memories to Manuscript: The Five Step Method of Writing Your Life Story by Joan Neubauer (Ancestry Publishing)
Writing from Within: A Guide to Creativity and Life Story Writing by Bernard Selling (Hunter House)
How to Write the Story of Your Life by Frank P. Thomas (Writer's Digest Books)
Writing Family Histories and Memoirs by Kirk Polking (Writer's Digest Books)
Writing Life Stories: How To Make Memories Into Memoirs, Ideas Into Essays And Life Into Literature by Bill Roorbach (Story Press)
Writing the Family Narrative by Lawrence P. Goldrup (Ancestry)
For All Time: A Complete Guide to Writing Your Family History by Charley Kempthorne (Heinemann)
Bringing Your Family History to Life through Social History by Katherine Scott Sturdevant (Betterway Books)
*FamilyTreeMagazine.com is a participant in the Amazon Associates Program, an affiliate advertising program. It provides a means for this site to earn advertising fees, by advertising and linking to Amazon and affiliated websites.