Sign up for the Family Tree Newsletter Plus, you'll receive our 10 Essential Genealogy Research Forms PDF as a special thank you!
Get Your Free Genealogy Forms
"*" indicates required fields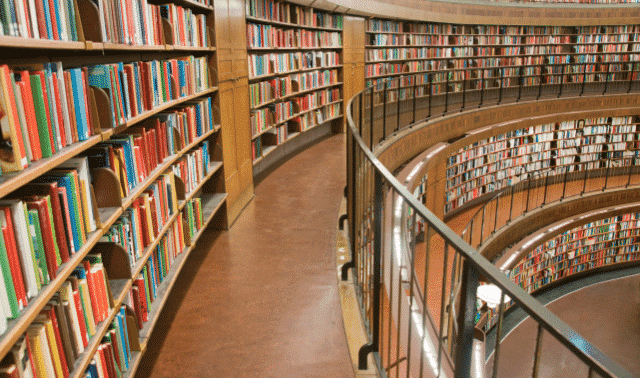 The more we pursue our family history, the more we want to share it with others. But even those with big families still have limited audiences. Maybe you can pass out copies of your research to your three kids, four grandkids, two uncles, six cousins, and that distant relative you found online. But don't you wish you could share your ancestor discoveries with a wider audience?
As it turns out, many of the same places we pore over records—archives, libraries and historical societies—would love to have copies of our research on their shelves. Their patrons would eagerly peruse them. So how do you get your own research into the stacks of your favorite repositories? Follow these six steps.
1. Understand what's in demand.
At the heart of most genealogical library collections are thousands of compiled family histories, each of which presents a family's lineage, biographical information and sometimes stories, photos and images or transcriptions of original documents. For the most part, compiled genealogies aren't fancy books with decorative cover art. More typically, they're self-published volumes with plain bindings and practical titles such as The Adams Family of Rochester, New York or Descendants of Theo and Abigail Johnson.
Despite their modesty, compiled family histories are the unsung heroes of genealogical research. They usually represent years of dedicated research by one or two researchers. In past decades, most were about prominent white Colonial families, usually of English descent. But today, US researchers of all ethnic and immigrant backgrounds document their ancestry with pride and expertise in volumes such as these.
Most genealogy libraries enthusiastically collect compiled genealogies, both old and new. "We have an active acquisitions policy for these," says Lynne Burke, Director of Library Technical Services of the New England Historic Genealogical Society (NEHGS). "We're always purchasing them, and we get donations—it's not an exaggeration to say—on a daily basis. People really want to have their work in our library and we're thrilled." In fact, NEHGS considers compiled genealogies so important that it recently printed a 1,400-page finding aid just for these books.
Other libraries welcome compiled genealogies with similarly open arms. Two of the libraries with the largest collections, the Genealogy Center of the Allen County (Ind.) Public Library and the FamilySearch Library in Salt Lake City, each report adding them at the rate of 100 or more per month.
Family histories don't just collect dust on shelves, either. Librarians report that patrons—both fellow descendants and non-descendants—consult them daily. In fact, they're so popular that libraries have found ways to make them available to patrons from afar. The Newberry Library in Chicago will do lookups for people who aren't able to visit. The Midwest Genealogy Center of the Mid-Continent Public Library responds to daily inter-library loan requests for any of the 17,000 duplicate titles it circulates. The Allen County Public Library's Genealogy Center maintains a digital family history archive.
The biggest digitization effort to date is housed on FamilySearch's Digital Library, a free database of 40,000 fully searchable and downloadable books—mostly family histories. Several libraries are actively contributing to this effort, among them the genealogical centers at Allen County, Houston and Mid-Continent public libraries. Internet Archive has even contributed.
2. Create a book worth sharing.
Cheryl Lang, reference librarian at the Midwest Genealogy Center of the Mid-Continent Public Library, offers these suggestions to make your book more appealing and user-friendly:
Cite your sources. Whenever you present information not commonly known, give enough information about where you found it that others can find it, too.
Include important surnames and locations in the book title, such as The Smythes of Arkansas and Allied Families Jones and Parker.
Insert a formal title page with the full title, author, publication date and location, and publisher, if applicable.
Include a table of contents, an index and page numbers. Word processing programs can help you create these.
For more help on writing and formatting your book, consult You Can Write Your Family History by Sharon DeBartolo Carmack (Genealogical Publishing Co.)
After compiling your history, you need digital and/or print copies of it. You can convert your Windows-based document into a simple PDF e-book with CutePDF Writer. To date, only a few genealogy libraries accept digital book donations, including Allen County and the FamilySearch Library. So you'll still need print copies. But these are easy to generate yourself at local copy centers or through print-on-demand publishers. Some services, such as Lulu, will even handle order fulfillment for you, should you decide to sell your book.
3. Consider copyright issues.
In the United States, your written work is protected by copyright law as soon as you write it. Consider further protecting yourself by registering your unpublished or published book for a copyright through the United States Copyright Office ($35 to $50). Bonus: When you register copyright for a published family history, a copy will automatically be deposited in the Library of Congress' Local History and Genealogy Reading Room (be sure the title clearly identifies it as a family history).
Larger libraries may ask for permission to duplicate your book online, likely for eventual digital sharing. In many cases, you can grant this without giving up your copyright (or legal ownership). Reputable libraries aren't out to steal your work—they just want to share it with as many readers as possible. You don't have to give permission, of course: You can just provide a single copy and call it good. A comfortable compromise might be to donate two (or more) copies to a facility such as the Mid-Continent Public Library, which will keep one reference copy on site and circulate duplicates through interlibrary loan. That way, any researcher who has access to interlibrary loan will have access to your work.
4. Find a fitting library.
First, list all major genealogy libraries, including those we've mentioned so far. Then think of repositories where you found (or could have found) source material for your book: local, county, regional or state historical and genealogical libraries; ethnic and religious collections; and lineage society libraries. Search the Directory of Genealogy Libraries in the US or the Libraries, Archives & Museums subcategories on Cyndi's List. Find other repositories by searching the web for terms such as library, genealogy or the exact phrase "historical society" and the location or ethnicity you're writing about.
As you're looking for appropriate libraries, keep these factors in mind:
Not all genealogical and historical societies have libraries.
A library collects books. An archive collects original manuscripts and documents. Sometimes a repository is one or the other, and sometimes it's both.
Large libraries, especially those at universities, might have special collections on ethnic, religious, cultural or historical topics.
Public libraries may have local history and genealogy sections, especially if a genealogical society meets there.
Many specialized libraries have "acquisition priorities," or topics of greatest interest. Check their websites. For example, The Jacob Rader Marcus Center of the American Jewish Archives focuses on Reform Judaism and Cincinnati Jewry.
Let's say you write a book on your family's Norwegian settlers in Muskego, Wis. Who would want it? Look for libraries interested in Wisconsin (especially the Muskego area), Norwegian-Americans, and the region of origin within Norway.
5. Offer your book.
If you want to sell your book, write to the acquisitions person or department at each library. Describe why the library will want your book and include pricing and ordering information (including shipping). If possible, include a flier with an image of the book cover and endorsements from qualified sources. The Library of Congress, New England Historic Genealogical Society and other libraries do purchase family histories.
It's much easier to donate copies—and it's a more sure way of placing your book. Every library has its own procedure for accepting donations, so call or check websites to learn specifics. For example, the Newberry Library welcomes compiled genealogies in printed, bound form, with accompanying digital data (but not standalone digital data). The Leo Baeck Institute at the Center for Jewish History accepts paper and digital format, as well as any documentation that supports the compilation.
The Milstein Division of US History, Local History and Genealogy at the New York Public Library accepts bound volumes and typescripts, but no electronic formats at all.
6. Look for perks.
Have we made it clear yet that libraries want your books? Sometimes they even offer incentives to those who donate. For years, the Genealogy Center at the Allen County Public Library has offered a Photocopy Exchange program. If you send them two unbound copies of your family history book, they will bind one copy for their library and the other for you. (They'll even bind a few extras at a low price if you provide the copies.)
Many libraries will advertise your book in their publications when you donate copies. In NEHGS' member magazine American Ancestors, a section called Family Focus mentions recently printed genealogies that have been donated to its library. Members of the National Genealogical Society who donate to its collection at the St. Louis County Library receive a free shout-out in NGS Magazine. The Ohio Genealogical Society offers a similar writeup in the Ohio Genealogical Society Quarterly.
So book a mental reservation for your family history book on the shelves of the libraries you love most. Work toward that goal, and one day you'll see your own ancestors lined up on the stacks for others to meet and enjoy.
Last updated, 2023
From the December 2012 issue of Family Tree Magazine