Sign up for the Family Tree Newsletter Plus, you'll receive our 10 Essential Genealogy Research Forms PDF as a special thank you!
Get Your Free Genealogy Forms
"*" indicates required fields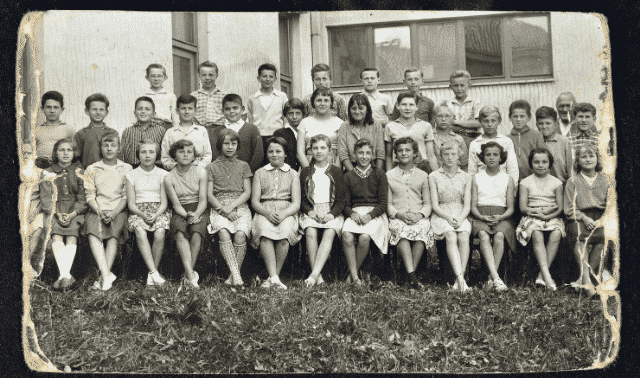 Jump to:
Preserving Yearbooks
Preserving Letterman Jackets
Preserving Diplomas
Preserving School Papers
Family History Q&A: High School and College Memorabilia
How to Find High School or College Memorabilia for Your Family History Collection
Preserving Yearbooks
1. Store yearbooks carefully.
Like any book, yearbooks should be kept in your home away from the extreme temperature changes of attics, garages or basements. Place books upright on sturdy shelves away from windows and lamps. Light, heat and moisture can cause books to warp and mildew.
2. Take special care of leather books.
Some schools experimented with speciality covers of leather (or synthetic leather). These have a narrower range of storage conditions than traditional hardbacks: 60° to 70° F, with about 50% humidity. Wear white cotton gloves when handling leather-bound books to avoid leaving fingerprints and body oils. Do not attempt to clean or treat with commercial leather conditioners—lightly dust the cover with a soft cloth or artist's brush. Protect leather books from light and dust by wrapping in acid-free tissue paper and storing in an acid-free archival book box (see #4).
3. Prop up with a pillow.
Large, heavy books benefit from a book pillow or other support for viewing. Improvise a library-style cushion with an ordinary bed pillow or sofa cushion. Fluff the pillow, then make a sharp crease in the center to form a V resting spot for the spine of the book. A book rest reduces pressure on the binding and allows you to view or photograph pages without having to hold the book.
4. Consider book boxes.
To preserve fragile volumes, consider storing them in either a four-flap book enclosure (which protects all four edges of the book, with flaps enclosing each side to prevent loose pages from slipping out) or a drop-front/drop spine box (which allows books to easily slip in and out of a box). Both are available from Gaylord Archival and Brodart.
5. Clean your book shelves.
Books are tempting meals for insects and bugs. Vacuum bookshelves regularly with a brush attachemtn to keep the area free of dust and particles. Never bring food or drinks near your books, and wash your hands before handling books and paper.
6. Avoid scanning.
It's often better to photograph pages in large books, rather than trying to use a flatbed scanner. Support the book on a book pillow in a location with good natural light. Brace your feet and stand overhead holding a digital camera or smartphone, then photograph the pages. (For shake-free images, use a tripod and shutter release.) Capture the front cover and title page of the yearbook, as well as full pages that show your ancestor's photos.
Denise May Levernick
A version of this article appeared in the May/June 2020 issue of Family Tree Magazine.
Preserving Letterman Jackets
Q: My dad was a high school athlete and loved showing off of his varsity letterman jacket. Now that I've inherited it, how should I clean and preserve it? Is it safe to occasionally wear it?
A: Congratulations on owning a trophy of American high school and collegiate life! It's likely that your father's jacket brought him memories of gridiron glory, Friday nights in cool cars and happy days with old friends. No wonder he wore it with pride. Here are the steps you need to take to preserve your jacket.
Inspect the jacket and evaluate its condition.
Clean the jacket, don't wash it.
If the jacket is in sound condition, by all means, wear it.
Store your jacket in a dark, well-ventilated closet
Read the full article below:
Denise May Levernick
Preserving Diplomas
Q: How do I care for and display my grand­mother's college diploma? It's now in a wooden frame with a plain cardboard backing.
A: Old frames are often wooden with simple cardboard mats or backings, materials that are high in wood pulp and acids harmful to paper and photos. You'll want to replace these materials with archival quality, acid-free and lignin-free frames and mats to protect against deterioration caused by wood pulp products. Avoid using regular cardboard or poster board when reframing family history documents because they can cause yellowing and brown spots.
You'll also want to protect your diploma from artificial and natural light by displaying the framed work in a hallway or on a wall away from windows and direct lighting. Using archival UV glass in the frame adds another layer of protection against fading and light damage. Documents and photos should always be mounted with a 100 percent rag, acid-free, lignin-free window mat next to the glass, allowing the item room to "breathe."
Your local art framer should be familiar with the use of conservation-quality framing materials, but expect to pay more than for standard materials. If you decide to try do-it-yourself reframing, purchase acid-free mat board and backing board at a local art supply store and have the mat custom-cut. Use a metal or wood frame that has been sealed with polyurethane.
Instead of a cardboard insert in the frame, use another piece of acid-free, lignin-free backing board cut to completely cover the back of the diploma. Old-fashioned frames often added a final brown butcher-paper backing glued to the frame to seal out dust. Be sure to use acid-free paper instead. As an alternative, scan the diploma and order a print for framing, as described in the tip below.
Display a copy of the original diploma
Could you tell the difference between an original document and a high-quality print or color photocopy? Probably not, at least without a close inspection. Add a frame, mat and glass to the copy, and visitors can enjoy viewing it while you rest with the knowledge it is protected from light, dust and other environmental factors. Scan your original document at 600 dpi (dots per inch) in archival TIFF format and back up the file with your genealogy documents. Give a copy of the digital file to relatives for safekeeping. Then place the original in an acid-free, lignin-free folder or envelope and store in an archival box. Make a high-quality reproduction copy to frame as desired and display anywhere in your home or office.
Use museum-quality window mats for originals
When it comes to displaying old documents like diplomas or certificates, museum-quality window mats are your best preservation bet. Archival suppliers such as University Products, Holllinger Metal Edge and Gaylord Archival carry museum mats cut from Artcare Alpharag, a buffered four-ply white mat board that neutralizes acidic gases. The heavy, cotton rag mat showcases the item in the window opening and provides support with a back mat mount.
Denise May Levernick
A version of this article appeared in the May/June 2015 issue of Family Tree Magazine.
Preserving School Papers
Your ancestor may or may not have been an A+ student, but someone in your family tree deserves a gold star for saving those old school papers. Employ these lessons from archival experts to preserve the reports, papers and artwork in your family collection.
Q: I inherited my parents' old school papers and artwork from the 1930s and '40s. Some are on newsprint and turning brown. What's the best way to preserve these keepsakes?
A: Most 20th-century school work is on inexpensive paper not meant to be saved for generations. Lignin and acids in the paper cause it to turn brown and brittle over time. Scanning these papers preserves the content, even if the paper itself deteriorates. You can delay disintegration by keeping report cards and other printed papers in buffered, acid-free archival file folders. Open each item flat.
Artwork made with charcoal, pastel, crayon or other "unstable" media, however, is better stored in unbuffered enclosures—the buffering agent can cause changes in color. If such art is mounted on acidic board, put it in an unbuffered enclosure with a sheet of buffered paper against the back of the mounting board. Don't store artwork in plastic sleeves, because the static electricity can lift the art media. Keep the folders in an archival box in an area with relatively consistent temperature and humidity. To display items such as diplomas or certificates, frame them with an acid-free, archival mat and backing board under UV-3 glass (which helps prevent fading due to light exposure). Or, frame a digital copy and preserve the original in archival storage.
Use buffered paper for storage
Most paper produced after the 19th century is made from wood-based pulp, which contains a substance called lignin that helps hold fibers together. In time, lignin breaks down and produces acid, causing the paper to turn brown and deteriorate. Materials stored next to this type of paper are prone to damage, too, from acid migration. Buffered paper contains a buffering agent, such as calcium carbonate, to raise its pH level and neutralize the acids in adjacent materials. Sheets of buffered paper interleaved in old scrapbooks help protect acidic newspaper clippings from harming other materials. Folders made of buffered paper help protect old paper records.
For tips on when to use buffered storage materials, see University Products.
Family History Q&A: High School and College Memorabilia
Preserve a relative's high school or college memories (or your own) with tips from Lindy M. Smith, research services archivist at The Ohio State University archives.
Q: What school memorabilia are worth keeping?
A: Scrapbooks, letters home to family, notes to other students, yearbooks, student handbooks, dance cards, ticket stubs, photographs. Things that offer insight into what someone was thinking or what student life was like in 1925 or 1952.
Q: What kind of information would be in an old student handbook?
A: These state the rules students had to abide by: where they were and weren't allowed to walk, whether a college dorm was dry [alcohol-free], whether they could have a car, etc. We have some really neat women's handbooks. They gave advice on what to wear in certain circumstances: whether a lady should wear gloves or a hat, even whether pants would be permissible.
Q: What can yearbooks tell me about my relative's school experience?
A. It depends when they're from. Earlier ones had more information because there were fewer students: you might see a name, hometown, and years of involvement in different activities (sport, fraternity, committee work, church). The earliest ones might include notes about everyone but not identifying them, so you'd have to figure out who was who.
Q: What about school pictures?
A. Young adulthood often gets glossed over when it comes to pictures: We go from baby pictures to a high school senior picture to a wedding picture. Senior yearbooks are a good way to find photos, especially in the days when photography wasn't as common. The earliest yearbooks from the 1880s don't have individual photos, but have some group photos.
Q. What genealogy materials do school and college archives keep?
A: Each archive is different. One major resource for us is an index of graduation cards from about the beginning of the school up to the 1970s. It includes a student's hometown, the degree and when it was received. Alumni directories and magazines can help you find out where people lived later, whether they married and what their career was. We can usually find more information about athletic participation. We have papers from a few Greek organizations, but you should contact national chapter offices for their membership registries.
Q: What privacy concerns do you address for a family member seeking information about their relative?
A: Here we don't really keep student records, so it's not too much of an issue. We can give out the kind of information that might be published in a college directory: name, hometown, high school, parents, major and usually a birthdate. Information about classes and grades is protected by FERPA [Family Educational Rights and Privacy Act of 1974]. You'd need to prove the person is dead or you're a legal heir with a compelling reason to have the information. Even then, it's at the university's discretion.
How to Find High School or College Memorabilia for Your Family History Collection
Determine when and where a relative went to high school or college. Ask relatives. Browse home sources for memorabilia and business or professional documents. Consult family histories, obituaries, news clippings, old resumes, military enlistment papers, etc.
If the school still exists, contact its archives (look for it online or call the campus library). Otherwise, the school may have closed, been renamed or absorbed by another school. Run a web search on the school's name, town and state, or consult a local historical society. If the school was renamed or absorbed, contact the new school's archive. If it closed, search online or ask local history experts where surviving records may be archived.
Look for digitized yearbooks on websites such as Classmates or Ancestry.com, and on the school's website. Offline, check local libraries, alumni organizations, and historical and genealogical libraries. Search the book for your relative's name and browse for details on his school experience.
If you identify a school archive, ask about records of your relative's attendance. Share known details (full name, years attended, hometown, course of study) to help confirm a match. Staff often can respond to simple inquiries for free.
Ask to use (or request lookups in) other available resources such as photo collections, school newspapers, graduation programs, etc. Then ask what other materials, published or unpublished, may help you understand student life during that era. Research services may be limited or fee-based, and grades and transcripts are likely privacy-protected.
Contact the school alumni office for post-graduation information. It may have news clippings, biographies, alumni newsletters and more.
Search local newspapers for school-related news, especially if your ancestor participated in sports and other extra-curricular activities. Newspapers also commonly named new graduates and those who made the honor roll.
Resources to use
family memorabilia
yearbooks
local newspapers
school directory websites
Sunny Jane Morton
A version of this article appeared in the October/November 2013 issue of Family Tree Magazine.