Sign up for the Family Tree Newsletter Plus, you'll receive our 10 Essential Genealogy Research Forms PDF as a special thank you!
Get Your Free Genealogy Forms
"*" indicates required fields
Jump to:
Clues in marriage records
Marriage record coverage
Accessing marriage records
Marriage record substitutes
Marriage record examples
Related Reads
Our American ancestors kept marriage records from Colonial times. The government needed to ensure that children who inherited their parents' property were legitimate, that people didn't marry close relatives, that nobody was married to more than one person at the same time and that both parties were above the age of consent or if not, had the consent of their parents or legal guardian.
Marriage records can provide important genealogical details about your ancestors and point to new avenues for research. This guide will help you determine where to look for marriage records and record substitutes, as well as what information you may find in the records.
Clues in Marriage Records
Although regulations over marriages varied greatly by county and state, the general process unfolded this way: After the bride and groom agreed to marry, they had to obtain a license or post banns.
A marriage license gave permission to a justice of the peace, rabbi or minister to marry a couple. In the 20th century, couples had to fill out an application for a license before one could be issued. If the bride or groom was under the age of consent, a letter of consent might have been submitted when the license application was filed.

In some states, primarily in the South, grooms had to place themselves under bond before they married. One or two other men acted as surety to the bond. The bond money was meant to defray court expenses if a planned marriage were not to take place.

Some states allowed a couple who didn't want to pay for a license to instead post banns for three consecutive Sundays in local churches. Banns announced a couple's intention to marry and gave the community time to object to the union.

The acquisition of the license, posting of banns or putting up a bond all assured the state and the community that there were no legal impediments to the marriage.
After the ceremony, the officiant returned a record of the marriage to the courthouse. The returns were either filed or entered into a bound marriage register. The officiant stopped by the courthouse to register or return the marriages he'd performed over a certain period of time. The couple might receive a certificate as an official record as well.
No matter what type of marriage record survives for your ancestor, you're likely to find at least some of the following information:
names of bride and groom
date and location of marriage
name of officiant (justice of the peace, minister, etc.)
names of bride's and groom's parents
occupations of bride and groom
ages and dates of birth for the bride and groom
birthplaces for the bride, groom and parents
names of witnesses
names of surety or bondmen to marriage bond
Unless it was a second marriage, the record will include the bride's maiden name. If the officiant was a minister or rabbi, researching him can shed light on the religious affiliation of your ancestors and lead to additional records. If the record includes the names of the couple's parents and their birthplaces, you'll have a jump-start on your research of the previous generation. Depending upon the state's marriage laws, if no was consent filed, you can be fairly sure that the groom was at least age 21 and the bride was at least 18.

Women are harder to trace, but marriage bonds generally provide one or two names of men with whom the bride was associated. The men who stood surety to the groom were frequently the bride's father or brother, or otherwise connected to her family. Surety was rarely from the groom's family.

The witnesses listed on a marriage record were usually the couple's family members or close friends—researching these folks can help you find records naming your ancestors. Sometimes, though, witnesses had no connection with the bride or groom and just happened to be nearby.
Marriage Record Coverage
Due to the importance of legal marriage and its relation to inheritance, marriage records were typically kept in some form, even before statewide registration was required. Most county marriage records began when the county was formed. In eastern states, town or parish officials kept marriage records dating back to Colonial times.
Marriages were often the last vital record collected at the state level. Massachusetts began requiring statewide marriage records in 1841, but Washington and Nevada didn't do so until 1968.
Wherever and whenever your ancestor married, there would've been some official mechanism for recording marriages: either by the state or an agency on behalf of the state, and/or an official from a church. The Hidden Half of the Family by Christina Kassabian Schaeffer (Genealogical Publishing Co.) includes a list of marriage and divorce laws in every state.
Remember that what the state required and what was enforced at the local level were often two different things. Pennsylvania required marriage registration since it was a colony, but this law was not enforced and few people complied. Ministers might forget to return records, and human error could cause clerks to skip records when entering them into the marriage register.
Accessing Marriage Records
Marriage records are a diverse record group, especially because each state was responsible for laws governing these records. Record coverage and the information contained varies by state and time period. For help navigating the many possibilities, consult FamilySearch.org's United States Marriage Records Wiki. This page links to details on vital records for each state. An overview of marriage records is available at ancestry.com/wiki/index.php?title=Marriage_Records.
Transcriptions
Marriage records are among the first records that genealogical societies and interested individuals have indexed and transcribed. Published indexes and transcriptions often are at historical societies and larger regional libraries. Some have been posted online at county genealogy websites, many of which are affiliated with the USGenWeb Project (click on your ancestor's state, then the county). Find other genealogical societies by doing a web search for the name of the county with the state and genealogy.
Online
FamilySearch, Ancestry.com, Archives.com and MyHeritage provide access to indexes and records from the entire country. The advantage of these sites is that they let you search across multiple locations and time periods simultaneously.

Some states, such as West Virginia, provide access to an index and images of marriage records. For West Virginia, see www.wvculture.org/vrr/va_mcsearch.aspx. Marriage records created by the Freedmen's Bureau, a post-Civil War government agency, are at FamilySearch. More than 900,000 marriages are abstracted and indexed at the Western States Historical Marriage Records Index. For more online records and indexes, run a Google search for the state and county plus the term "marriage records."
City and county offices
Until the beginning of statewide registration, county or (in New England) town clerks filed marriage records in the county courthouse or town hall. At the courthouse, these records could be maintained by several different offices including the probate court, orphan's court, clerk of court, county clerk, registrar of deeds and the district court. Do an online search for the city and/or county and the term marriage records to locate information about record availability.
State offices and archives
Statewide registration of marriages is handled by either a State Department of Health or Vital Statistics. VitalRec provides information on how to locate the appropriate office for each state. Luckily, many older marriage records have been deposited at the relevant state archives, and some of the locales have put records or indexes online. For example, an index only database is available from the Colorado State Archives at and Illinois has a free statewide marriage index at www.cyberdriveillinois.com/departments/archives/databases/marriage.html.
Church records
Religious records may provide marriage information and more about your ancestor; for example, records of ethnic churches often listed members' European origins. The existence, survival and accessibility of church records varies. Search the FamilySearch online catalog for the county and state you're interested in, then look for a Church Records heading. Also check the website's list of published collections for available digitized church records.
Catholic records, if still held by the church, are typically not open to the public, but parish staff may be willing to assist you. To see what records are available for your ancestor's denomination and where they might be held, start at Cyndi's List: Religion & Churches, select the denomination you need, then select either "Births, Marriages and Deaths," or "Libraries, Museums and Archives."
Marriage Record Substitutes
If your ancestors were married in a county that suffered record losses (often due to fire or flood) or had lax registration requirements, look for evidence of the union in other records. Some substitutes will provide information about the date, location, maiden names and participants of a wedding.
Newspapers
Nineteenth-century announcements usually mention the name of the bride and groom, the date and location of the wedding, and occasionally the name of the bride's father and the minister. Announcements from the 20th century are usually longer, with full names of the bride's and groom's parents and descriptions of the wedding and bridesmaids' dresses.
Find local newspapers at historical societies or online for free at Chronicling America or for a fee at GenealogyBank, Newspapers.com or NewspaperArchive.com.
Some states have posted newspapers or indexes online for free. Examples include the Colorado Historic Newspapers Collection and Utah Digital Newspapers. Search online for the marriage location and the term newspaper to find relevant digitized newspapers, or use Elephind.com to locate historical newspapers. Your local library also may provide access to regional historical newspapers.
Church publications
Many denominations in the United States sponsored their own publications. The Presbyterian Banner was published from 1860 and 1898 and included marriage notices in each issue. The RootsWeb wiki has a list of many religious newspapers that have been transcribed and/or indexed. Transcribed records may also appear in local genealogical society publications.
Censuses
The 1900 and 1910 US federal censuses asked each person's marital status and the number of years married. An M indicates the person had been married once; an M2 meant that person had been married twice. For a person who'd been married more than once, the number of years married referred to their current marriage. Census records are online at FamilySearch, Ancestry.com, Archives.com, MyHeritage and Findmypast.
Death records
Although death records won't provide a date or place of marriage, they may have clues to a woman's maiden name. If her certificate lists her father's name, his surname is usually (but not always) her maiden name. If the full names of a male decedent's parents are provided, you could then look for their marriage record.
Probate records
Even if a parent's probate records list a daughter by her first name only, a married daughter would sign the required paperwork with her married name. Additionally, anything her parents bequeathed to her after her marriage would also belong to her husband, so both (and sometimes only the husband) would've signed the paperwork.
Property records
A married man couldn't sell his property without the consent of his wife. Both the husband and wife would be listed as grantors when selling the property, and the wife was usually questioned separately to confirm her consent to the sale. Researching property records is a useful tactic for couples who lived in the early 19th century, especially if the husband had a common name.
Obituaries
The name of a person's spouse will probably be included in an obituary, especially if the spouse was still living. You may find a notation of a woman's maiden name and/or the names of her parents (which would also provide you with her maiden name). Find obituary clipping files at local historical societies or at websites like the Cleveland Necrology File. Newspapers are another excellent source for obituaries.
Bible records
Family Bibles have long been sold with preprinted pages for births, marriages and deaths. Luckily, many families did enter this data in their family Bible. Note that dates may have been recorded long after the events occurred, leading to inaccuracies. Genealogical organizations have indexed or transcribed many Bible records. The Daughters of the American Revolution, Bible Records Online and the Index to Early Bible Records provide access to collections of Bible records. You can may also find Bible records on FamilySearch.
Pension records
A woman who applied for a widow's pension based on her husband's military service had to supply proof of marriage. To see if your ancestor applied for a pension, you can check the records at the subscription sites Fold3 or Ancestry.com, or for free on FamilySearch.
Divorce records
A divorced couple's marriage date and place would be included in their divorce papers.
Reconstructed marriage records
Unfortunately, courthouse disasters have affected many marriage records. To help researchers in those areas, genealogical societies and individuals have attempted to recreate lost records by using substitutes such as those listed here. If your ancestors' county suffered record losses, check with the local genealogical society or public library for published compilations of reconstructed records.

Searching for an ancestor's marriage record can take time: records may have been lost, destroyed or never even filed, and ancestors may not have married where we think they did. But the search is worth the effort for the goldmine of information contained in marriage records.
Marriage Record Examples
Marriage Register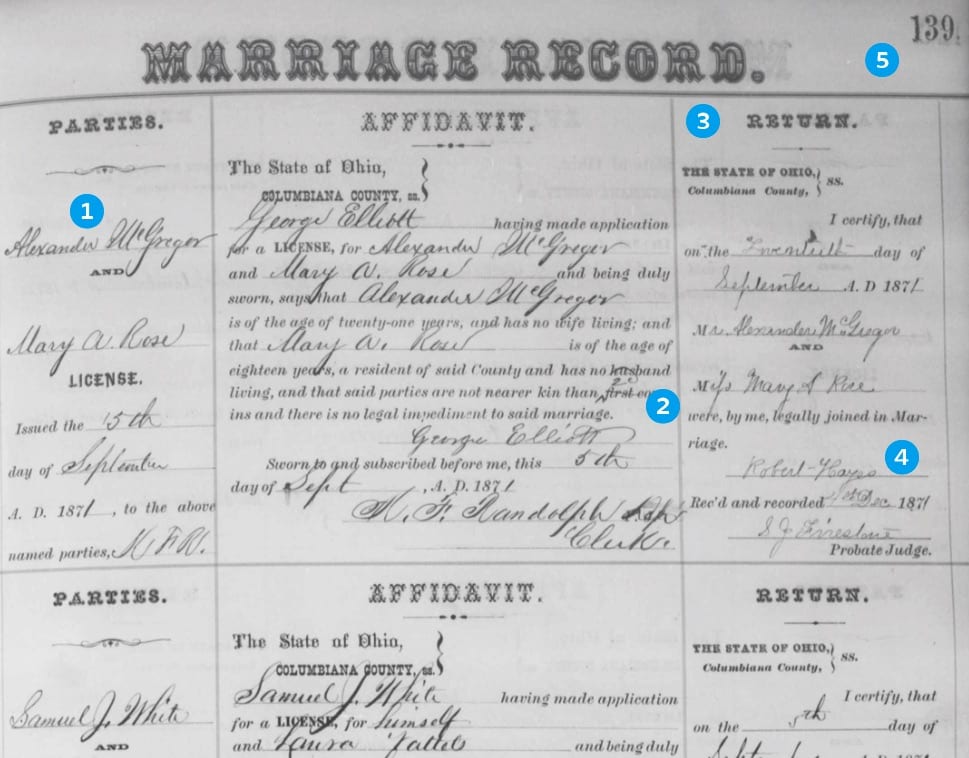 The groom, Alexander McGregor, did not apply for the license. The man who did, George Elliot, may be related to him.
Handwritten notes may offer great clues. In this case, the note indicates that the bride and groom were second cousins.
This is the return section of the Marriage Record book. If it is blank, the marriage may not have taken place.
The record doesn't indicate whether Robert Hays was a minister or Justice of the Peace. Researching him may provide more information about the couple and their religious affiliation.
The marriage record volume, kept by a county clerk, is a copy of the original records, and thus may contain mistakes. For example, other records state that the bride was Mary Jane, not Mary A.
Marriage License Application
The handwritten birth date confirms that the groom, William K. Hood, was over the age of consent.
Details about the parents of the bridal couple provide clues for future research. The next steps could include immigration records to see when David Hood and Elizabeth Angus came to America.
This couple clearly lived in Cleveland, Ohio but married in Erie, Pa. If you can't find a marriage record for an ancestor, check surrounding counties and nearby states.
This application is the original record and includes the signatures of the bride and groom.
A version of this article appeared in the October/November 2015 issue of Family Tree Magazine.
Related Reads
Versions of this article appeared in the October/November 2015 and July/August 2021 issues of Family Tree Magazine.