Sign up for the Family Tree Newsletter Plus, you'll receive our 10 Essential Genealogy Research Forms PDF as a special thank you!
Get Your Free Genealogy Forms
"*" indicates required fields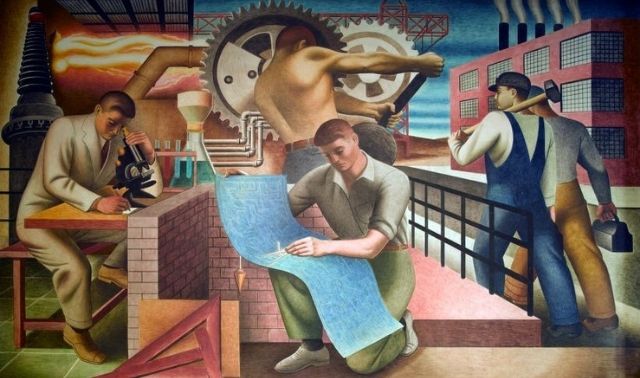 Black Thursday, Oct. 24, 1929: The stock market crashes, hurtling the United States into the Great Depression. In 1932, both Bing Crosby and Rudy Vallee record "Brother, Can You Spare a Dime," perfectly capturing the angst of the era. President Franklin Delano Roosevelt's New Deal creates a veritable alphabet soup of work relief programs — and gives birth to a little-known project of big interest to genealogists. Listen up: I'm about to let the cat out of the bag.
At their height, government programs — among them the CCC (Civilian Conservation Corps), CWA (Civil Works Administration), PWA (Public Works Administration) and WPA (first known as the Works Progress Administration, then renamed the Work Projects Administration in 1939) — employed a third of out-of-work Americans. Participants built or repaired 1 million miles of road and 200,000 public facilities; put on concerts and theatrical performances; painted murals on buildings in 48 states; wrote state travel guidebooks; planted 2 billion trees; and sewed 383 million coats, dresses and other garments. But most important for today's genealogists, the WPA's Federal Project No. 1 launched an ambitious undertaking called the Historical Records Survey (HRS).
Between 1936 and 1943, unemployed teachers, writers, librarians, archivists and clerks earned on average $73 a month with HRS. They visited courthouses, archives, historical societies and libraries to analyze and compile inventories of state and county records, manuscript collections, newspapers and church archives. They got dirty in cemeteries, talked to older citizens and met with archivists and librarians. (Hmmm … sounds like a genealogist's to-do list.) Their mission? To conduct a national records survey consisting of guides to every state's manuscript collections and various federal records, plus a coast-to-coast master index of the collections. The project was never completed, and only about 2,000 of the inventories were even published. But much of the work — both published and unpublished — is preserved in a variety of local, state and federal repositories. A late-1970s study found, for example, 64 HRS publications for Vermont plus 90 cubic feet of unpublished documents.
You already may have used WPA-generated records without realizing it. If you haven't, you'll certainly want to. Here's a sampling of the records and places to look for them.
Courthouse, library and business-record inventories
WPA workers surveyed 85 to 90 percent of US county courthouses, generally listing record types, formats (3×5-inch index cards, bound volumes, file drawers or loose pages) and the kinds of information the documents contained. Workers noted the names of the offices that managed these records, and the records' locations in the buildings. One published example of such a survey is the Inventory of the County Archives of Texas: No. 75 Fayette County (LaGrange). In some New England areas, surveys focus on town rather than county records.
Manuscript collections at public libraries as well as local, county and state repositories also underwent a WPA inventories. And so did the occasional set of business records.
You can find, for example, the Inventory of Business Records: The D. Connelly Boiler Company and The J.B. Savage Company at Cleveland's Western Reserve Historical Society.
Book transcriptions and indexes
Across the country, WPA workers combed through and indexed a variety of historical publications. For each county in Indiana, they created an Index of Names of Persons and of Firms — you'll find those indexes at the Indiana State Library, in various local libraries and on microfilm at the Church of Jesus Christ of Latter-daySaints' Family History Library (FHL). You can view digitized FHL microfilm at home or at a local branch Family History Center (FHC).
Diary and journal transcriptions, though rare, include The Diary of Eli Sheldon Glover, October-December 1875 (Oregon Historical Records Survey Project, out of print), available at the Oregon Historical Society. Sheldon, an early Oregon settler, lived from 1845 to 1919.
Cemetery surveys
Sorting through church and cemetery offices, WPA employees compiled lists of cemeteries and burial-record whereabouts. Sometimes, they recorded the actual burials. For example, the Camden County (New Jersey) Historical Society has a cemetery index covering 1818 to 1887. It generally gives the deceased's name, occupation, birth date and place, death date and place, burial location and tombstone inscription, as well as parents', spouses' and children's names. In some South Dakota counties, the WPA Graves Registration Project created separate indexes for burials of veterans and civilians (though every cemetery may not be covered for a given county). The lists are at the South Dakota state archives in Pierre and some also are online at The Genealogy Register.
The WPA created similar lists for Iowa (they're at the Iowa state historical society, and Florida-roots seekers can use the Register of Deceased Veterans Buried in Florida at the University of Florida Digital Collections. FamilySearch.org has all these lists too.
Church-record inventories
Some WPA inventories encompass all churches of a certain denomination in one city or state; others are directory-type listings of every church in an area. They're far from complete, but still useful — you can get mini histories, learn names of defunct churches and find out what records they kept. One such publication is A Directory of Churches and Religious Organizations in the State of Wyoming, 1939, available at the FamilySearch.org and Wyoming's Laramie and Campbell county libraries.
Naturalization indexes
Although the WPA never realized its plans for a nationwide naturalization index, it did create some local indexes. The FHL and the National Archives and Records Administration (NARA) Great Lakes regional facility in Chicago have indexes covering various time periods to county-, state- and federal-level naturalizations in southern Wisconsin, northern Illinois and eastern Iowa. You'll find a naturalization index for Arkansas (1809 to 1906), Louisiana (1831 to 1906) and Texas (1853 to 1939) at NARA's Fort Worth, Texas, facility. Visit the National Archives' Northeast Region in New York City for a WPA index to some New York naturalizations from 1792 to 1906.
Newspaper indexes
WPA workers clipped newspaper articles and compiled newspaper indexes, so if an actual article about your ancestor didn't survive long enough to be preserved on microfilm, you might find at least a clipping or a summary of it. Many indexes, such as the Oklahoma Historical Society's card catalog of selected newspapers, were never published — you'll have to visit the repository to use the file. But you could find a Richmond, Va., ancestor in the published Index to Marriage Notices in the Southern Churchman 1835-1941.
Vital-record indexes
WPA surveys of birth and death records in state vital-record offices might tell you the original records' format, the years covered, data they contained and whether an index already existed at the time of the survey. Researchers with Windy City ancestors have long used the WPA's Chicago death-records index, available on microfilm at the FHL, to pinpoint death dates. You'll find transcriptions and indexes of 67 Indiana counties' birth and death records from 1882 to 1920, plus marriage records (generally from 1850 to 1920), at the FHL, Indiana State Library and Allen County Public Library.
Finding State Indexes and Inventories
As funding dried up and the need for the WPA disappeared during World War II, the HRS ended with in-progress inventories unfinished and surveys unpublished. Not all the work survived: According to Loretta L. Hefner's The WPA Historical Records Survey: A Guide to the Unpublished Inventories, Indexes and Transcripts (Society of American Archivists), a pile of Maine's WPA records were (gasp!) "dumped from a wharf into Casco Bay." Apparently, no repository would accept them.
But don't despair — much of WPA's hard work survives. Maine has 33 surveys, most housed at the Maine Historical Society <www.mainehistory.org> in Portland. The North Star State's WPA documents occupy nearly 350 boxes at the Minnesota History Center <www.mnhs.org/genealogy/family/genieguide/wpa.htm>. Peruse them, and you'll find manuscripts for published books, such as Minnesotans in the Civil and Indian Wars: An Index to the Rosters in Minnesota in the Civil and Indian Wars, 1861-1865 (Minnesota Historical Society), plus inventories that never made it into print.
The federal government administered WPA programs from Washington, DC, as well as from regional, state and district offices. That means WPA products are sprinkled throughout various archives and cataloged under a medley of titles. Materials for one state may be split among repositories. And although the WPA never fully achieved its goal to distribute copies of its inventories throughout the country, plenty of libraries have publications relating to other states. You might not think, for example, that the Ohio Historical Society library <www.ohiohistory.org/occ> would have WPA publications from states such as Alabama, Florida, Michigan, New Jersey and West Virginia — but it does.
Search the catalogs of historical societies, state archives, state libraries, and large public and university libraries by entering terms such as wpa, works progress administration, work projects administration and historical records survey as the author or keywords. Try county archives inventory or cemetery survey as a search subject.
You can see most of the FHL's WPA holdings by using the online catalog at <www.familysearch.org/eng/library/fhlc/frameset_ fhlc.asp>. Type work projects administration into the Author field. You might find more titles if you do a place search for the state or county, then click on the topic Archives and Libraries — Inventories, Registers, Catalogs.
You'll also want to investigate the large collections of the Daughters of the American Revolution <www.dar.org/library> and Indiana's Allen County Public Library. Then see the Cyndi's List WPA links <www.cyndislist.com/depression.htm> and the book CheckList of Historical Records Survey Publications by Sargent B. Child and Dorothy P. Holmes (Clearfield Co.). Use Hefner's book, available at large libraries, to locate unpublished WPA documents.
Most WPA workers had some degree of training and education, but as you know, reading old handwriting and interpreting what's in a record takes practice. Not all the transcriptions are correct, so try to find the original document. Of course, those records may have been moved from their WPA-era locations — but getting to the data will be a lot quicker now that you're in on the secret.
State inventories
State and county historical-record surveys didn't end with the WPA era. Several states have done inventories to keep track of what records are generated and where they're stored — helpful when you want to find out what happened to the 1929 Springfield County probate records that might contain your ancestor's file. Try these modern record inventories, or check the state archives or historical society to see if there's one for your state.
Kansas
<www.kshs.org/government/records/stategovt/staterecordssurvey.htm>
New York
Oregon
<arcweb.sos.state.or.us/county/cphome.html>
South Carolina
<www.state.sc.us/scdah/shrab/lclregrnt.htm>
Texas <www.tsha.utexas.edu/handbook/online/articles/view/TT/mpt4.html>
A version of this article appeared in the April 2005 issue of Family Tree Magazine