Sign up for the Family Tree Newsletter Plus, you'll receive our 10 Essential Genealogy Research Forms PDF as a special thank you!
Get Your Free Genealogy Forms
"*" indicates required fields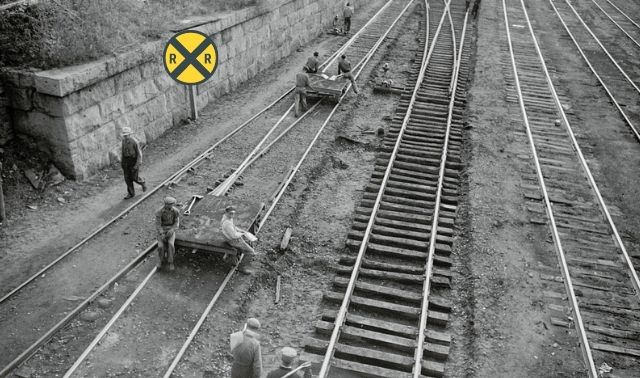 From about the 1840s to the 1940s, the railroad was king. America's first large-scale business, it employed millions—from the "gandy dancer" (track laborer) to the president of the line. And it was the fastest mode of transportation at that time to carry our ancestors and their goods across the country.
The Baltimore & Ohio (B&O) Railroad, opened in 1830, was the first US passenger railway. Baltimore merchants established the B&O to compete with New Yorkers' new Erie Canal for trade to the West. In 1869, the Central Pacific and Union Pacific linked American trade from coast to coast, when they joined at Promontory, Utah, May 10.
Locating your ancestors' railroad records can be tricky because they're scattered in repositories across the country—historical and railroad societies, museums, archives and private collections—and many have been destroyed or lost over the years. But these seven websites will get your railroad research on the right track.
Located in Old Sacramento, this repository holds corporate records, periodicals, photographs, maps and other materials documenting railroading in California and adjacent states from the 1850s to the present. Of particular interest to genealogists are the Archives and Manuscripts Collections (containing corporate records, personal papers and other unique documents) and the Railroad Accident Reports. The search gives you basic information about each item and its location within the collection. If you locate materials with information about your ancestors, the library will make a limited number of copies and ship them to you for a fee (20 to 50 cents per page for document reproductions and $11 to $28 for black-and-white photographic prints, plus postage and handling fees).
A great resource for anyone with Erie Railroad workers in the family, this site indexes employee rosters, obituaries, photographs, letters, accident reports and other records compiled from old issues of Erie, the employee magazine published from 1905 to 1960, and Erie-Lackawanna Magazine, published after the railroad's 1960 merger with the Delaware, Lackawanna and Western Railroad. The information's provided in an easy-to-navigate tabular format (although a search engine would make browsing even easier).
Many of the indexes provide each person's first and last name, position and location (or division), as well as other bits of information. (The accident-report index, for example, includes the date and type of accident.) You can see the full records by clicking on the link to Railfan.net. Here, you'll find scanned images of the original magazines.
If your ancestors worked for the St. Louis and San Francisco Railway (aka The Frisco), this is an extremely useful site. It's maintained by Fred Veregge, who, in the 1970s, saved Frisco employee records from being destroyed when the railroad's records building in Springfield, Mo., was vacated. The records span the late 1800s to World War II, and contain more than 500 names.
Offering the records for just the cost of postage and handling, Veregge hopes railroad workers' relatives will make homes for them. Look for your ancestor's name in the site's alphabetical listing of Frisco papers. Each entry includes the worker's name, position and location; the date on the document; the nature and source of the letter; and other information. Be sure to search the photographs and Frisco news-clippings databases, as well.
This site, maintained by the South Suburban Genealogical and Historical Society (SSGHS) in Illinois, has information about 200,000 former employees of Pullman Car Works, which built passenger cars in Chicago. The collection is not open to the public, but SSGHS will do a quick search of records from 1900 to 1949 for free.
The RailRoad Genealogical Society (RRGS), founded in November 2002, collects American and Canadian railroad records, and will search them for your ancestor's name for a fee. RRGS currently has a lot of records from the Missouri-Kansas-Texas and Louisville and Nashville railroads. The search service costs $20 for nonmembers, but for no additional charge, RRGS will continue to search for your ancestor in any new records it obtains. Eventually, RRGS would like to create a free online database of its holdings.
This article, which appeared in the Spring 1997 issue of the National Archives and Records Administration (NARA) publication Prologue, provides an overview of NARA's vast holdings of railroad-related textual records, maps, photos and motion pictures. The textual records comprise accident reports; Interstate Commerce Commission valuation records, used to calculate passenger and freight rates; railroad companies' annual reports; patent application files; and more.
Established in the mid-1930s, this agency administers federal retirement benefits to the nation's railroad workers and their families. For a fee, the agency will look up the records for anyone who worked for the railroads (excluding temporary workers) after 1937 and is now deceased. Though the agency doesn't have pre-1937 railroad records, it provides links to repositories that do.
Other Online Railroad Records Websites
Stop at these sites before putting on your research brakes:
Archives of Appalachia, Railroads: If your forebears traveled aboard the Carolina, Clinchfield and Ohio Railway and the East Tennessee and Western North Carolina Railroad, consult this East Tennessee State University guide to railroad research.
B&O Railroad Museum: This Baltimore museum preserves the history of America's first steam-operated railway with a research library and archives and a collection of artifacts dating from 1827.
Boston & Maine Railroad Historical Society Archives: Housed at the University of Massachusetts, the archives preserves histories of the Boston & Maine and other New England railroads.
Chesapeake and Ohio Historical Society: Search this group's database of more than 43,000 railroad photographs, and browse the online gallery of 600 images. Then, order 8×10-inch prints.
Cyndi's List—Railroads: This portal will link you to mailing lists, articles, maps and more resources related to railroad history.
The Northern Pacific and Genealogy: This site provides tips and resources for finding Northern Pacific Railway records.
Pennsylvania Railroad Company Manuscript Collection: Temple University has an extensive collection of Pennsylvania Railroad records.
Railroad History Archive: The University of Connecticut holds the New York, New Haven and Hartford Railroad's corporate records and more.
Railroad History Collection—Virginia Tech University Libraries: Virginia Tech has pre-1930 records from the Norfolk and Western Railway and Southern Railway, as well as their predecessors and early subsidiaries.