Download your free copy of 23 Secrets to Organize Your Genealogy ebook by clicking the button below.
Get Your Free Genealogy Forms
"*" indicates required fields
Identify some organizational goals then set aside an afternoon and compile all of your genealogy materials. Whether you have one small box or 10 big boxes, no matter. Just pull it all into your working space.
Next, you're going to assess what you own. This isn't a detailed assessment, but rather a chance (and for some this may be your first time) to see all of your genealogy papers in one place. Don't worry about logging everything at this time either. For now, just get a sense of what you own.
Paper-based Items
genealogy books
boxes of photos
a file cabinet filled with un-filed papers
digital files you've printed
e-mails you've printed
family mementos
old scrapbooks
photo albums
postcards
county histories
history books
research tossed in a box
Digital Items
digital files
GEDCOMs
e-mails
census records
information found on websites
important family sites you've bookmarked
Short-term Goals for Genealogy Organization
The object is to use the "what I own" technique to help decide which areas of your family tree you want to organize first. Also, once you see everything you own, you can start building your priority list of short-term goals.
Does your "stuff" fall into just a few categories or many categories?
Is most of your material on paper or digital?
Are there more photos than anything else?
Is there one surname that stands out above the others?
Are you drawn to one type of record more than the others?
It's up to you whether you want to do a very small project first (for example, the surname about which you have the least information) or a large project, like all of your photos. The choice is yours.
Now that you've started your organization journey, don't stop there! Check out Family Tree Magazine's free ebook!
This ebook contains six guides from Family Tree Magazine for organizing your family history, including:
articles on space-saving strategies
organizational habits
sample filing systems
ideas for how to arrange your genealogy workspace
research calendar form
biographical outline
What's inside the 23 Secrets to Organize Your Genealogy ebook?
Guide #1: 8 Space-Saving Strategies for Your Genealogy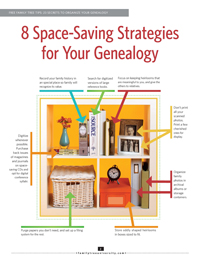 Whether it's going paperless or placing family photos in archival albums or storage containers, this graphic diagram will help you make the most of the space in your home office. Download digitized books to reduce the space taken up by large reference materials, set up a filing system for your genealogy, and more.
Guide #2: 9 Habits of Highly Organized Genealogists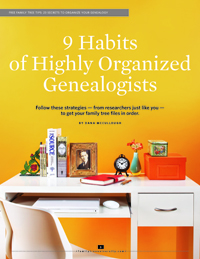 Over time, every genealogist has to confront the issue of organization, but the sheer number of ways to organize (and amount of material we collect) can make starting and implementing an organization method intimidating. So we asked our Family Tree Magazine readers to share their best advice and organizational methods to save us from getting buried under mounds of family photos, vital records certificates, census page printouts, family tree charts and other records. We learned a few new tricks from the nine strategies that emerged, and hope you will, too.
Guide #3: Top Two Filing Systems at a Glance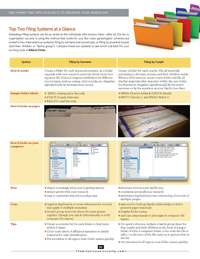 Genealogy filing systems can be as varied as the individuals who employ them—after all, the key to organization success is using the method that works for you. But many genealogists' schemes are rooted in two tried-and-true systems: filing by surname and record type, or filing by ancestral couple (and their children, or "family group"). Use this guide to compare these two systems to see which one best fits your working style.
Guide #4: 6 Expert Ideas to Organize Your Genealogy Workspace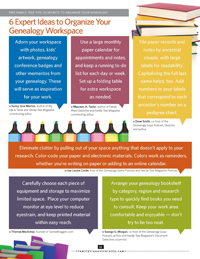 Believe it or not, professional genealogists confront the same organizational obstacles as the hobbyist family historian. From tips for arranging your genealogy bookshelf to color-coding suggestions, Family Tree Magazine contributors such as Lisa Louise Cooke and Thomas MacEntee offer their top tricks for keeping research materials orderly.
Guide #5: Research Calendar Form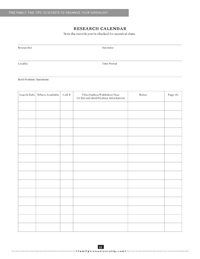 Use this Research Calendar to note the records you've checked for ancestral clues. Fill out the header with the name of your ancestor, his or her locality, time period and a brief problem statement. You can then list out places, such as websites and libraries, where you've carried out searches, making it easier to revisit these sources at a later time.
Guide #6: Biographical Outline Form
Use this Biographical Outline to record information on your ancestors' education, military service, marriage, children, illnesses, religious milestones, migrations, residences, jobs, family events, land purchases, court appearances, deaths and burials, etc. Having all of this information stored conveniently in once place will make it easier to create a timeline of your ancestor's life, as well as help you to better connect and trace their major life events.
Download your free copy of 23 Secrets to Organize Your Genealogy ebook by clicking the button below.
Get Your Free Genealogy Forms
"*" indicates required fields