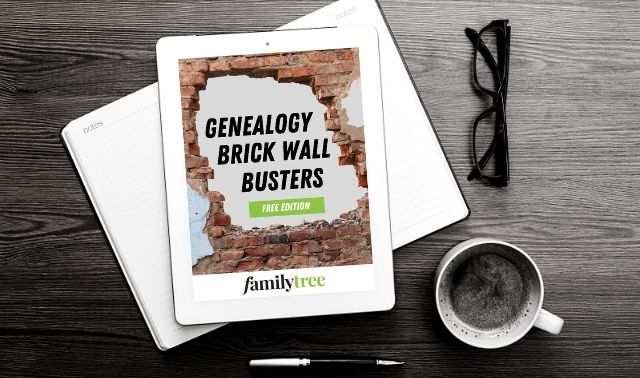 Stuck on a genealogy problem you can't seem to move past? Whether you're struggling with burned records or county boundary changes, have no fear! Everyone runs into these issues at some point. Our experts will show you ways to overcome some typical (but still frustrating) genealogy research challenges. You'll bust through that brick wall and be back on track before you know it.
Download your free copy of Genealogy Brick Wall Busters ebook by clicking the button below.
Get Your Free Genealogy Forms
"*" indicates required fields
What's inside the Genealogy Brick Wall Busters ebook?
Guide #1: Holes in History
Major, record-destroying fires have likely impacted your ancestry search. We'll help you raise your family tree from the ashes of these disasters.
Guide #2: How I Did It
Three genealogy experts share how they broke down brick walls in their research.
Guide #3: Digging Through the Ashes
Is the 1890 census really missing? With record substitutes and the right frame of mind, the answer is not so simple.
Guide #4: Be Kind, Rewind
Follow these four steps to fact-check your research using family tree software and websites.
Guide #5: Moving Targets
Did your ancestors drop off the map? Maybe it's not because they moved, but because boundaries shifted or street names changed. We'll help you use old maps to solve place problems.
Get Your Free Genealogy Forms
"*" indicates required fields