The further back you can trace your American ancestors, the more likely it is that at least some served in the U.S. military and may have seen action in one of the wars or conflicts that happened during their time. The good news for the family historian: military service generated military records, and this special collection of articles has been curated to provide you with genealogy research methods for finding your ancestors' military service records.
You'll get an overview of the conflicts, from the larger, record-generating ones, to the lesser-known conflicts and discover what military records might be available, as well as where to find them. You'll also get tips on the type of information military records can reveal, from pension records that will help you find not only your military ancestor but widows, to the bounty of information found in draft records. And finally, you'll get a chance to put this information into practice with some worksheets and exercises you can use to find your ancestors' war records and discover new details.
The best part: This collection of articles is free! All you need to do is enter your email address and you can download your copy of Find Your Ancestor's Military Records right away!

---

What's Included:
On the War Path: 10 Lesser-Known Military Conflicts
No need to be jealous of those genealogists with ancestors in the "big" wars. Military service records can be found for even these lesser-known conflicts, and this article is all about learning how to trace those ancestors. From King Philip's War to to the Mexican-American War, The Indian Wars to the Spanish-American War – and several in-between, you'll find war records collections for all ten.

---

Brick Wall Busters: Basic Training
Proving an ancestor's military history is a matter of following orders – and creating a research plan. This article provides insight into where you can look for military records.

---
Workbook: Pension Records
If you're looking for military records for the Revolutionary War, War of 1812, or Civil War, your search is going to lead you to pension records. These are some of the richest family history resources you can find, and won't just lead you to the soldiers – they can offer up clues to the women in your family history as well. This workbook not only provides excellent tips and resources, but exercises and a pension worksheet for you to put your new-found knowledge of pension records into practice.
Tree.
---
Research Strategies: Online Military Records
Search out military records on the web with the research tips for finding and searching military archives online. From the Revolutionary War to Vietnam, there are military records to be found with just a few clicks on your keyboard.

---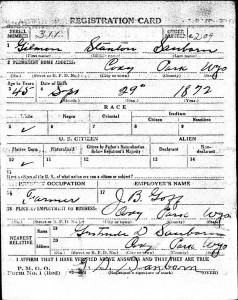 Workbook: Draft Records
Pension records may be the key to finding clues in earlier wars, but draft records are a genealogist's best friend when it comes to finding Civil War, World War 1, or World War 2 military service records. Learn what clues can be found in those records to tracing your ancestors. You'll find hints about everything from their place of birth and residence at the time, to occupations, citizenship, and marital status, as well as a physical description, the name and address of a relative or other contact person, and a signature. With exercises and a draft military records worksheet, you'll get to put what you learn into practice, finding your own military ancestors.