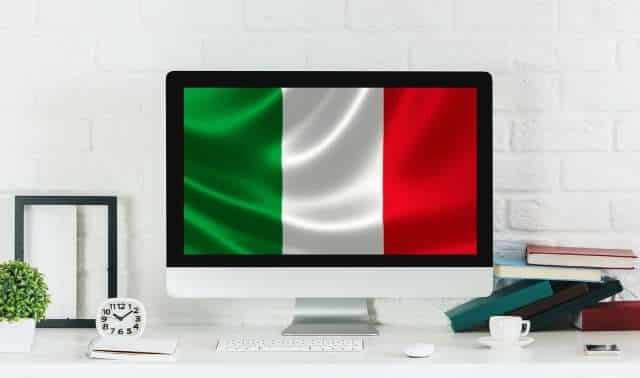 Up until a few years ago, online Italian genealogy research was difficult, if not impossible. Not many records were digitized, and few governmental archives had websites with useful finding aids.
Thankfully, in large part due to FamilySearch, Italian records are easier to access than ever before. Record availability does vary widely by location, so a trip to Italy may still be in the cards for you. (What a shame! Having to take a trip to beautiful Italy…)
The resources available for Italian research online differ based on both location and time period, but a lot is available from the comfort of your own home. Grab some takeout from your favorite local Italian restaurant for a more authentic experience!
So let's take a look at the top Italian genealogy websites, from the big-wigs of the genealogy community like FamilySearch to more niche resources just for "Il Bel Paese." In bocca al lupo! (Good luck!)
Antenati (Italian for "ancestors") is, by far, the best website for Italian research. Its records are clearly organized, from province to civil registration period to town to type of record and year. Not all provinces' records are online yet, but the hope is that they will be in the future. The site is Italian; though it has an English-language option, you're better off using the Italian, since the English site is not updated as regularly and you could miss records.
The best way to access records is clicking "Il territorio e le fonti" ("The territory and the sources") on the home page, then scrolling down to find your archives of interest. The map on that page will indicate whether the site has digitized records for that location. Alternatively, click "Sfoglia i registri" ("Browse the registries") at the top to view archives for which digitized records exist. One quirk unique to Antenati: The site sometimes considers stato civile italiano to be any records from 1860 moving forward, while most other sites use that term for records after 1865.
You can search some of the records by name via the "Trova i nomi" ("Find the names") section, but note that only select registers have thus far been indexed. So even if your ancestor doesn't appear in a keyword-search on this page, his record may still be browsable on the site.
FamilySearch, a website we all know and love, is a close runner-up to Antenati for Italian research online. (In fact, it's because of FamilySearch's partnership and digitization projects that Antenati is available!) The site has its own unique collections, as well as value when used in combination with Antenati and other resources.
The user interface of FamilySearch doesn't always allow for the same ease of use as Antenati (especially when browsing many years' worth of records), but it does have some unique records in its collection. Some records are only on one site or the other; the sites do not always mirror each other. FamilySearch also has better indexing of its Italian records, thanks to its army of volunteer indexers. As with Antenati, the FamilySearch indexes do not include every record they have, so don't let a lack of index search result deter you from looking further in the images themselves.
My preferred method of accessing Italian records on FamilySearch is actually the Catalog, rather than the Records section. Not all digitized microfilms have yet made their way into the Records section, especially if the entire series is not yet digitized. On the other hand, record series sometimes appear in the Records section before their catalog entries have been updated, so it's good to check both places.
Note that, due to contractual agreements with certain archives, you can only access some digital Italian records while at Family History Centers, FamilySearch Affiliate Libraries, or the Family History Library in Salt Lake City. Other documents are confined to physical microfilm for the same reason. Antenati can be a workaround, as some records under privacy restrictions at FamilySearch are free to check on Antenati.
3. Archivio di Stato Websites
Most websites of Italian provincial archives (archivio di stato singular; archivi di stato plural) do not contain genealogical indexes. Instead, their sites inventory what stato civile records and other documents they have in their care: military records, notarial records, catasti (akin to a tax or census record) and more.
However, some archive websites do contain online collections useful to genealogical research. Here are a few selections from across Italy; you can request original records from all three from the site:
Archivio di Stato di Salerno, Lista di Leva (Conscription Lists): This database indexes several of the military records series held by this archive. You can search by surname (cognome), birthplace (località di nascita) and more. Databases like these can be extremely helpful if only a province of origin is known, but not a specific town.
Archivio di Stato di Alessandria, Ruoli Matricolari (Matriculation Rolls): These databases include ruoli matricolari (matriculation rolls), which contain personal information about military-age men. The two spreadsheets available on the archive's website begin with the letters ASAL and document many—but not all—of the ruoli matricolari available.
Archivio di Stato di Napoli, Passaporti ed Emigrazione (Passports and Emigration): While most Italian passport and emigration records no longer exist, this archive of Napoli (Naples) maintains 22,000 files for individuals who emigrated from Naples between 1888 and 1901. This database indexes the archive's entire series, but that does not include everyone who emigrated from Naples during this time frame—just individuals who lived within the City of Naples and whose records were held in a specific archive of the Naples Police Headquarters. Search the collection by clicking the blue "Qui" link.
While Ancestry.com's coverage of Italian records is sparser than others' on this list, it does contain some records of Italian towns or provinces that aren't found elsewhere. As at FamilySearch, some of Ancestry.com's records are indexed, while others must be browsed.
This helpful site has created directories of various military, census, vital and tax record collections. Many of the entries link to archivi di stati websites like those in No. 3, but some direct to other kinds of resources. This makes it a great place to check first to see whether records for your ancestor's province are available. Note that some entries are simply indexes, rather than links to digitized original records.
This website indicates the distribution of specific surnames in Italy, helping you learn more about where your ancestor might have come from. As you can imagine, the more unique the name, the more helpful this resource will be. Russo? All over Italy. Camperlingo? Just a few towns over two provinces.
If you're lucky enough to find your town listed here, your search for your ancestors may have gotten a bit easier. This site has collected links to websites where Italian records have been transcribed for various towns. Some sites are just for one comune or range of years, while others are for multiple. Note that the list doesn't appear to be regularly maintained; many links no longer work, or now go to unrelated websites. You never know until you look!
This website also gathers together links to other websites where Italian records have been transcribed, as well as links to digitized images and (as the name implies) parish records. While it currently seems to be Sicily-focused, the site includes records from every region in Italy. This website is grassroots efforts at its very finest.
Have ancestors from the region of Calabria in southern Italy? This website has extractions from genealogically relevant records in a bunch of towns from this region, but also valuable links to other sites where records have been transcribed or family pages for people researching there. It doesn't appear to be updated frequently, and many towns only have a few years of indexed records available … but perhaps those few years are the ones
you're looking for!
Nati in Trentino indexes 1.2 million people born or registered in the region of Trentino (in northern Italy near the Austrian border) between 1815 and 1923. While the index is not 100% complete for that area and time period, it is essential for those researching ancestors from this region. You can use information from the index to request record images from the Archivio Diocesano Tridentino, linked on Nati in Trentino.
A version of this article appeared in the July/August 2021 of Family Tree Magazine.
Related Reads