Sign up for the Family Tree Newsletter Plus, you'll receive our 10 Essential Genealogy Research Forms PDF as a special thank you!
Get Your Free Genealogy Forms
"*" indicates required fields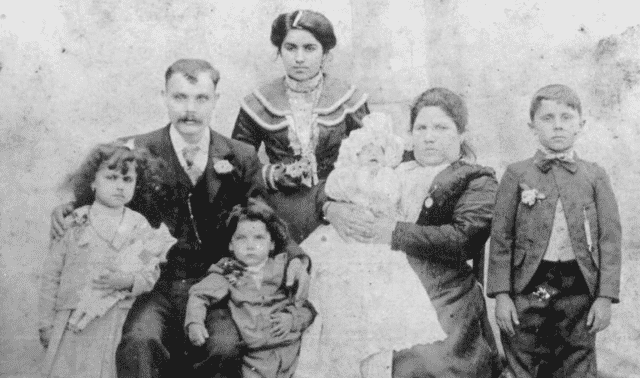 On a sunny afternoon during my first visit to Barcelona, I stood at the top of Mount Tibidabo. I looked down at the coastline and understood the longing Sephardim took with them on their exile in 1492.
Our Talalay family always heard that "This was our name in Spain," and that we were Sephardic in origin—no matter how long we'd lived in Eastern Europe, specifically in Mogilev, Belarus.
When most genealogists think about Jewish ancestry, they're probably thinking of Ashkenazim—those who generally lived in assimilated Europe, speaking secular languages, or in Eastern Europe, where Yiddish was the lingua franca.
Sephardim, a lesser-known group to which my family belongs, originated in Spain and Portugal. "For most of recorded history, Jewish history was essentially the history of Sephardim, which comes as a great shock to those alive today," says award-winning author Jeffrey S. Malka, founder of SephardicGen.com. "Sephardic Jews constituted 90 percent of all Jewry up to the 12th century."
Malka's research, confirmed by leading Jewish demographer and statistician Sergio Della Pergola of The Hebrew University of Jerusalem, reveals that 12,000 Jews lived in 12th-century Toledo, Spain, to Frankfurt's 700. Fourteenth-century Seville, Spain, was home to 12,000 Jews, versus 1,200 in Prague. And beginning with the first 23 Jews who arrived in New Amsterdam (today, New York) in 1654 from Recife, Brazil, the American Jewish population was mostly Sephardic for nearly two centuries. Early synagogues in New York, Philadelphia, Newport, Charleston, Savannah and New Orleans were Sephardic. Rabbi Malcolm Stern's pivotal work on early Colonial families demonstrates the prominence of Sephardim, although few of their descendants today are Jewish.
"There is, unfortunately, little knowledge of Sephardic history among Ashkenazim," Malka says, noting that some genealogical resources for the groups are the same, and others differ because of their different locations. "The Sephardic resources are woefully undeveloped," he adds.
We'll show you the "other side" of Jewish genealogy, which for too long has been Eastern European-centric, and help you discover your Sephardic family history.
Uncovering hidden history
Your first step to uncover your family's hidden past is to learn about the history of Sephardim. These Jews spoke Ladino, a mix of Hebrew, Spanish and other languages, with various geographic dialects. Most were expelled from their homes on the Iberian Peninsula in 1492, when the Catholic monarchs of Spain issued the Alhambra decree. King Manuel of Portugal made a similar order in 1497. Sephardim fanned out fro Iberia to all parts of the known world: Western Europe, Eastern Europe, North Africa, the Ottoman Empire, the New World, Central and South America. Some remained, secretly practicing their faith; they're called conversos in Spanish or bnei anousim in Hebrew.
Sephardim from now-Yemen, Iraq, Syria, Iran and India, where other Jewish languages and dialects such as Judeo-Persian were common, are more correctly called Mizrahi or Eastern Jews. Additionally, Sephardim encompass Roman Jews, who live in the oldest Jewish community outside Israel, and the indigenous Greek-speaking Romaniote Jews. But today's broad definition of Sephardim includes all non-Yiddish speaking, non-Ashkenazi Jews.
New World Jewish settlement began in Dutch Brazil. Exile and resettlement brought Sephardic Jews from there to the Caribbean and the Guianas for their experience in plantations, sugar mills and business. The Dutch and English competed for them, offering civil rights and religious freedom in 1659 (French Guiana) and 1660 (Surinam). Along with shipping expertise, the Jews' fluency in Spanish and Portuguese furthered contacts with countrymen (and often family) throughout the New World, Europe and Africa.
Of 401 plantations in Jamaica in 1737, 115 were Jewish. Some of these plantations (with the owners' names in parentheses) include Mahanaim (Gabay Baeza); Beersaba (widow of Abraham de Meza); Gilgal (Joseph Arrias); Nahamu (Benjamin Henriques de Granada); Goshen (S.J. Sanchez); Haran (Jacob de Pina); Petah ve Naim (Jacob Cohen Nassi); Carmel (Isaak Granada da Fonseca); Beit El (Jacob de Meza); Dothan, Carillo, Serphati and Hebron (Moises Nunez Henriquez).
Jews settled in St. Eustatius (known as Stasia) in 1660, where Spanish-Portuguese merchants supplied Americans fighting for independence from Britain. In 1776, 18 ships reached North American rebel ports. The British didn't know where the Americans' supplies were coming from until 1777, when they captured a ship with military equipment. Documents on board showed the owners were Spanish-Portuguese Jews from Stasia.
Besides family stories and ancestors in areas with large Sephardic populations, hints you have Sephardic roots could include customs such as eating rice on Passover, which is forbidden to Ashkenazim, and naming patterns (see the next page). Today, DNA testing also can be of help.
Seeking the past
Jewish genealogy, as for other groups, grew from the popularity of the "Roots" TV series in the 1970s. But American Jewish culture was Ashkenazi. The much smaller Sephardic community was busy blending in, Malka says, and many were ignorant of their own history.
Genealogist Alain Farhi disagrees. "Sephardic genealogy always existed, but wasn't publicized or discovered by the masses or the American genealogists. The British Sephardic genealogists didn't have to 'catch up' with the rest of Jewish genealogy. They were up front all the time."
Harry Stein, founder of the Sephardim.com website, says it may have taken longer for Sephardic genealogists to "go public" because their history showed them the wisdom of keeping their ancestry secret. Both the Nazis and the Catholic Church were considered a threat. Sephardim also remembered the Inquisition, which made hiding one's identity a more-than-500-year tradition. "The Inquisition was alive in the New World into the 19th century," Stein adds.
The internet is the catalyst that jump-started Jewish genealogy, particularly Sephardic genealogy, by providing accessible information, guidance and resources. Researchers could instantly network and strategize, sharing data, surnames and geographical information. "The internet made it easier to extend the reach of genealogy and collect data beyond national borders," Farhi says.
Stein married a Sephardic woman and wanted his children to understand their heritage. "My Sephardic friends kept telling me how lucky I was to have married an Abravanel. I didn't know who or what that was." He learned that Abravanel is akin to royalty in the Sephardic world.
"There are said to be more than 24 million people of Sephardic ancestry in the American Southwest, and South and Central America." Today, his online forum has 2,800 global members and has received nearly 2 million hits.
Overcoming challenges
Being aware of challenges unique to Sephardic research will help you prepare to handle them. Those include cultural and language differences, tragic historical events such as the Inquisition and the Holocaust, and religious persecution (including forced conversion, murder, expulsion and blood libels). Sephardic researchers face challenges due to a wide variety of languages records come in; restrictions on access; informal archives; decentralized, small communities where Sephardim lived; and unusual handwriting in records.
Sephardic Jewish records come in Hebrew, Ladino, Spanish, Portuguese, Catalan and other languages associated with their geographic location. Additional traces of Sephardic families are found in even more languages across Western, Central and Eastern Europe—wherever a Jewish community might have existed.
Therefore, the daunting quest for records means deciphering multiple languages. Jewish communal vital records were likely written in Hebrew, Ladino, Yiddish (for religious records) and other secular languages (for civil records). Examine dual-language records carefully, as some details may be in only one part of a record. The best books for getting language assistance—and doing Sephardic research in general—are Malka's Sephardic Genealogy: Discovering Your Sephardic Ancestors and Their World (Avotaynu, first published in 2002 and updated in 2010) and Sangre Judia: Españoles de ascendencia hebrea y antisemitismo cristiano (Jewish Blood: Spaniards of Hebrew Ancestry and Christian Anti-Semitism) (Flor del Viento), fourth edition, by Pere Bonnin. Online, use the guidance and message boards at Sephardim.com and SephardicGen.com, and see the directory of translators.
Names keep genealogists going. While you search for ancestors' names, you learn the historical and cultural contexts of their lives. Along the way, you find genealogical details in unusual archival or geographical locations. Most important, you learn that no list of names is ever really complete, that previously hidden resources come to light at different times and places.
Sephardic surnames are ancient. Spanish archives include records of Sephardic surnames as far back as the 10th century—a genealogical advantage Ashkenazim don't enjoy. Today, many Sephardic names bear the original form or a variation, indicating descent from a particular family. These ancient surnames are important to tracing roots in Iberia and in subsequent countries Sephardic families lived.
Many Sephar­dic Jews exiled in 1492 had relatives who remained in Spain and used aliases to hide their identities as they conducted international business. Abraham de Mordechai Vaz Dias studied the Amsterdam State Archive to identify many aliases in notarial records; his database is one of the many at SephardicGen.com. One father and son, whose Sephardic names were Isac and Jacob Semach, used a maze of at least 14 aliases including the Portuguese names Antonio Hidalgo o Velho, Antonio Hidalgo Ouelho and Antonio Hidalgo—see their aliases untangled here .
Given name patterns also provide clues. Although Ashkenazim name children after only deceased relatives, Sephardim name children after the living or dead. Traditionally, the eldest son is named for the paternal grandfather; eldest daughter for the paternal grandmother; second male child for the maternal grandfather; second female child for the maternal grandmother; next child for a paternal uncle or aunt; next child for a maternal uncle or aunt. A recently deceased grandparent or sibling of the newborn would take precedence over the living relative. Some Sephardim name children after their own living parents, considered a great honor.
Sephardic resources
No one in my Yiddish-speaking Ashkenazi family from Mogilev really believed we came from Spain—until I began finding genealogy records and other Sephardic families in Mogilev: Abravanel, Don Yahia, Pines, Aboaf/Abugof and more. Use these resources as you begin to explore your Sephardic ancestors' lives:
Books
Genealogists who've researched Sephardim serve as a source of guidance and encouragement. Questions Malka received through Sephardicgen.com were the impetus for his how-to book.
Bonnin's Sangre Judia caused a minor revolution in Spain with three sold-out editions since 1998 and a fourth in 2006. The author is a chueta of Mallorca, descended from Jews who were forcibly converted 100 years before the 1492 expulsion and were never accepted by the Old Christians. In addition to chapters on Judaism and Spanish Jewish history, the book includes thousands of Sephardic surnames found in Inquisition and other records. The book's fourth edition includes the city and year of a document discovered for each name listed.
"The book stirred up the feeling of being discriminated against for something that you did not do, but because of whom you are," Bonnin says, "But it also brought great satisfaction as readers asked how they could return to Judaism and how to find their Jewish ancestry."
Not every reaction has been positive, though. Some, upset to read their names, deny Jewish connections and "are angry and filled with hate because they feel trapped by an identity they would prefer to erase," Bonnin says.
Many Sephardim also have roots in the Southwest. Though the University of New Mexico's Stanley Hordes, PhD, has no personal Sephardic roots to his knowledge, he's fascinated with the Latin American history of the Inquisition and Crypto-Jews (conversos who secretly practiced Judaism). As New Mexico's state historian, Hordes focused on Crypto-Jews on the northern frontier of Mexico, today the US Southwest. His genealogical research on early 15th- to -18th century New Mexican settlers and Hispanic New Mexicans claiming a Crypto-Jewish past is documented in To the End of the Earth: A History of the Crypto-Jews of New Mexico (Columbia University Press). His next book will focus on the history of Crypto-Jews in Cuba, Dominican Republic, Puerto Rico and pre-British Jamaica.
For Caribbean roots, read The Jewish Nation of the Caribbean: The Spanish-Portuguese Jewish Settlements in the Caribbean and the Guianas (Gefen) by Bulgarian-born professor Mordechai Arbell. The book covers the Wild Coast of the Americas and adjacent islands of Martinique, Guadaloupe, French Guiana, Tobago, Pauroma (an old name for Pomeroon, a region in Guyana, South America), Surinam, Curacao, St. Eustatius, Barbados, Nevis, Jamaica, Tucacas, Danish West Indies, Haiti, and the liberated colonies of Spain in the mid-17th to the 20th centuries. It also covers Latvian Jews in 17th-century Tobago.
Interestingly, Arbell discovered that until recently, many Caribbean Jewish communities had prohibitions against Sephardim marrying Ashkenazim. Such a marriage could result in excommunication, as evidenced in a record from Surinam: "December 8, 1813: Samuel Haim de la Parra having lost his membership in the Portuguese Jewish community on marrying his Ashkenazi wife."
Websites
On Sephardim.com, you'll find an excellent database of names indexed from Sephardic genealogy books and other sources, plus a name translator and other information. You'll also find a Consolidated Index of Sephardic Surnames on SephardicGen.com (click Databases). The How to Start and Sephardic History sections are good places to begin, and I also recommend surfing the country-specific resources.
Check both sites' bibliographies for information on the names and locations you're interested in researching. Look for details on traditions similar to those in your family, which can clue you into Sephardic roots.
Farhi's online database, Les Fleurs de l'Orient, contains more than 250,000 names. "In 1979, after my father's death, I discovered among his papers handwritten trees compiled by my grandfather, Dr. Hillel Farhi," he says. He began collecting information and distributed copies of these trees to many Farhi in the United States, Europe, Latin America and Israel. As they responded with more data, Farhi built his database.
Records
Your search for genealogical records will take you from the places your ancestors lived post-exile (Eastern Europe, for example, or in Spain or Portugal for conversos) back to Iberia, so you'll find yourself consulting records guides for all those places.
Inquisition court records are court transcripts for people who'd purportedly converted to Catholicism and were later accused of Judaizing (once again observing Jewish traditions). Spanish Inquisition court records are found at the Archivo Historico Nacional in Madrid, and cover tribunals in Spain, the Americas and Italy. Canary Islands records are in the Archivo de Museo Canario in Las Palmas. Mexico City records are in that city's Archivo General de La Nacion.
Notarial records, an important resource in Spain, are basically business documents recording transactions such as real estate sales or purchases of clothing and food. They're generally kept in Spanish regional archives; with a few on FamilySearch microfilm (search the online catalog for the place Spain, then click the Notarial Records category).
Of particular interest to Hispanic families of converso origin are passenger lists of Spaniards who left for the Americas between 1500 and 1800. These are preserved in the Archivo General de Indias in Seville, Spain; you can request a lookup by writing with the passenger name and approximate voyage date.
Spanish archives, especially in the small town of Girona, publish books of Jewish documents. Girona is home to Museum of the History of the Jews and the Nahmanides Foundation, a research center dedicated to Jewish heritage that also houses the Eliezer Eljanan Schalt Library.
Genetic genealogy
Many Sephardim.com forum members have embraced DNA to help them find their roots. Family Tree DNA's database contains records for Ashkenazim, Sephardim, and those who trace their ancestry to the Levites and Kohanim. Although Ashkenazi Jews still enjoy a more accessible gene pool, Family Tree DNA founder Bennett Greenspan says, the number of Sephardim in the company's databases is growing.
New Yorker Judy Simon discovered her male cousin's Y-DNA matched Ashkenazi Jews from villages in Latvia, Belarus and Lithuania, as well as two Hispanic men in Texas and Mexico. DNA testing of the Ashkenazim revealed their paternal ancestors were Sephardim before arriving in Eastern Europe. "I wonder how many more Ashkenazi Jews are unaware they have Sephardic roots," Simon says. She and I founded the Iberian Ashkenaz Y-DNA project. More than three-quarters of the participants have found Sephardic or Converso Y-DNA matches in the Family Tree DNA database.
In order to test the family lines in which you suspect Sephardic roots, you may need to find a cousin or other relative to contribute DNA. "Sometimes autosomal tests can find Jewish ancestry," Simon adds, "though these are better at identifying Ashkenazi ancestry than Sephardic."
Whether you're surprised to discover your ancestors were Sephardim or, like me, family stories tell of roots in Iberia, your research will help you reconnect with your family's past. "Almost daily, I receive letters and messages from people inquiring about the Jewish origin of their last name," Bonnin says. "There is a mysterious connection between the person and the lineage that goes beyond logic."
A version of this article appeared in the May/June 2013 issue of Family Tree Magazine.
Related Reads