Sign up for the Family Tree Newsletter Plus, you'll receive our 10 Essential Genealogy Research Forms PDF as a special thank you!
Get Your Free Genealogy Forms
"*" indicates required fields
Stick notes to your locker with old family photographs, or build a pictorial family tree on your refrigerator. Be sure to get a grown-up's permission before you begin!
What you'll need:
printed copies of old photographs
scissors
large, clear glass gems (available at craft stores)
clear-drying glue (we used Aleene's Clear Gel Tacky Glue)
large round magnets
Instructions:
1. Cut your photo larger than the glass gem.
2. Put a small drop of glue on the gem's flat side and spread it around with your finger.
3. Press the gem onto the photo, centering over the face. Let dry.
4. Use your scissors to trim the photo as close to the gem as possible.
5. Turn over the gem and glue a magnet to the back of the paper. Let dry.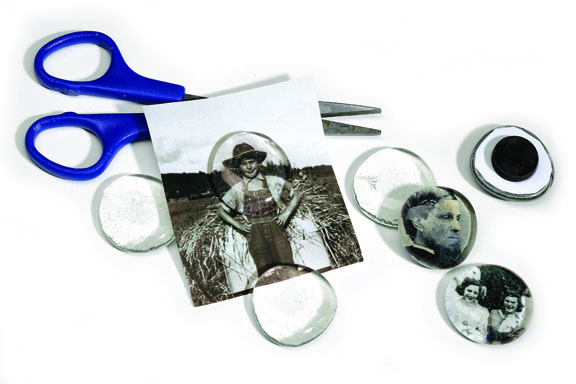 FamilyTreeMagazine.com is a participant in the Amazon Services LLC Associates Program, an affiliate advertising program designed to provide a means for sites to earn advertising fees by advertising and linking to Amazon.com and affiliated websites.