Sign up for the Family Tree Newsletter Plus, you'll receive our 10 Essential Genealogy Research Forms PDF as a special thank you!
Get Your Free Genealogy Forms
"*" indicates required fields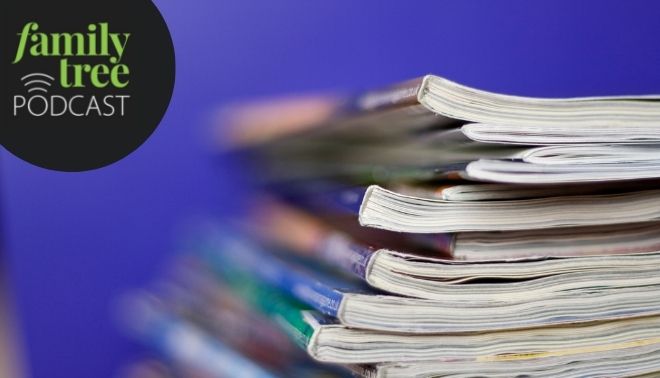 Search secrets for online newspaper collections, as well as pointers for using the Periodical Source Index to find articles about your ancestry.
Ep. 40: September 2011
In this episode:
---
News from the Blogosphere with Diane Haddad
Diane gives the scoop on recent census news, including Archives.com's plans to add all US census records and Ancestry.com's announcement that it will offer free access to the 1940 census, along with hints for finding your family's 1940 census enumeration district.

---
Top Tips: Searching Online Newspaper Collections
Family Tree Magazine contributing editor Rick Crume shares tips from his article "Netting the News" in the November 2011 issue.
Rick's Top Tips:
Browse through online newspapers available in online collections to see which ones have newspapers covering the places and time periods where your ancestors lived.
Carefully word your query. Try different search terms and keep in mind that some sites have search limitations.
If your ancestor's hometown newspaper isn't online, request a microfilmed copy on interlibrary loan.
---
Best Websites: PERSI
Allison Stacy gives an overview of the Periodical Source Index (PERSI) at HeritageQuestOnline, a fabulous resource for tracking down family history periodicals. Ask your library if it subscribes to HeritageQuest Online, and whether you can access the service from home using a library card. Watch Allison and Diane's video tour of the Allen County Public Library, which created PERSI:
---
Family Tree University Crash Course: Historical Books on the Web
Family Tree University instructor Nancy Hendrickson provides tips on how to find family history publications from her on-demand webinar Historical Books on the Web.
---
The Editor's Desk with Allison Stacy
Allison takes you behind the scenes at Family Tree Magazine, explaining how the issues of America's favorite family history publication come together.
---
Your Host: Lisa Louise Cooke
Listen to Lisa Louise Cooke's Genealogy Gems and Genealogy: Family History Made Easy podcasts in iTunes and visit her website for great research ideas, podcast episodes and videos.
Have fun climbing your family tree!