Sign up for the Family Tree Newsletter Plus, you'll receive our 10 Essential Genealogy Research Forms PDF as a special thank you!
Get Your Free Genealogy Forms
"*" indicates required fields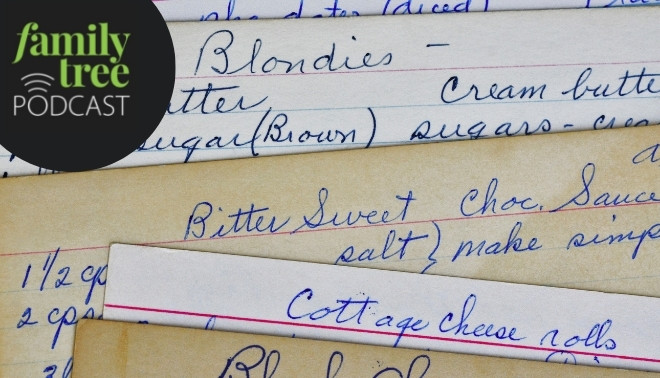 Tips on how to get relatives to discuss family history, a discussion of the Historic American Cookbook Project and news on the Genealogists for Families project at Kiva.com.
Ep. 42: November 2011
In this episode:
---
News from the Blogosphere with Diane Haddad
Diane gives the scoop on recent news in the genealogical community, including the shutdown of the Random Acts of Genealogical Kindness (RAOGK) website and the Genealogists for Families project at Kiva.com.
---
Top Tips: Getting Relatives to Talk About Family History
Tips from Family Archivist columnist Sunny Jane Morton's article "Family Feast" from the January 2012 issue of Family Tree Magazine. Sunny's new book is My Life & Times: A Guided Journal for Collecting Your Stories.
---
Best Websites: Feeding America: The Historic American Cookbook Project
The Michigan State University Library and the Michigan State University Museum have partnered to create an online collection of some of the most influential and important American cookbooks from the late 18th to early 20th centuries. Digital images of the pages of each cookbook are available, as well as full-text transcriptions and the ability to search within the books across the collection in order to find specific information. Our special guest is Peter Berg, Head of Special Collections and Associate Director for Special Collections and Preservation.

---
Family Tree University Crash Course: Create a Family History Book
Creating a family history book is a great way to preserve your family's story and share it with others. Family Tree University instructor Nancy Hendrickson tells us more about her course on how to create a family history book.
---
The Editor's Desk with Allison Stacy
Allison takes you behind the scenes at Family Tree Magazine.
---
Your Host: Lisa Louise Cooke
Listen to Lisa Louise Cooke's Genealogy Gems and Genealogy: Family History Made Easy podcasts in iTunes and visit her website for great research ideas, podcast episodes and videos.
Have fun climbing your family tree!