Sign up for the Family Tree Newsletter Plus, you'll receive our 10 Essential Genealogy Research Forms PDF as a special thank you!
Get Your Free Genealogy Forms
"*" indicates required fields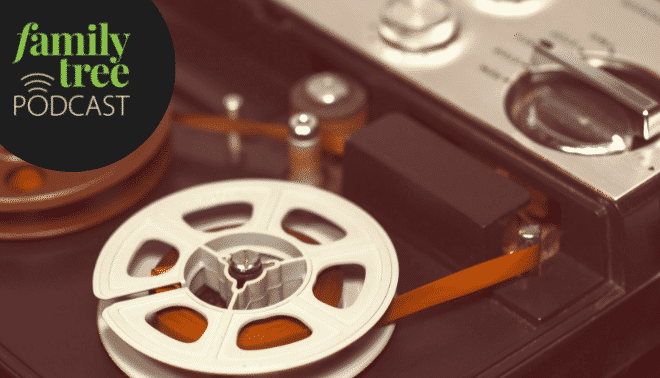 For many genealogists, the goal of their research is to share it with future generations. This month, learn about some helpful tools for doing just that.
Ep. 71: April 2014
In this episode:
---
News from the Blogosphere with Diane Haddad
In this episode, Diane discusses the importance of preserving family history through our own written works. In the blog post below, she breaks down eight signals you can find in your own research that indicate you should start writing your family's story.
---
Top Tips: Preserving Memories
Your grandchild is the cherished next chapter of your family's story, so what's the best way to capture and share your own memories so that you can pass them on? Stories from My Grandparent – An Heirloom Journal for your Grandchild is a book that prompts you tell your life story in your own words, from childhood to the present day. Author Susan Adcox joins us to discuss recording those defining moments.
---
101 Best Websites: Library of Congress
James Sweany, Head of Local History and Genealogy Reference Services at the Library of Congress takes you on a tour of the website.
---
Family Tree University: Create a Family History Book
You've worked hard to uncover your family's history, and you want to preserve your research in a form that will stand the test of time—a keepsake book that can be shared today as well as archived for future generations.
If you've ever thought such a project was too overwhelming or that you had to fully complete your research before you could create your story, this simply isn't true.
Family history books come in all flavors, from collections of family recipes to compilations of oral history interviews. Lisa Alzo returns to the show to give us some pointers from her Family Tree University course: Creating a Family History Book.
---
From the Publisher's Desk: Preservation Resources
Allison shares some of her favorite books for preserving memories, including My Life and Times and Family Tree Memory Keeper.
---
Your Host: Lisa Louise Cooke
Listen to Lisa Louise Cooke's Genealogy Gems and Genealogy: Family History Made Easy podcasts in iTunes and visit her website for great research ideas, podcast episodes and videos.
Have fun climbing your family tree!