Sign up for the Family Tree Newsletter Plus, you'll receive our 10 Essential Genealogy Research Forms PDF as a special thank you!
Get Your Free Genealogy Forms
"*" indicates required fields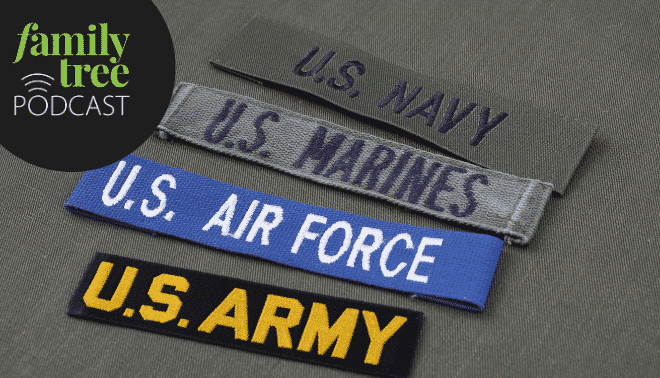 This month's theme is Tracing Military Ancestors. Learn how to find info on your female veteran ancestors, what military records you can find and much more.
Ep. 73: June 2014
In this episode:
---
News from the Blogosphere with Diane Haddad
Diane shares some interesting news on where to find military records.
---
Top Tips: Tracing Female Veterans
Even though our theme for this episode is Tracing Your Military Ancestors, that doesn't limit our conversation to men. Women have historically played vital roles both on the home front and on the field. This was certainly true during World War I. Lisa Alzo joins Lisa to discuss our female ancestors who served.
---
101 Best Websites: Fold3.com
Learn more about how to get the most out of the leading military records website Fold3 with Anne Gillespie Mitchell, Senior Product Manager at Ancestry.com.
---
Family Tree University: US Military Records
With so many military conflicts throughout America's history, it's likely your ancestors were involved. Finding records of their service will help you round out the portraits of their lives and honor their memory. Military files also can reveal information about widows and children—and even ancestors who didn't serve might have left behind draft records. Online Editor Tyler Moss shares tips from the upcoming Family Tree University course "US Military Records: Trace Your Ancestors' Service" which runs 7/7/2014 – 8/1/2014.

---
The Publisher's Desk with Allison Dolan
• Interview a veteran through StoryCorps
• Library of Congress' Veterans History Project
• Nominate a WWII veteran for an Honor Flight
---
Your Host: Lisa Louise Cooke
Listen to Lisa Louise Cooke's Genealogy Gems and Genealogy: Family History Made Easy podcasts in iTunes and visit her website for great research ideas, podcast episodes and videos.
Have fun climbing your family tree!