Sign up for the Family Tree Newsletter Plus, you'll receive our 10 Essential Genealogy Research Forms PDF as a special thank you!
Get Your Free Genealogy Forms
"*" indicates required fields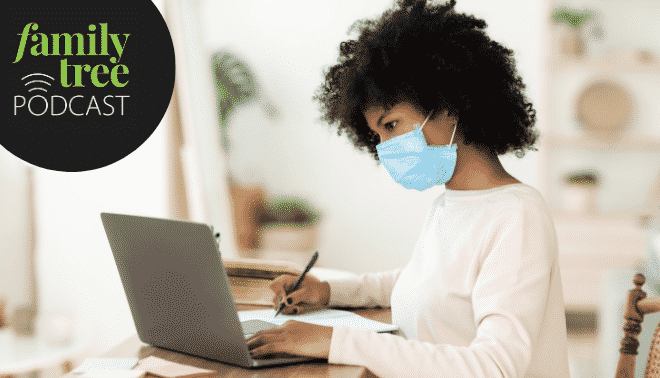 In this month's episode, Lisa talks with genealogist and librarian Daniel Klein about how the COVID-19 pandemic has affected genealogy research and what genealogy will look like in the future. Plus, our DNA expert is back with tips on ethnicity estimates, and Lisa shares some of her favorite genealogy apps.
Ep. 141: September 2020
In this episode:
---
Tree Talk (01:14)
Listener Jason Burt's grandfather was a Julliard trained trumpet player and a music teacher much of his life, playing in the Des Moines Symphony Orchestra.
Jason explains how his grandfather brought his music with him while he served in the military.
"During WWII, he was the lead trumpet player of an Army Air Force HQ band stationed in the Philippines. Before the war ended, this 20-piece orchestra recorded themselves playing 10 chart topping big band songs of the time period. My grandpa was permitted to have these recordings by his Commanding Officer and he brought them home.
My grandparents have both passed away and I recently inherited all my grandpa's military belongings. He thought he lost these recordings in the 80s; however, I discovered them while going through his attic."
Jason shares a fascinating project that he's working on in hopes of bringing the sounds of the past to the present.
You can learn more by following Jason on Twitter @746thFEAFband.
Share your story of discovery and you may just hear it here on the Family Tree Podcast! Email your story to: FamilyTree@yankeepub.com
---
Feature Interview: Daniel Klein (03:13)
Daniel Klein is a librarian at the Jersey City Free Public Library's New Jersey Room and is a founding member and past president of the Hudson County Genealogical and Historical Society.

He writes Tracing Your Roots, a monthly genealogy column for The Jersey Journal, where he was a reporter and editor prior to becoming a librarian.
Read his article, "What will genealogy look like post COVID-19?" at the Jersey Journal.
---
DNA Deconstructed: All About Ethnicity Estimates (18:06)
In today's episode, Your DNA Guide Diahan Southard tackles a common question that people have when deciding where to test: Which DNA testing company has the best ethnicity estimates?
---
Best Genealogy Apps (22:42)
Lisa Louise Cooke, host of the Family Tree Magazine podcast and author of the book Mobile Genealogy discusses the following three free apps available in your app store.
---
Editor's Desk (33:47)
Family Tree's eLearning Producer, Amanda Epperson, discusses the newest course at Family Tree University. Master MyHeritage in 4 Weeks, taught by Rick Crume, helps you learn how to use the popular genealogy website MyHeritage. You will learn the best ways to search the site's 12.5+ billion historical records and how to create and manager your online family tree.
---
Your Host: Lisa Louise Cooke
Listen to Lisa Louise Cooke's Genealogy Gems Podcast in your favorite podcasting app or with the Genealogy Gems Podcast app in your app store, and visit her website for great research ideas, podcast episodes and videos.
Have fun climbing your family tree!