Sign up for the Family Tree Newsletter Plus, you'll receive our 10 Essential Genealogy Research Forms PDF as a special thank you!
Get Your Free Genealogy Forms
"*" indicates required fields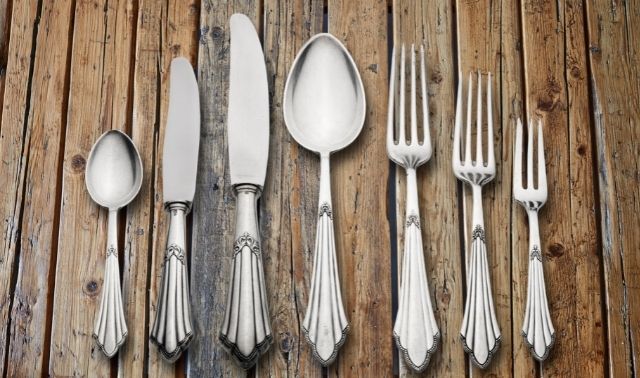 Afraid to use your precious heirloom antique silverware? Don't be! Caring for silver pieces doesn't have to mean hours of polishing. Just follow these 8 easy steps!
1. Keep tarnish away
Everyday exposure to sulfur in the air causes silver to darken, known as tarnishing. Humidity speeds up tarnish; regular use helps prevent it. Just wash pieces with mild dishwashing soap and dry with a soft cloth.
2. Polish carefully
Be mindful of polishing too vigorously over engraved areas. Use a soft cloth and only a small amount of silver polish to remove tarnish, following instructions on the bottle.
3. Be mindful of food
Salt, coffee, tea, eggs and vinegar-based salad dressing can pit and stain silver flatware and serving pieces. Avoid problems by emptying silver saltshakers and rinsing serving pieces and flatware promptly after use.
4. Handle with care
Invisible skin oils can encourage tarnish. Wash hands before touching silver pieces, and hold serving ware by the handle. You also can wear tarnish-cleaning gloves, like the one-size-fits-all Hagerty Silversmiths' Gloves, to touch up the shine and protect pieces from fingerprints.
5. Don't worry if you don't have a full set
You don't need a full silver service to enjoy and share your heirloom tableware. Choose a few teaspoons or dessert forks to use often for dessert or coffee. Serve cool summer drinks on a silver tray.
6. Store in silver cloth or with anti-tarnish paper
Silver cloth is treated to help prevent tarnish, letting you get your table set with minimal cleaning and polishing. Simplify storage with a zippered silver cloth buffet drawer insert (such as Hagerty's) with built-in slots for knives and a place to stack forks, spoons and serving pieces. You also can buy silver cloth to make your own storage pouches.
Museums that display silver add tarnish prevention inside the glass cases. Anti-tarnish paper, such as strips from 3M, is treated to absorb the sulfides in the air that can cause tarnish. Tuck them inside your china cabinet or silver drawer and replace as directed.
7. Just say no to plastic wrap
Forget the old wives' tale about plastic wrap protecting against tarnish. In reality, antiques experts say, wrapping silver in plastic can cause permanent pitting.
8. Don't keep your heirloom silverware tucked away!
Use silver as a decorative accent throughout your home. Display gleaming platters on your fireplace mantel. Use a silver tray on your dresser or vanity. Repurpose small silver tumblers as vases for nosegays. Bring out silver-plate frames to give special photos a place of honor.
A version of this article appeared in the March/April 2019 issue of Family Tree Magazine.
Family History Q&A: Expert Advice on Caring for Antique Silverware
If you're the fortunate owner of an heirloom silver set, perhaps it's time to take it out of the drawer and mark a special occasion by sharing family history as you set the table. With a little time and careful handling, you can bring back the luster of old silver. You can have Grandma's famous pumpkin pie and her heirloom fork to eat it with, too.
Q: My grandmother's silver has been in a drawer for years. I'd like to use it during the holidays. How should I clean and polish it?
A: Fine china, silver and crystal fall in and out of fashion like ladies' hemlines, but the glorious sparkle of polished silver always makes an occasion extra special. Unfortunately, silver reacts with hydrogen sulfide in the air and surrounding materials, resulting in tarnish. Tarnish doesn't harm the silver, but overzealous polishing of this soft metal can obscure engraved designs. You should clean silver pieces, though, to remove dust, food particles and oily residue from handling. First, spread a thick, soft towel on your kitchen counter to cushion the silver and protect it from scratches. Place another thick towel on the bottom of the sink. Remove your rings and bracelets. Fill the sink with warm, sudsy water, using a mild liquid dish detergent.
Working with six to 10 pieces at a time, place flatware gently into the soapy water and use a soft sponge or cloth to wash the individual knives, forks and spoons. Rinse in warm, clear water and dry immediately with a soft cloth (water spots speed tarnishing). Next, apply a small amount of nonabrasive silver polish or foam such as Hagerty's Silver Wash or Silver Foam or Malco Twinkle Silver Polish. Lightly rub the polish over the silver using a soft cloth and rinse well with warm water. Make sure no polish remains in engraved areas. Keep rubbing to a minimum—polish and excessive rubbing can remove silver along with the tarnish. After rinsing, gently polish the metal with a soft cloth until the silver is tarnish-free. You may want to wear white cotton gloves as you set your sparkling holiday table to avoid transferring fingerprints to the metal. Store the clean silver in a special silver flatware box or storage tray lined with tarnish-preventing silvercloth.
How to Identify Southern Coin Silver
These silver engraved teaspoons are Southern coin silver, named after the early practice of crafting silverware from coins. Before the discovery of the Comstock Lode in Utah Territory in 1858, the United States had no major silver mines. Those wanting custom-made silver would have to purchase imported silver ingots, usually from Great Britain. Americans wanting to avoid "buying British" would melt down silver coins for raw material. Master silversmith John Withers of Salem, Va., made these spoons, a family heirloom of California genealogist Jane Millar, in the early 19th century. The handles are engraved with his initials, with "J. Withers" marked on the reverse.
You can identify sterling silver manufactured since 1868 by a 92.5 stamp, showing it complies with the silver content standards the United States adopted that year. Coin silver is usually 90 percent silver and 10 percent copper.
Southern coin silver is especially collectible today because of its rarity. A shortage of silversmiths, wartime plundering and economic hardship all took their toll on Southern family silver.
A version of this article appeared in the October/November 2014 issue of Family Tree Magazine.