Sign up for the Family Tree Newsletter Plus, you'll receive our 10 Essential Genealogy Research Forms PDF as a special thank you!
Get Your Free Genealogy Forms
"*" indicates required fields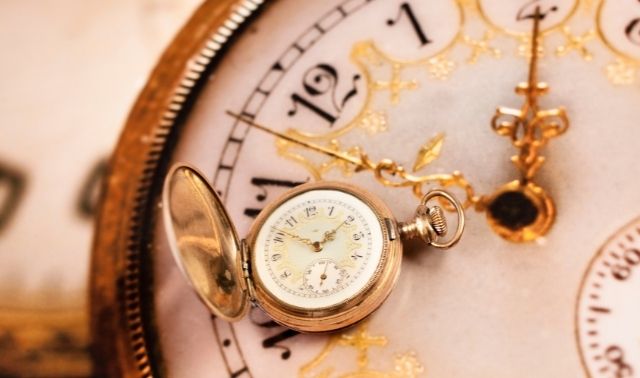 Many of us have heirloom timepieces that have been passed down for generations. Learning how caring for clocks and watches means more than an occasional wind.
1. Take time now to keep your vintage clocks and wristwatches in working order
"Use it, or lose it" is the curator's advice when it comes to family heirlooms with moving parts. It's easy to damage an antique timepiece by zealous cleaning or overwinding. Seek out a local certified watch repair service or horologist, and consider getting an insurance appraisal at the same time. For general wristwatch maintenance use a soft microfiber cloth to gently wipe off dust or fingerprints. Avoid using cleaners on the band, case, or crystal. Store your timepiece in the original box to protect it from dust, light, and handling.
2. Vintage and antique wrist watches often featured leather or fabric wristbands that are especially prone to mildew
Metal watch bands and brass or steel-nickel alloys are often damaged by rust and corrosion due to moisture. Prevent further deterioration by storing your vintage or unworn watch with a small packet of silica gel placed inside the individual watch box or case. Packets are available from archival suppliers such as Hollinger Metal Edge or Gaylord Archival.
3. Mechanical clocks need regular maintenance to run smoothly and accurately
If your antique clock has stopped running, or is ticking more than tocking, don't try to clean the inside workings yourself. Find a local clock repair shop to clean and oil your timepiece, and ask for guidance on any regular service you can do yourself.
4. Heirloom clocks, like most family artifacts, should be placed in a room with moderate temperature and humidity, such as your living area
Dust regularly with a soft dry cloth and avoid any polish or aerosol cleaners. Protect fragile metal, stone, and porcelain clocks by displaying in a glass cabinet if possible, to minimize dust and damage. Tall case clocks, often known as "grandfather clocks," should be situated out of general traffic to prevent bumping the long pendulum or tipping over the clock.
5. Older timepieces may need new parts that are no longer available, and custom replacement pieces can be costly
If your heirloom clock or watch requires expensive repair, consider enjoying it as a non-working artifact.
6. Put your genealogical skills to work by learning more about your ancestor and the timepiece he or she owned
Use a magnifying glass to carefully examine the clock or watch for maker's marks, including company name, location, year made, model, and serial number. The style, materials, and clock face may also help pinpoint when your clock or watch was made. Next, compare this date with any stories you know about the timepiece. If family lore holds that the watch was a graduation gift in 1945, but the style wasn't made until 1950, it's probably time to revisit that family story.
7. Connect the timepiece to your family with family photos showing the clock in your ancestor's home or the watch worn by a previous owner
Be alert for sales receipts or repair tickets that may be tucked away in family papers. Reread family wills and bequests for mention of your clock or watch. Your heirloom may have passed through several family members before it came to you. Recreate the chain of ownership of your timepiece naming each owner, when and where they lived, and how they came to own the clock.
8. Expand the history of your heirloom to make it the focus of an ancestor sketch or creative writing exercise
Understanding the timepiece in the context of social history will help you know more about your family. Was it a special expensive purchase or a practical economical model? How well was it cared for? Your heirloom timepiece and help you better understand the life and times of your ancestor.