Sign up for the Family Tree Newsletter Plus, you'll receive our 10 Essential Genealogy Research Forms PDF as a special thank you!
Get Your Free Genealogy Forms
"*" indicates required fields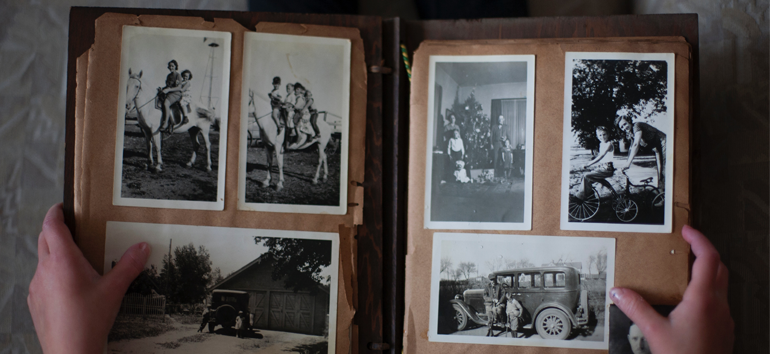 Photo books are an inexpensive, crowd-pleasing way to share priceless family photos, honor a loved one, or tell the stories you've discovered during your research. Putting together a photo book is also relatively quick: it's a weekend job, compared to the hours of laborious work required to create a traditional scrapbook or family history book. (If you'd like to learn more about creating a family photo book, check out my article series on choosing your images, five elements to include, and creating a page plan!)
Another nice thing about photo books for family history is that you can easily and inexpensively print several copies. Keep one for yourself, then print several for holiday gifts or reunion fundraisers! So which are the best photo book services when it comes to documenting family history?
There are so many online photo book creators and printers, where do you even start? How about with this spotlight on five of the best photo book services? We've reviewed their design options and prices for the kinds of projects genealogists want to do: life stories, heritage, tributes to loved ones, reunions, recipe books, and more.
Please note, along with the deep discounts from sales and promotions sometimes means increased users on the site–especially before major holidays. Occasionally sites may experience technical issues and you may have trouble ordering your project. If you're doing a time-sensitive project, try to plan far enough ahead that any minor site slowdowns won't affect you.
1. Mixbook
Mixbook has won the hearts of photo book creators for offering tons of creative and fun designs in its crisp-looking books.
We give it top marks because several designs in the Family category are perfect for telling heritage stories. These styles are gorgeous! We've screen-shotted the following family tree layouts from the Remembrance / Family History category. The timeline layout is from the Book of Remembrance design, and the life stories layout from the Modern Remembrance design:
Genealogists may also appreciate Mixbook's milestone, family reunion, grandparents, cooking, adoption and military heroes designs; not to mention the several options for mothers' and fathers' tributes. Watch for sales and coupon codes for this popular site.
2. Shutterfly
Shutterfly is a fantastic overall photo book service. It offers a fairly easy-to-use interface with dozens of options, and excellent print quality. Frequent sales bring the prices down significantly.
Browse through several different design categories to find the one that best fits your album. The family category, for example, includes heritage, reunion, adoption, African-American, Jewish culture, memoriam, grandparent, family yearbook, recipe, life story, Spanish-language family, and military hero. There are many tribute-to-loved-ones styles.
This is a simple timeline layout from the design called A Life's Story:
Check out this photo family tree from the Family Ancestry design:
Those who don't want to lay out their own books may appreciate the site's free 24-Hour Designer Service service: they'll create your book for you in 24 hours. A Spanish-language text option is available, and so is an Apple Photos extension. The site offers frequent sales and promotions.
3. Printique
Printique is a highly-regarded website catering to professional photographers. Both the quality and price of its photo books reflect that focus. The site offers a variety of album sizes, styles, and even paper finishes. All albums are printed on photo paper and have a lay-flat binding (which is an optional upgrade at the other sites reviewed here).
The designs are gorgeous, but more focused on an overall design rather than a theme that might correspond easily with family history. That said, the Mom & Me style is a good one to adapt for a family album. The template incorporates nice options for journaling:
The Food category contains a gorgeous Farm to Brunch style that would make for a visually mouthwatering family recipe book:
Printique offers several journal-style templates. These would be interesting to try if you'd like to print the pictures but handwrite the stories, captions, and other text. (Note the site's recommendations for paper finishes that are best for writing on.) Though most of the designs you'll see don't include much in the way of captioning, you can always add text to the layouts.
4. Snapfish
Snapfish has offered photo printing services for many years. Its photo book offerings for family history-themed albums are strongest in the Family category. You'll find those that honor mom and dad, grandparent celebration, a family yearbook, a reunion theme, and family memories. Shown below are pages from the Family Reunion and We Love Grandparents design styles. Generally, the layouts seem a little less fancy than those you find at sites such as Mixbook or Shutterfly.
You can use an Apple Photos extension with Snapfish. Some reviews of Snapfish photo books have given the site lower marks for book quality. Watch for frequent sales on photo books (and lots of other photo-related products) at this site, too.
5. Amazon Prints
Amazon Prints offers a basic photo book service with good print quality and an everyday low price: a great pick for someone who wants a no-fuss option without waiting for sales. This is also an easy option for Amazon Prime members, who get free shipping and can easily access any images they're keeping in their free unlimited Amazon photo storage.
The downside to this wallet-friendly option for the genealogist? There are small number of designs in categories like Family & Friends, Travel + Life Events, and Babies + Kids. You'll have to be creative about adapting them for heritage use. For example, you might adapt this Explore the World travel theme for an immigrant ancestor's book:
Or, keeping in mind that you can create your own headers and captions, adapt this classic-looking color palette (the style is called Chic Nuptials) for a heritage album of just about any kind:
FamilyTreeMagazine.com is a participant in the Amazon Services LLC Associates Program, an affiliate advertising program designed to provide a means for sites to earn advertising fees by advertising and linking to Amazon.com and affiliated websites.
Last updated: June 2023