Sign up for the Family Tree Newsletter Plus, you'll receive our 10 Essential Genealogy Research Forms PDF as a special thank you!
Get Your Free Genealogy Forms
"*" indicates required fields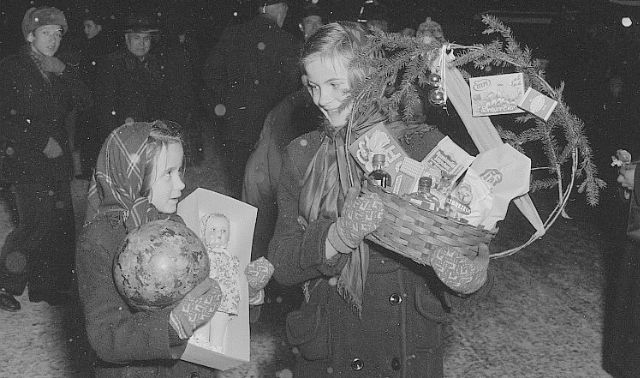 Shopping for genealogy gifts for an avid family historian (or even making a wish list for yourself) can be a challenge. DNA test kit? Been there, done that. But don't sigh and settle for that "I Seek Dead People" bumper sticker just yet. We've gathered the genealogy must-haves for the holiday season. From DNA-personalized gear to archival supplies to an interview subscription, there are plenty of ideas for the genealogy buffs on your list (yourself included).
In this article:
Genealogy Books, Memberships and Resources
DNA and Genetic Genealogy Gifts
Genealogy-related Gifts for Kids and Families
Memory and Preservation Gifts
A subscription to StoryWorth makes it easy to write a memoir using one inspiring story prompt each week. How does it work? A year's worth of customizable life story questions are emailed weekly to you or a loved one. The answers provided are returned to StoryWorth and other family members (optional, or you can choose to keep them private). At the end of a year, the responses are complied and bound into a hardcover book.
The excuses to put off writing a life story end here. Evalogue.Life specializes in life stories and telling them. From professional interviews to online courses this is pretty much one-stop shopping for anyone looking to finally begin that family history writing project. In addition to offering professional interviews, the company's other services include: writing a life story for you, photo restoration, and add-ons like coaching, videos, digitizing documents and transcription services.
These high-end life story books aren't for the faint of heart (or light of pocketbook) but this is a gift guaranteed to wow. Founder Dawn M. Roode was inspired to start Modern Heirloom Books while mining thorough her family history after the loss of her mother, grandmother and mother-in-law—all within a few short years. She and her team specialize in highly-personal service. Everything from interviews to book reviews are done face-to-face (although remote options are available). Aside from their life story services, the company also offers tribute books and wedding-related books.
Not only is Maureen Taylor a Family Tree contributor, she also provides professional photo consultations. During the course of the consultation, she will look at family photos and discuss with you (or the recipient) what may already be known about them. Using a combination of her expertise and your recollections, she can help draw connections between precious photographs and family history.
Archival supplies make an ideal gift for someone who needs them, but wouldn't necessarily purchase them for themselves. Trusted by museums and archivists around the world since 1896, the preservation experts at Gaylord Archival have taken the guesswork out of shopping for the family historian. Coupled with Family Tree contributor Denise May Levenick's book, this is gift is guaranteed to be a hit!
DIY Photo Archiving Kit
Create a show-stopping DIY gift bundle of photo archiving supplies from Gaylord. Use this list to assemble a kit, based on supplies recommended from professional photo preservationists:
In addition to photo archiving, Gaylord offers supplies and products for preserving many types of family heirlooms. Check out their YourStory curated collections for document and paper storage, rare book storage, textile and clothing storage, heirloom and artifact storage, and media storage.
MyHeritage and Project Life have teamed up to offer this beautiful gift set. It's the ideal gift for It's a great gift for yourself, or anyone you'd like to get to take a DNA test or create a family album (or both!).
The kit includes:
MyHeritage/Project Life scrapbook
MyHeritage DNA kit
3 months of FREE access to MyHeritage.com
Customized page inserts
Project Life decorative cards
Keepsake box
Scented candles
Family Tree contributor Gena Philibert Ortega is the author of this pretty, hardbound cookbook with food history, old recipe resources and pages to record family recipes. It would be nice for the family chef, for Grandma or a new daughter-in-law, perhaps with a few recipes already written inside. It's the perfect companion to our Family Recipe Card Templates. These six colorful recipe card templates preserve family recipes, and are designed to fit in a recipe binder or box. Simply type in the PDF and print or share!
For the family historian who loves to cook (but has everything), give them something unexpected. Let's just say this bakeware won't end up forgotten in the cabinet abyss. Prairie Hills Pottery will print an old family recipe onto white ceramic pie plates, casserole dishes or platters of all shapes and sizes. The dishes are all food safe, oven safe, and dishwasher safe. Not only do these make great future family heirlooms, they are beautiful enough to display in a kitchen or dining room.
This family history photo book design takes all the guesswork out of page layouts and what information to include. Click Personalize to begin uploading your family photos and start creating your keepsake! This photo book template also includes fun timelines and and collages to help tell your family's story.
Who doesn't have piles of old family VHS tapes, photo negatives, and slides lurking in their basement? But who has the time to digitize and preserve it all? Legacybox does! Simply fill the box they send with your old analog media, mail it in, and receive preserved copies on the cloud, thumb drive, or labeled DVD—along with your original items—in return! Choose a 2-, 10-, 20-, or 40-item box, pack it up, and they will take care of the rest. Legacybox frequently runs sales and offer Groupons, so be sure to check before you buy!
What better way to honor an ancestor than to plant a tree from America's past? You can buy offspring of famous flora from American Heritage Trees. Favorite gifts include redbuds grown from trees George Washington planted at Mount Vernon; red maples from Walden Pond; and white oaks from Rowan Oak, William Faulkner's home. For the outer space buffs in your family, buy a seedling whose parent tree was grown from seeds taken to the moon.
UK company NotOnTheHighStreet.com offers personalized timeline prints that graphically display up to 10 important dates in your family history. You also can get family history prints with photos in the shape of a surname. Note: They ship only unframed versions internationally.
Genealogy Books, Memberships and Resources
A Family Tree Website VIP Member has full access to our extensive online library of how-to genealogy content. It's the genealogy reference library you can access 24/7 from the comfort of home! Signing up for an annual membership means the genealogy tips and resources you need are always just a few clicks away.
Whether new to the family history hobby or a longtime Ancestry.com subscriber, this book (and accompanying workbook) will turn the reader into an Ancestry.com power user! The Unofficial Guide to Ancestry.com features:
Timesaving tips for uncovering specific records, time periods and topics
Details on Ancestry.com's historical record collections
Step-by-step guides for creating and managing your family tree on Ancestry.com
Plain-language strategies for using your AncestryDNA results
If the book is going on your list, be sure to include the workbook as well! Written as an accompanying how-to manual, the Unofficial Guide to Ancestry.com Workbook details how to plan searches and apply practices outlined in the book. It also includes:
Expert advice on how to use the seven most important record groups
Step-by-step case studies
Fill-in worksheets and forms
Genealogy Website Membership
Like most hobbies, the cost to do genealogy can really add up! Why not surprise your favorite researcher with an already-paid-for yearly membership to a genealogy website (or two). Even if they are currently a member, the idea of having their membership renewed for "free" would be a welcome gift indeed. Some of these options are well-known, others they may not even be aware of. Depending on their research needs, some options include:
Save their eyes by gifting them a high-quality Carl Zeiss magnifying glass for their library bag. This practical gift allows distortion-free viewing even at the edges of the lens. It works great in dim lighting or when the print is just too small to see without squinting. The lens has a special hard coating that resists scratching, and it comes with a protective sleeve.
We can't stress how important it is to back up your research! This portable hard drive makes the process quick and easy. It's compatible with both PCs and Macs and comes in several different storage sizes. Add an external hard drive carrying case to make this gift easy to toss into a bag before heading out to research.
Genealogy Software
The gift that keeps on giving! Whether they're looking to begin their genealogy research journey, or dig in and upgrade to the next level, software is always a much-welcome and much-needed gift. Two of the most popular types are family tree-building and photo/data-management. Both of these make it easy to keep digital files and research well-organized and easy to locate.
Family Tree-building Software
Photo- and Data-management Software
The genealogist in your life will never lose track of family tree discoveries with these type-and-save worksheets, templates and checklists. This download contains 100+ templates, checklists and worksheets to track genealogy research—from conflicting death dates to DNA matches, censuses to source citations.
The collection includes:
Basic genealogy forms
Online research help forms
Vital records worksheets
Census worksheets
Immigrant research forms
File organizing worksheets
Storytelling and oral history forms
Photo and heirloom trackers
and more!
Alternatively, you could opt for our Beginner Genealogy Gift Bundle which includes all the aforementioned worksheets and forms, as well as our 100+ page Beginner Guide and our popular US Census Cheat Sheet. It's a perfect for beginner genealogists who are looking to build a firm foundation for their research.
While it's nice to have the membership benefits of sites like Ancestry and MyHeritage for records access, joining the National Genealogical Society has additional perks. Aside from the organization's publications including NGS Magazine, NGS Monthly and NGS Quarterly, members also receive:
Discount registration for the annual NGS Family History Conference
Free Family History Skills Course
Discounts for online genealogy courses
Discounts on research trips
Discounts on books
Free member-only resources
Free access to e-library and archival resources
Access to Upfront with NGS blog
Special packages for audio and video recorded lectures
Full access to Voices of Genealogy
Eligibility to enter the NGS Family History Writing Contest
Special offers
According to our readers, cemetery research is all the rage! Thanks in part to robust sites like Find a Grave and BillionGraves, it's easier than ever to locate an ancestor's grave and visit his or her burial location in person. Family Tree contributor Joy Neighbors literally wrote the book on cemetery research. Her guide includes everything you need to know to find, record and preserve ancestors' graves. Couple the book with some cemetery-sleuthing supplies, and you've got a gift the genealogist in your life will be grateful to have!
DIY Cemetery Field Research Kit
DNA and Genetic Genealogy Gifts
This best-selling book, written by DNA expert and Family Tree contributor Blaine Bettinger, covers all the basics of DNA, from selecting the test and testing company that will best break down your roadblocks to interpreting results (including ethnicity estimates) and applying them to your research. The book also contains detailed guides to each of the major genetic-genealogy tests, plus worksheets for recording information about your DNA cousins. Individual chapters on using third-party tools like GEDmatch and applying genetic genealogy to adoptee research will give you even more to do with your DNA results.
This business card (or credit card) case does an excellent job of summing up genetic genealogy in one beautiful design. Featuring a "Tree of Life" on one side and a "Double Helix" on the other, it's perfect for genetic genealogists, DNA researchers, or anyone celebrating family reconnection through genetic testing. The non-tarnish steel case is fully customizable, including engraving. Your choices for personalizing the card case include:
finish
size
colors featured behind each design
engraving location
DNA as art? This company saw the potential way back in 2005. Since then, they've created thousands of art pieces as unique as, well, you! The process begins with a DNA collection kit. Once you return your sample, science takes over. Your DNA is analyzed and the resulting "fingerprint" is captured as an image, which is colored and printed. The choice of style, color, size and frame is up to you. There are also options for multiple DNA samples to be featured on a single print—perfect for couples and families. This is truly a one-of-a-kind gift that is sure to be a conversation-starter. You can learn more about DNA11's DNA Portrait process here.
Genetic expert (and Family Tree contributor) Diahan Southard does more than just write about DNA. She and her team have been helping people decipher and demystify their results since 2000. She offers many different types of services, from access to a video tutorial library to personal consultations. Her DNA Mentoring Service is a great gift for anyone who received test results, but isn't quite sure about next steps or wants to find out more. The consultation consists of a DNA expert meeting with you online, pulling up your unique test results and walking you through them—from a basic look to more advanced feedback. Choose to give a 20-minute session, a bundle of three 20-minute sessions or a 45-minute session.
DNA Painter is an award-winning website that allows users to see and understand their autosomal DNA results visually. Some of its features include trees and fan charts, chromosome mapping, and a variety of tools to help predict possible relationships with matches. While these tools are free, purchasing a subscription unlocks many additional benefits such as the ability to:
create multiple trees
add up to 50 chromosome mapping profiles
bulk import shared DNA segments from MyHeritage, 23andMe and FamilytreeDNA
import all generations of your direct line from your GEDCOM file
Finding birth parents. Donor-conceived siblings. "Non-paternity events." Perceptions of race and ethnicity. In The Lost Family, journalist Libby Copeland explores the impact home DNA testing is having on lives and families. From genealogy hobbyists to science to businesses like Ancestry and 23andMe, Copeland "investigates what happens when we embark on a vast social experiment with little understanding of the ramifications." Interwoven throughout these topics is the story of one woman who received usual results, and embarked on a search for answers about her family and identity. A fantastic read for anyone on a similar journey, or someone who simply enjoys investigative journalism.
Made up "of a team of professional historians, researchers and scientists with a passion for genealogy," Australian-based totheletter DNA offers an incredible service: testing family heirlooms and artifacts for DNA. Although the ability to test objects for DNA samples has been utilized by law enforcement for years, totheletter DNA is exploring ways to make it commercially-available for genealogy.
Because extraction processes and methods are still a work in progress, however, the company cannot guarantee results. The test is expensive, so think twice before sending your envelope or postcard with stamps or other artifact. Because of this, totheletter DNA offers a free visual assessment of your item. If they feel you have a usable sample, they will notify you via email. Receiving the DNA results of a long-lost relative could be the gift of a (past) lifetime!
Did you find your Irish ethnicity estimate percentages particularly high? Is Erin go Bragh a phrase you now live by? Let the world know! These necklaces and earrings take traditional Celtic designs one step further. Coupling "the scientific representation of the genetic double helix sequence model [with] finely woven Celtic Knot work between the outer strands," these necklaces and earrings are a one-of-a-kind way to share your Irish heritage. Each piece is made in Ireland and hallmarked by the Irish Assay Office in Dublin Castle. Your purchase also includes a "Trace Your Irish Ancestors" PDF booklet.
Unique Family Trees
A family tree presented on a tree? Genius! Etsy seller Foxbairn's unique family tree artwork has been featured in national publications including House Beautiful and Country Living. To order, simply download and complete the genealogy chart form and send it back to Foxbairn. Choose how many generation "rings" you'd like to include in the design (between two and six), the size and if you'd prefer the wood to be "natural" (some knots and discoloration) or "premium" (minimal blemishes). Once the final design is approved, your pedigree is burned into a wood slice harvested from a sustainable forest.
A boring 'ol photocopied family tree chart transformed into a breathtaking floral watercolor print? Yes, please! This Etsy seller puts the "art" in this family tree artwork! You choose the design, size and color scheme and fill out the family tree spreadsheet they email you. After that, sit back and wait for your custom piece to be created and shipped to your door. This is a family tree your loved one (or you, of course!) will be proud to display in their home for generations to come.
Don't settle for drab ancestor forms—create pedigree charts with pizzazz! This collection of decorative family tree chart templates from Family Tree Magazine makes the job easy: You can type your ancestor information directly into the four-generation charts, or simply print your favorite designs to fill in by hand. With 25 distinct designs, you'll find styles suitable for every taste. Plus, each design comes in three sizes that fit standard photo frames (8×10, 11×14 and 16×20 inches) making the charts ideal for all kinds of uses.
Why hang your family tree on your walls, when you can hang it around your neck? Thanks to GetNamenecklace.com, you can do just that! Choose from over 20 different designs, incorporating both names and/or birthstones. Each option is fully customizable, with several choices for both type of metal and chain length. A few designs even contain space for a locket photo or engraving.
Getting poster-size family trees has never been easier. Ancestry.com (through MyCanvas by Alexander's) and MyHeritage each have options for ordering prints of your online family tree directly from their sites. But you can also go to chart-makers directly. Ancestry Graphics & Printing (no association with Ancestry.com) and Family Chartmasters are two of our favorite options.
While this isn't a chart in the traditional sense, it's still a beautiful way to display your family tree and tie it into your decor. The tree comes with 10 picture frames, which hang from the "branches" by ribbons. It can be used with the included stand, or hung on the wall. It's perfect for sharing your favorite family photos from multiple generations in a unique and conversation-provoking way.
For a really unique spin on a family tree, check out Heritage Cards. Heritage Cards prints custom genealogy trading cards that list biographical info of each of your ancestors (like baseball cards). After a design template is selected, simply upload a photo and fill in the information. Then they print your design and ship them to you. They also offer a "print at home" option.
Heritage Travel Tours
In partnership with Ancestry, Go Ahead Tours has created heritage-focused tours for the diehard genealogist in your life. In addition to handpicked hotels and local cuisine, each tour includes an AncestryDNA kit and a pre-trip family history review. Plus, a genealogist from AncestryProGenealogists will be on hand throughout the tour to answer questions about your roots.
Tours being offered for 2022 are:
Did your DNA test reveal some surprising ancestry, and you really want to dive in both feet? Classic Journeys offers a unique service: You can send them your DNA results, and they will contact you with more information about the regions that match your ancestry. Additionally, they offer private heritage trips. They can customize or adapt any of their offered trips to help you pinpoint villages—maybe even streets—your ancestors once roamed. Discover just how deep your roots go by taking a trip to your true ancestral homeland!
Owner Kathy Wurth knows a thing or two about genealogy. A researcher for over 25 years, Kathy combines her passion for family history and travel by offering group heritage tours, private genealogy tours or independent heritage trips. Although Family Tree Tours specializes in tours to German-speaking countries, they can plan and assist with travel itineraries to other European nations.
Genealogy and Family History-related Gifts for Kids and Families
Together, this binder kit and book have everything your budding family historian needs. The EasyGenie Genealogy kit is a binder with several forms including a fan chart, interview questions and sheets, maps for tracing family origins, and more. The book (for grades 5 and up) is a great supplement, with tips and activities to show children how genealogists work like detectives: gathering, evaluating, and documenting evidence. (You can add more forms and activities to your gift for free from the Family Tree Kids page.)
This fun kit for kids ages 8 and up includes everything they need to record important information for the people of the future (and their future selves). From a date stamp and scrap book to storage tubes and photo corners, the kiddos in your life will have a blast collecting items for their time capsule. In addition to supplies, the kit also contains a field guide counting tips on which items to collect and where to look for them, and space to record current interests and activities, details about friends and family, and more.
Founded by scientists and moms, Yellow Scope is passionate about promoting women in science and putting high-quality lab equipment and experiments in the hands of curious girls. Their DNA & Traits: From Codes to Creatures kit introduces the concepts of genetics in fun and engaging ways through activities such as:
Isolating DNA strands from fruit and cheek cells
Surveying friends and family to learn about quirky traits
Using "DNA codes" to create cute monsters with silly features
In Six Generations, players (recommended ages 6 and up) compete to build a traditional family tree by taking turns adding people from each generation. There are six successive generations, with the artwork on each generation's cards corresponding to specific characteristics of that time period. The cards are very much like traditional playing cards and can be used for a variety of game variations (scroll to the bottom of the homepage to see links to different game rules).
Who knows the most about Mom and Dad's past? Siblings (or other family members) go head-to-head to see who can earn the most points. This Kickstarter staff pick is a great game to get everyone talking and sharing family stories. Example questions include:
What was the first movie I ever saw?
How old was I when I got my first computer?
Describe where I was and what I was doing at age 20.
Perfect for family get-togethers and reunions, these memorable conversation starters are sure to get everyone talking. This set of 135 question cards comes in an easy-to-pack acrylic cube, so they're easy to bring along to your next family gathering. Sample questions include:
What's the most fun game for a group?
What do you remember about the homes your family has lived in?
What music reminds you of childhood?
A version of this article appeared in the November/December 2020 issue of Family Tree Magazine.
More Great Gift Ideas