Sign up for the Family Tree Newsletter Plus, you'll receive our 10 Essential Genealogy Research Forms PDF as a special thank you!
Get Your Free Genealogy Forms
"*" indicates required fields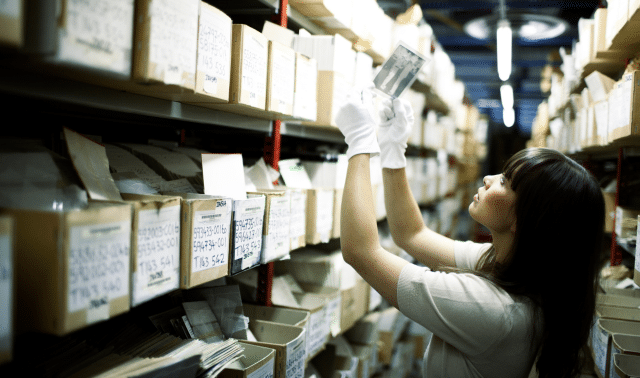 Without a doubt, the Internet is a great place to search for family history. Companies invest huge sums to bring genealogical resources to your fingertips. Archives and libraries strive to move their holdings off the shelf and onto the screen. But don't think that everything you need to discover your family history is online. Here's the truth: Only a fraction of historical resources have been digitized—and even fewer have been indexed for searching by name.
Think of your family history as a 100-piece puzzle. Perhaps 35 of those pieces might be found online. Just as it's hard to assemble a puzzle from one-third of the pieces, it's hard to reconstruct your family picture from a smattering of records. By limiting your searches to only what you find online, you're missing a lot of valuable material. What types of missing pieces might be awaiting you offline? Where and how can you find them? Come along as we explore 38 resources you'll commonly need to obtain in person. We'll start with sources closest to home, move to the local courthouse, expand the search to state and federal records, and wrap up with some favorites to help you build a complete and colorful picture of your ancestors.
Home Records Sources
A hunt for home sources—the memorabilia and knowledge of family members—is an essential launching pad for any genealogical search. You and your relatives could have treasures tucked away in drawers, closets, cabinets, basements and attics. Take a look around your home first, then reach out to family who might have collected or inherited family belongings. Explain your interest in family history, and say you'd welcome the chance to visit and look through photos or keepsakes with them. Respectfully ask if you can scan or take pictures of things in order to make copies.
1. Photographs
Photos literally put faces with the names of your ancestors—provided you can identify them. If loose pictures aren't labeled, you'll need to do some detective work. Show the photos to relatives to see who they recognize. Who owned the photos before you? What clues can you derive from backgrounds, cars, clothing, hairstyles and ages of children?
2. Scrapbooks
Pictures in scrapbooks and albums are usually grouped by event or place, and often labeled—both big pluses. Scrapbooks also may contain ticket stubs, calling cards, announcements, clippings, or other ephemera, offering a fascinating look at the life of the album's creator.
3. Baby and memory books
Baby books chronicling the first few years of a child's life might include a family tree or guest list from a christening or birthday party. Wedding albums, school yearbooks, and grandparents' memory books are similarly rich family sources.
4. Letters and postcards
Letters offer reliable firsthand accounts of births, weddings, illnesses, deaths and other family news. They may give clues to relationships and provide unknown places of residence. They also yield insight into the writer's character and motivations. Even simple postcard greetings can connect scattered branches of the family tree.
5. Diaries and journals
Diaries and journals bear witness to events and relationships from the past, offering an intimate glimpse into your ancestor's life. In addition to the weather (a universal topic), you could learn about relatives, neighbors, religion, holidays and occupations. Look for small pocket diaries as well as larger journals. Appointment books, calendars and address books also might hold personal notes and link your ancestor to other family members and their records.
6. Family Bibles
Notations in Bibles can give dates of births, marriages and deaths that took place before vital records were kept. Some Bibles had special Family Record pages designed to serve as a register. While these can be wonderful sources of information, you should carefully evaluate them for accuracy. Someone might've completed the pages later, from memory. Use what you find to spur research into other records.
7. Certificates, cards and programs
Many couples received keepsake certificates of marriage from officiants or places of worship (these aren't the same as official, government-issued marriage certificates). Certificates also recognized baptisms, cradle rolls, confirmations and first communions. Funeral homes published funeral cards and programs commemorating the deceased. Cards announced graduations, awards, and retirements. Also look for company newsletters and church bulletins.
8. Yearbooks and school souvenirs
It's fun to see a relative's picture in a school yearbook. What activities was he or she involved in? Do you recognize other names? School memorabilia can take many forms: report cards, award certificates, activity programs, sports letters. Some schools published year-end souvenir booklets listing children and teachers. Any school keepsake is one more puzzle piece you couldn't find otherwise.
9. Newspaper clippings
If you find obituaries in mom's or dad's files, note any names and residences of survivors, and investigate unfamiliar names to see if they're extended family. You also might find clippings about weddings, anniversaries, accidents and social events.
10. Military memorabilia
Servicemen and women often saved mementos of their experiences. Keep an eye out for draft papers, discharge certificates, ID cards or tags, pins, awards and more. My father-in-law saved some of the daily briefings from the ship he served on in World War II. These keepsakes provide essential service information and add family history context.
11. Personal records
Deeds, cemetery lot purchases, citizenship papers and other important documents may be among family papers. Passports, social security cards, medical records, family copies of birth and death certificates, and other records all widen your base of knowledge.
12. Family histories
Perhaps you're not the first in your family to take an interest in genealogy. Did someone from an earlier generation put together a history or family chart? If so, you have a path of helpful clues to follow. Remember that the writer could have made mistakes, so test each claim by seeking out historical records to verify it.
13. Living relatives
A relative's memory is one of the greatest assets a genealogist could hope for. Reach out and ask to talk with your aunt or cousin. Prepare questions in advance, but be sensitive if the person seems reluctant to discuss certain events. Ask open-ended questions to invite longer responses and take along pictures to prompt memories. Prioritize interviewing older relatives.
Courthouse Records Sources
Courthouses and town halls hold a wide variety of historical records. Many old birth, death and marriage records that local governments created are now available online. Other records may be digitized but not indexed (so you can browse them, but can't search). Or you might find an online index with no document images.
Most places have some court records or indexes online, but how much varies widely depending where you're researching. Usually, the following record types are available only in person. Before you go looking for them, have a good idea of the type of record you need and when it was created. Note that some courthouses have moved old records to offsite storage, a historical society or the state archives. Call or email to check availability: "I'm looking for a probate file from 1888. Do you have those?" Some facilities may be willing to send you copies for a fee. Microfilmed records are often available at the state archives as well.
14. Probate files
Records of an estate settlement name heirs and describe relationships. They include probate dockets, will books, administration bonds, inventory and sale records, and original probate files. Even if a will doesn't name heirs, the final account or other estate papers might. Examine every paper, front and back. I once found an ancestor's date of death scribbled on the back of a small receipt in a probate packet—the only place I ever found it.
15. Guardianship records
Guardianships are closely related to probate records. Courts appointed guardians for minor children who had inherited property, even if one parent was still alive. Dockets, bonds, record books and more may reveal names of parents, grandparents or other relatives, and may state the children's dates of birth.
16. Deeds
Deeds recording the transfer of property, which might be real estate or enslaved humans, help you establish identity, residence and relationships. Look for an index to grantors (sellers) and grantees (buyers) to identify the volume and page number with your ancestor's deed, then locate the entries in the corresponding books.
17. Tax records
Both real estate and personal property tax records are helpful to genealogists tracking an elusive ancestor. Tax records, studied year over year, can show when a person moved into the area or came of age, when he moved away or died, and whether more than one person of the same name lived in an area. Check both county and state auditors' records for surviving copies.
18. Divorce records
While some online indexes to divorces exist, you'll typically need to get the actual record from a courthouse or other repository. Check court dockets, indexes to order books and journals, and judgment books for potential divorce cases. Once you've found a reference, look for a microfilmed record or request a copy of the decree or case file from the county clerk's office.
19. Pre-1906 naturalizations
Most naturalizations made in federal courts are online, but until 1906, an immigrant could file naturalization papers at nearly any civil, superior, district or circuit court. Check courts in places your ancestor lived for a declaration of intention (also called "first papers"), a petition for naturalization ("second papers," filed after a required residency period), and/or a certificate of naturalization (declaring the person a citizen). Online or printed indexes may help your search.
20. County homes and orphanages
A pressing need to care for the poor and disabled, especially after the Civil War, led to the establishment of county homes. You might find patient registers and other records of these facilities in county offices or the state archives. The amount of detail provided varies, but they're worth seeking out.
21. Coroner reports
Some cities and counties have preserved past records of coroner investigations of suspicious and accidental deaths. Relatively few are on microfilm or online. Contact the courthouse or local genealogical society to ask about an index to coroner reports or case files, and years of coverage for available reports.
State Records Sources
Records created by state agencies constitute another group of routinely used resources. These records may be with the agency or at a state archives or library. Privacy laws restrict some records to immediate family; check the state health department or vital statistics office. If you have questions about access, contact the agency for clarification.
22. Recent vital records
While it's fairly common to find 19th-century vital records online, 20th-century records aren't nearly as prevalent. Many states restrict public access to state-issued birth and death certificates. All shy away from posting online records of people who could be living. Most digitized death certificates concern deaths that occurred at least 50 years ago. What you will find online are indexes to modern births, marriages and deaths, which you can use to request record copies from the issuing agency, when permitted by law. Some states offer transcriptions or noncertified versions of birth and death records for genealogy purposes.
23. Adoption records
Adoption records are protected to varying degrees in every state. Some are sealed by court order, while others are available only to the adoptee or immediate family. Old records may be open. Bear in mind that early adoptions might've been informal arrangements, such as apprenticeships or placement with relatives.
24. Asylum records
Records of asylums, state hospitals and other mental health institutions are frequently closed or restricted to those who can demonstrate a close kinship to the patient. Find out where the institution's records are held (the state archives is a good starting place), and inquire about access. Unlike patient records, asylums' cemetery records are typically open.
25. Prison records
The state archives is also a good place to begin a search for state or county prison records. As these are public record, access shouldn't be a problem. Newspapers can help you learn the date and place of incarceration.
Federal Records Sources
The federal government created some of genealogists' most-used sources. US census records are widely available online, as are many pre-1900 military records and WWI and WWII draft registrations. But many more federal resources are still offline, particularly those at the National Archives (NARA) in Washington, DC, and its National Personnel Records Center (NPRC) in St. Louis, Mo. You can research these records in person, hire a professional to get them, or order copies for a fee.
26. Military service records
Did your ancestor serve in the War of 1812? Check the War of 1812 Service Record Index at Fold3 for the details you need to order his record. Service records for Civil War soldiers are a mixed bag: Fold3 has complete files for some states but only index cards for others. If the file you want isn't online, you can order it from NARA.
27. Bounty land files
The federal government granted bounty land to veterans of the Revolutionary War, War of 1812 and Mexican War. While some files were digitized with pension files, many haven't been indexed or microfilmed. Check US Bounty Land Warrant indexes at Fold3 or Ancestry for the information you need to request a file.
28. Civil War pension files
Civil War pension files are potentially robust sources of information about the soldier, and sometimes his widow and minor children. A small number of pension applications are digitized on Fold3, but for most, you'll need to find the soldier's index card on Fold3 or Ancestry, then order the file from NARA.
29. Federal land entry case files
The US government sold land to individuals through a system of land offices. Begin your search at the Bureau of Land Management General Land Office Records site. If you find a land patent for your ancestor, order the complete land entry case file from NARA. Applications filed under the Homestead Act of 1862 are particularly rich, with witness testimony and information on the applicant's citizenship status.
30. WWI and later service records
Military records of veterans discharged more than 62 years ago (1956 or prior) are available for research. Request WWI and later records from the NPRC in St. Louis using these instructions. Records of those discharged after 1956 are available only to the veteran or next of kin. Be aware that a 1973 fire at the NPRC destroyed or damaged over 17 million records.
31. Social Security applications
Applicants for the Social Security program provided birth information, including parents' names, on SS-5 forms. You can request a copy of a deceased person's SS-5 from the Social Security Administration. But unless you include evidence that the person and his or her parents are all deceased, or that the parents were born more than 120 years ago, pertinent details will be redacted. Download a request form.
32. US Citizenship and Immigration Service (USCIS) files
From 1940 to 1944, every noncitizen over age 14 living in the United States had to fill out an Alien Registration Form (AR-2). Alien Files (called A-Files) were created for all new immigrants after April 1, 1944. Copies of these forms and files predating May 1, 1951, are available through the USCIS Genealogy Program. The USCIS also manages records including visa files (documenting arrivals under the Immigration Act of 1924) and registry files (documenting pre-1924 arrivals for whom no passenger record could be located).
More Offline Records Sources
A variety of other valuable resources await researchers willing to do some legwork. As noted earlier, these records may be digitized for some places, but in most cases, they're still with the original archive. Don't miss out on potentially key discoveries such by assuming that if you can't find records online, they don't exist.
33. Church records
Church registers can document births, marriages and deaths where vital records are missing, with additional clues such as baptismal sponsors. Records may be at the original church, another church it merged with, denominational archives, or an area historical society. Look for print and microfilm sources as well.
34. Funeral home records
Funeral homes gather information on the deceased and on those handling arrangements. Although these are private records (some older ones are published), the home may be willing to send you copies.
35. Cemetery records
Although more and more burial information is on websites such as Find A Grave, cemeteries also have records such as burial card files, purchase registers and sexton's records. Contact the cemetery to see what's available.
36. Genealogical society publications
Genealogical and historical societies have produced scores of resources about their communities. Check the websites of local societies and search local libraries' genealogy collections.
37. Surname files
Societies and libraries collect family trees, Bible records, news clippings and other unique materials in "vertical files" arranged by surname or subject. If you can't visit, call or email the library to ask whether files exist for your surnames.
38. Manuscript collections
Similarly, archives keep unpublished materials like letters, journals, local militia rosters, business ledgers, and more in manuscript collections. Search online catalogs of state, university and regional archives for collections related to your ancestor's place and time. Even in this digital age, delving into records you must access offline is essential to completing your family puzzle. Resources abound in basements, courthouses, churches, archives and libraries, just waiting for you to venture out and find them.