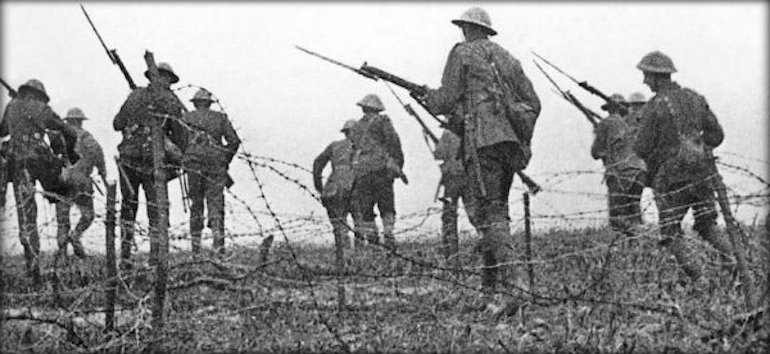 The United States declared war on Germany 100 years ago this month, on April 6, 1917, joining the side of the Allies in the Great War. See all the countries caught up in the conflict in our timeline of World War I war declarations.
More than 650,000 from Canada and Newfoundland and about 4 million from the United States served in the military. These are two of the US Expeditionary Force soldiers in my family:
On the left is Joe Seeger, who enlisted September 1917; and on the right is his brother Norbert (with their father), who enlisted July 1918.
Loss of WWI Service Records in NPRC Fire
When you go to research your WWI ancestors' military service, you'll make a sad discovery: More than 80 percent of US Army service records for those discharged between Nov. 1, 1912 and Jan. 1, 1960 (which includes WWI soldiers) were destroyed in a 1973 fire at the National Archives' National Personnel Records Center in St. Louis. (You can request surviving WWI service records following these instructions.)
But there are other ways to trace your ancestor's WWI service, including:
1. Draft Registration Cards
More than 24 million men (including immigrants who hadn't naturalized) registered for the draft in 1917 and 1918, although not all of them served. These are widely available on genealogy websites like Ancestry.com and FamilySearch.
2. State Adjutant General Rosters
Most states issued a roster of soldiers in World War I. Both Joe and Norbert are listed in The Official Roster of Ohio Soldiers, Sailors and Marines in the World War, 1917-18, on Ancestry.com as Ohio Soldiers in WWI, 1917-1918.
3. WWI Transport Service Records
Fold3 just published this collection of passenger lists of military transport ships. Norbert was listed with Supply Co. 336, leaving New York City Oct 27, 1918, and arriving in Liverpool Nov. 8. I had to scroll through the records to find a page with a date and ports.
He was on another ship Nov. 11, but I can't find a page noting where it took him. His last transport took him home: The USS Orizaba departed Brest, France, July 29, 1919, and arrived at Newport News, Va., Aug. 6.
4. Discharge Papers
Most discharged service members registered with their local courthouses on return to their communities. I can't find my WWI servicemen among the veteran discharges in FamilySearch's records for Hamilton County, Ohio, so here's the record for another man:
5. Veterans Surveys
Many communities asked local veterans to complete surveys about their service in the World War. My cousin three times removed Louis E. Thoss filled out this one for the Kentucky Council of Defense (it's now part of the Kenton County Public Library's genealogy database).
The US Army Military History Institute also has a collection of WWI veterans questionnaires completed in the late 1970s, along with photos, letters, memoirs and other materials.
6. Military Headstone Application
When Joe died in 1941, his sister applied for a military headstone based on his WWI service. These are on National Archives microfilm, and digitized on Ancestry.com.