Sign up for the Family Tree Newsletter Plus, you'll receive our 10 Essential Genealogy Research Forms PDF as a special thank you!
Get Your Free Genealogy Forms
"*" indicates required fields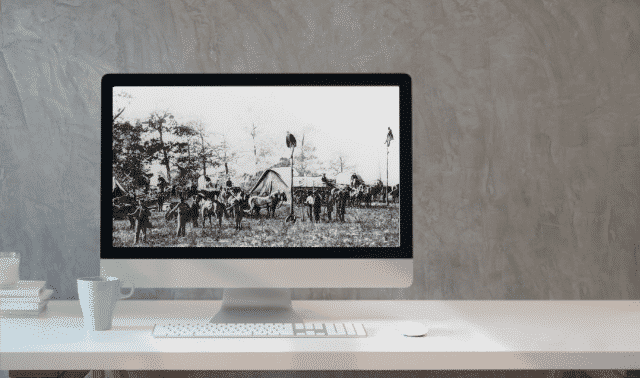 Americans continue to be fascinated with the Civil War, but today that interest need not be limited to books and battlefield visits. You can now explore the history of that conflict—and your ancestors' role in it—in ways those fighting men in blue and gray could never have imagined. The name and unit of every known Civil War soldier can be found online, along with histories of their regiments. Many of the service records that until recently researchers had to write away to the National Archives to obtain can now be downloaded at your desktop. Pension applications, which can solve mysteries about a Civil War veteran's whole family, are increasingly available without even a trip to the library. And you can virtually walk in Civil War ancestors' footsteps with animated maps, collections of letters and photographs, even the complete Official Record of the conflict—all online.
It's all a far cry technologically from those pioneering Matthew Brady photos of the war (yep, also online—see ) or Abraham Lincoln scribbling his Gettysburg Address on the back of an envelope. (Today we bet Abe would have used an iPad.)
The sesquicentennial celebration of the war a few years ago made a big mark online, including the National Park Service's Civil War Homepage. It's still a good starting place, and links to the Park Service's essential Civil War Soldiers & Sailors System (see below). But it is only a start on researching your Civil War fighting kin and their times. To help you get off on the right foot (that would be the straw foot, in the classic hay foot-straw foot training given raw Civil War recruits), we've selected the top 10 sites for Civil War research.
The heart of this site is its searchable database of more than 6.2 million names from both sides. The collection covers 44 states and territories, derived from General Index Cards created by General Fred C. Ainsworth's staff in the 1880s as part of a project to determine eligibility for military pensions. (Confederates were included, fortunately, even though they were ineligible for federal pensions.) Names were copied from muster rolls, which were usually kept on the company level and updated about every two weeks. On the CWSS, "hits" for soldiers' records are also linked to a regimental history and, in turn, capsule histories of battles.
Searching this massive database is easy: Enter all or part of a name; you can add a state or even a unit number or name. Note that spellings of names can vary widely in Civil War records as in other genealogical resources, so try variations if you don't find your ancestor at first; the CWSS database does not accept wild cards, though it automatically serves up close matches. If you get too many hits, you can enter a search in quotation marks (last name, first name/initials) for exact matches. You can also try entering less information—omit the first name, for example, in case your John W. Smith was transcribed as "JW Smith," "J Smith" or even mistakenly as "JV Smith." Results can be filtered by Union or Confederate, state and battle unit function, such as infantry or artillery.
Most of each soldier's basic information from his General Index card in the National Archives is displayed to the right of each hit: side, location (state), battle unit, function (such as infantry or artillery) and alternate names. Clicking on the name brings up a page devoted to this soldier, which adds the important company designation (typically an alphabet letter), rank on enlistment and ultimate rank, microfilm number and any notes such as how the original was filed.
From either view, you can click on the regiment name to view a capsule history of this unit with links to writeups of the battles it engaged in. At the bottom of this page is a link, "View Battle Unit's Soldiers," which jumps to a pre-filled search for soldiers in that unit. Unit histories and battles can also be searched directly from the CWSS home page.
The "Sailors" part of the CWSS name, unfortunately, is a bit misleading. No naval records exist on either side that are the equivalent of soldiers' compiled military service records (CMSR). The only sailors online here are 18,000 African-Americans indexed in a Howard University project.
Here you can also search burials in Poplar Grove National Cemetery at Petersburg National Battlefield in Virginia, with images of the headstones. Other databases cover prisoners of war held at Fort McHenry (Confederate POWs) and Andersonville (Union), Medals of Honor, and Civil War monuments.
Thanks to a partnership with the National Archives, this subscription site provides instant gratification for Civil War researchers who formerly had to wait for Archives records to arrive in the mail. For $7.95 a month or $79.95 a year, you can search or browse Union and Confederate soldier service records. Some Union states are represented only by indexes, meaning you'll still have to request full compiled military service records (CMSR) from the Archives. Others, along with all Confederate states, have fully digitized CMSRs. These contain digitized papers relating to individual soldiers, as well as card abstracts of entries from original muster rolls, returns, rosters, payrolls, appointment books, hospital registers, parole rolls and inspection reports.
You can also find your Union ancestor in the nearly 3 million images of the Civil War Pension Index. You can learn about a soldier's term of service and use the index to request his full pension record from the National Archives. Unique to this series of records are death dates and locations for many of the veterans who died after the war. Complementing this is an incomplete but growing database of "widows' pensions" that can also be searched by dependents. (You might even find a widow's maiden name.)
Other Civil War resources here include Confederate amnesty papers, post-war claims cases filed by Southern citizens, and Union naval pensions.
All fold3 records can be searched by name, or you can browse any collection by clicking on the database name and then drilling down by state, sometimes by regiment or company, and then by an alphabetical list of names. Given the vagaries of bureaucratic name-spelling, this browsing approach is often the surest way to find your ancestors' records. It's especially effective if you've already found a soldier's unit information using the CWSS (see box).
This sprawling subscription site ($24.99 a month, $99 for six months for US Discovery membership), which also owns fold3, has plenty of Civil War resources of its own. Similar to the CWSS and overlapping with it, the US Civil War Soldiers Records and Profiles here also pulls in records including state rosters, pension records, regimental histories, photos and even journals; to date it covers more than 4.2 million soldiers.
Another star attraction is the Civil War Pension Index, whose 3.4 million records include more than 2 million Union Army soldiers who filed for pensions after the war. A late 2020 update added new fields including date and place of invalid, widow and minor filing as well as company, regiment and enlistment year when available.
You can also find Union ancestors in Ancestry's Civil War Draft Registrations Records, 1863-1865. These nearly 3.2 million records include much important genealogical data as well as informing about military induction.
Thanks to its stake in fold3, Ancestry also has combined indexes to Union and Confederate service records, service records for Union "Colored Troops," and CMSRs for Confederate troops, with images. You'll also find POW records, muster rolls and some other Confederate records, historic photos and a database of headstones provided for Union veterans who died from 1879 to 1903. The collection entitled Official Records of the Union and Confederate Armies, 1861-1865, compiles documents from three National Archives record groups relating to the war.
Don't overlook Ancestry's complete census collection when researching your Civil War kin. The 1890 Veterans Schedules are almost the only surviving piece of that fire-destroyed enumeration. The 1910 census also asked whether a person was a survivor of the Union Army (abbreviated "UA") or Navy ("UN") or the Confederate Army ("CA") or Navy ("CN").
Many of the records found on subscription sites can also be accessed for free on FamilySearch, though you may have to do a little digging as online records here are organized geographically rather than by era. To get started, choose "Browse All Published Collections" from the main search page, below the world map. (You can also search right above here if you know what you're looking for.) On the resulting page, use the search box at upper left to find collections with words like "Civil War" (51 collections, including many but not all state service records), "Confederate" (44 collections) or "Union" (31). Note that the state compilations available here differ somewhat from those on fold3/Ancestry, so it's worth checking both sources. FamilySearch may have images of Union CMSRs, for example, where fold3/Ancestry has only indexes. On the other hand, fold3/Ancestry indexes may be more complete: 512,000 cards for New York soldiers compared to 60,000 full CMSRs, for instance.
FamilySearch also has the same database as CWSS, "Colored troops" records, the pension index, the widows and dependents pension index (courtesy of fold3), the 1890 veterans census, and headstone records. You can find Confederate kin in pardon applications, an officers index, navy and marine records, POW records, and various papers collections.
Although not limited to the Civil War, this site under the auspices of Ohio State University is especially strong on that era, including the 128-volume The War of the Rebellion: A Compilation of the Official Records of the Union and Confederate Armies (the "OR" for short). This is the official—and exhaustive—government account of all that went on in the war and it's searchable, along with an index. You'll also find the OR's companion atlas. These 175 full-color plates with detailed maps of battles and other events covered in the Official Records were produced by the Government Printing Office in 1895. The site's Civil War collection also includes letters and diaries, more than 2,000 images and maps, articles and expert interviews, biographies, videos and pages on battles large and small.
This handsome site from the folks dedicated to preserving the nation's battlefields excels at presenting the Civil War. Each battle is represented by maps, articles, images and video tours. There's even an animated map of the entire war (via YouTube). You'll also find biographies, quizzes, "crash courses," presentations on the role of women and the African-American experience, and materials for educators.
Although not specifically geared to the Civil War, this site from the Department of Veterans Affairs is the fastest and simplest way to search for the government burial site of your Civil War veteran ancestors (and possibly their dependents). It covers VA National Cemeteries, state veterans cemeteries and other Department of Interior and military cemeteries, among them numerous Civil War battlefield cemeteries. You can search all the cemeteries or a single location using last name (the only required field), first name, middle name, birth date and/or death date. Name searches can be exact or "begins with."
Because the Nationwide Gravesite Locator includes burial records from many sources, results of your search will vary. You should get at least the veteran's birth and death dates and cemetery; some listings give precise burial locations with a link to a map. Unlike post-war US government records such as pensions, which cover only the winning side, the Gravesite Locator does include burial sites of Confederate veterans.
If your impressions of the Civil War were mostly formed by documentary filmmaker Ken Burns' landmark PBS series, "The Civil War," this handsome site is for you. The epic nine-episode series, recently restored in 4K video, can be streamed online (grouped into five programs by year of the war). You can also learn about the making of the series, which won 40 major film and television awards, including two Emmys and two Grammys. "About the Era" features a timeline, maps, historical documents and biographies.
This sprawling online library is rich in Civil War material, both major and obscure. You can find the Roll of Honor listing all Union dead in the war, books and articles about each state's role in the conflict, and even local and town histories ("Rally once again! Galena Civil War Centennial"). Here you can read selections from Sherman's memoirs, diaries of more humble volunteer soldiers, accounts of actions by individual regimental companies, and expert strategic analyses. The collection is searchable by catalog record or full text; try searches such as "Civil War Iowa" to find hits like "History of the Seventh Iowa veteran volunteer infantry during the civil war, by H.I. Smith, four years a member."
Access is free, but you'll get the most out of the site if you register as a member of a participating institution, such as a university. You can also use credentials such as your Facebook or Google login.
Although state sites can be packed with Civil War data, most are not of wide enough interest to make our top-10 list; you can see some of our favorite state-specific sites for Civil War research in the box below. The Library of Virginia is the exception, and not just because so much of the war's pivotal action took place within that state's borders. Start with the research guides and indexes page , which includes a wide range of Virginia Civil War records. Even if you don't have Virginians in your family tree, however, click on the index to names in nearly 30 years' worth of Confederate Veteran magazine published between 1893 and 1932. You can search for names or other words and phrases, or browse an alphabetical list of names. Entries typically list the veteran's name, service unit, death date and place, and the issue and page of the original citation.
Working the System
The free Civil War Soldiers & Sailors System is the simplest place to start researching your Civil War ancestors. Once you've determined that an ancestor did indeed serve, and identified his unit, you can find him in other, richer records. To search, enter as much or as little information as you know about an ancestor; if your search returns too many hits, you can always go back and refine with more details or filter using the links on the left of your results.
Clicking on the soldier's name in your results will take you to the full entry for that individual. To learn more about a soldier's unit, click on the regiment link.
The information about each soldier is pretty basic, but this data can unlock all the other existing records about your Civil War ancestor—sometimes page after page of detail. Note especially the regiment name. You can use this info to find the full Compiled Military Service Record (CMSR) on the subscription fold3 site (and in some cases Ancestry and FamilySearch). If your Union ancestor's complete packet is not yet online, you can order a copy from the National Archives.
On fold3, since you already know your ancestor's unit, it's often faster—and avoids any possible search quirks or bureaucratic misspellings—to browse to his records rather than searching. Click on the collection (such as "Civil War Service Records (CMSR) – Confederate – Virginia "), select the unit, and click on the first letter of the last name.
Once you've found your ancestor, clicking on his name brings up thumbnails of the pages in his file. Typically you can learn where and when a soldier enlisted and details about his service.
State Civil War Websites
Many of the best Civil War sites concentrate on a single state. (Keep in mind that Confederate pensions came from the seceding states, not the federal government.) Here are top sites, both North and South (note that many of these databases are now also available on FamilySearch):
Searchable database of more than 231,000 entries created from an 8 x 5 card file maintained by the Alabama Department of Archives and History from the early 1900s until 1982.
Search Confederate pension records, records of the Arkansas Confederate Home, veteran reunion registrations from 1911, and 1911 questionnaires enumerating Confederate soldiers living in Arkansas.
Searchable database of 13,000 veterans' and widows' pension applications.
Online access to the Georgia Department of Archives and History's collection of microfilmed pension records of veterans and their widows.
Database of over 285,000 soldiers from Illinois who served in the Union Army, plus downloadable regimental histories.
Searchable database of more than 213,000 Hoosier Civil War records; select "Civil War" under "Collections" dropdown menu.
Search 49,000 names indexed from 152 rolls of microfilm of Confederate Pension Applications.
Two volumes of Union muster rolls plus "The Maryland Line in the Confederate Army."
Searchable service records as well as manuscripts, photos and adjutant general records.
Links to more than 9,000 Civil War items in the Minnesota Historical Society collection.
Civil War Provost Marshal Index Database and database of Missouri soldiers.
New Jersey State Library digital edition is fully searchable.
Browse more than 7,600 records by last name.
Civil War Veterans Card File, arranged alphabetically, typically includes age and description (complexion, height, color of hair and eyes), residences and birthplaces, as well as service data.
Database of nearly 11,000 records of Confederate veterans, 1909-1973; select from dropdown menu under "Record groups."
Forms from 1891 list service record plus place of birth, number and gender of children, and value of personal and real property. Note that these cover veterans living in Tennessee at the time, not only those who served from Tennessee. Also available is an index of Confederate Soldiers' Home Applications .
Search 54,634 Confederate pension applications, the Confederate Indigent Families Lists, and the Index to Texas Adjutant General Service Records.
See main article.
Alphabetical and regimental lists of soldiers who served in Wisconsin units during the Civil War, plus state veterans' censuses from 1885, 1895 and 1905 and background reading.
Contributing editor David A. Fryxell's great-grandfather, William F. Dickinson, served with the 37th Alabama Infantry.