Sign up for the Family Tree Newsletter Plus, you'll receive our 10 Essential Genealogy Research Forms PDF as a special thank you!
Get Your Free Genealogy Forms
"*" indicates required fields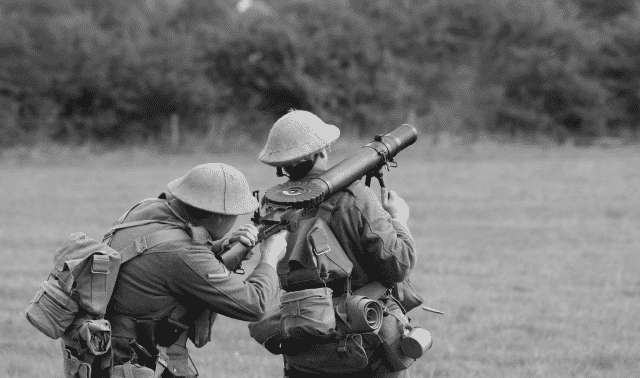 Today, with the United States as the world's dominant superpower, it's hard to imagine that traditional European powers—England, France, Germany—largely determined whether the world was at war or peace. Their imperial reach extended across Africa and Asia. When smaller nations in the combustible Balkans brought the great European powers into the disaster of World War I in 1914, the United States stayed mostly aloof. Despite the vigor of our continental expansion and industrial revolution, America was still more potential than power.
That changed irrevocably when the United States entered the war in April 1917, just 100 years ago. More than 4 million American soldiers fought in the "Great War" between April 6, 1917, when Congress voted to declare war on Germany and the Austro-Hungarian Empire, and the armistice on Nov. 11, 1918. If your ancestors were among them, you can now discover their records on a variety of websites.
Other online resources can help you learn more about their experiences and their final resting places. And even if your early-20th century ancestors didn't serve in the military, the war created a vast collection of paperwork as America geared up for the conflict: More than 24 million American men, ages 18 to 45, registered for the military draft between June 1917 and September 1918.
So whether your ancestors served abroad or stayed on the home front, these websites will help you document their WWI experience.
Service-related records
Although the Great War was in many ways the first "modern" war, its military service records are less readily available than those from earlier wars. That's because US Army service records for those discharged between Nov. 1, 1912 and Jan. 1, 1960—including those for WWI soldiers—were mostly destroyed in a 1973 fire at the National Archives and Records Administration's (NARA) National Personnel Records Center (NPRC) in St. Louis. You can request surviving Army service records, as well as records of service members in the Navy and Marine Corps, from NARA. See instructions here. If your ancestor served in a National Guard unit, his records also would've been spared; check the state archives, library or historical society in the state from which he served.
Even WWI service records that survived aren't yet widely available online. Instead, you'll have to dig a little deeper and research in somewhat more obscure resources. The richest source is Fold3, which specializes in military records (if you don't subscribe, see if your local library does). The site boasts more than 82.5 million records related to World War I, many of them specific to America's history in the war. Target these by searching on Fold3. To look even more closely at possible matches, select a specific database within which to search, such as:
Registers of Officers Who Served in the US Army, 1798-1969: Listings typically include rank, date of commission, former commissions, when they entered service, and where they were born. The register for 1918 is online.
Gorrell's History: An online version of NARA microfilm M990, this includes historical narratives, reports, photographs and other records of the Air Service in the American Expeditionary Forces (AEF) during World War I.
National WWI Museum Portrait Photographs and Panoramic Unit Photos: Two collections, with more than 500 group and individual photos of soldiers, sailors and nurses. Some are identified.
Naturalization Index, WWI Soldiers: Index cards about men whose naturalizations were fast-tracked so they could serve in the US military.
Navy and Marine Corps Officer Registers: Name, rank and service information are detailed, with World War I represented by the November 1918 volume.
Navy Casualty Reports, 1776-1941: Arranged by casualty type (drowning, enemy action, aviation accidents, shipwreck), these reports are arranged chronologically and most go into detail.
Navy Cruise Books: Like yearbooks for ships, these include photos and biographies; the last year of the war, 1918, is the first in the collection.
Rendezvous Reports Index (WWI Armed Guard Personnel and WWI Naval Auxiliary Service): These are indexes to the Navy's equivalent of Army enlistment registers.
US Expeditionary Force, North Russia: From NARA M924, these record the brief Allied incursion into post-revolutionary Russia.
WWI Officer Experience Reports, AEF: Detailed reports and correspondence of engineer units serving in Europe.
Fold3 also hosts some databases of state military service records. For example, Connecticut WWI Service Rosters include the person's name, service history, birth date, rank, where he served, and notes regarding discharge or death. The site's collection of New York WWI Army Cards includes abstracts of National Guard officers and enlisted men who were mustered into the regular Army.
WWI-specific databases are tougher to ferret out on WorldVitalRecords and its parent MyHeritage subscription sites. But if you try searching all military records (under Search>Military Records), you may get results in specific collections such as Illinois in the World War, a Gold Star Honor Roll list for Indiana ("Gold Star" referring to lives lost during the war), and even histories of individual units.
Ancestry.com subscribers can access the same naturalization database as on Fold3, along with a collection of WWI accounts from Camp Travis, Texas, and some recollections of the war. The Great War era is covered in Ancestry.com's US Marine Corps Muster Rolls, 1798-1958, too. More numerous on Ancestry.com are state-level collections of WWI service: see the previously-mentioned table, which also mentions other websites that host state-level WWI service information.
Burial Records of WWI Military Deaths
Finding ancestors who were wounded or died in World War I, or the burial records of war veterans, can be considerably easier than searching for service records. Start with the American Battle Monuments Commission (ABMC), which manages 24 overseas military cemeteries, plus 26 memorials, monuments and markers in 16 countries. On the search page, you can target your search to just the 33,717 US military from World War I who are buried in overseas cemeteries or listed on ABMC Walls of the Missing.
Specifically dedicated to the more than 600,000 who died in the West Flanders front area of Belgium during the war, including 411 dead or missing Americans, the In Flanders Fields Museum includes an online database of casualties.
If your WWI veteran is buried in a stateside cemetery, search the Nationwide Gravesite Locator at the US Department of Veterans Affairs (VA) website. It covers burials in VA National Cemeteries, state veterans cemeteries, other military and Department of Interior cemeteries, and private cemeteries where the grave has a government marker.
The most authoritative listing of American military deaths in World War I is probably the three-volume Soldiers of the Great War, compiled in 1920 by W.M. Haulsee, F.G. Howe and A.C. Doyle. Several partial transcriptions of names from these volumes are at RootsWeb. A digitized version can be searched and partly viewed at Google Books, or searched and browsed at Archive.org, here and here.
Major genealogy websites host some casualty records, too. Look for two collections at Fold3: Foreign Burial of American War Dead and Navy Casualty Reports, 1776-1941. At Ancestry.com, you'll find five casualty databases:
US, World War I Naval Deaths, 1917-1919
American Soldiers of World War I
US, Burial Registers, Military Posts and National Cemeteries, 1862-1960
US Military Burial Registers, 1768-1921
WWI, WWII, and Korean War Casualty Listings.
Don't forget state-specific resources (not all exclusive to World War I).
Pension Records
Fortunately, military pension records weren't destroyed in the NPRC fire that consumed so many valuable documents. Ten years before America's entry into World War I, the Bureau of Pensions and Veterans Administration began using a card system to keep track of pension payments made to members of what was termed the "Regular Military Establishment." This group consisted of Army and Navy invalids and their widows.
Collected in NARA microfilm M850, this database of US Veterans Administration Pension Payment Cards is being digitized by Fold3. At last count, the project was nearly three-quarters complete; find here. The collection includes cards for pension payments made between 1907 and 1933, so it well represents the aftermath of World War I. Browse for your ancestor by clicking on the first letters of the surname. (American Indian names are grouped alphabetically at the beginning of the appropriate letter of the alphabet, rather than sorted with other surnames.) This collection is also available on the subscription website Findmypast.
What might you learn about a WWI veteran from pension payment cards? Information includes:
name of pensioner and/or name of soldier (on the card of a veteran's widow)
certificate number, service details and disability
law under which pensioned
class and rate of pension
commencement date of pension
date of certificate, fees paid and pension transfer
date of death and date the bureau was notified of death
former roll number
home
individual payments made (back of card)
You may be able to use the information from the index cards to order pension files from the Department of Veterans Affairs. Files are located at the regional office closest to the residence of the veteran at the time of application. Ask the staff at the Veterans Affairs office in your area for help in obtaining copies.
If your WWI ancestor was disabled, you might also be able to find him in an Ancestry.com database of US National Homes for Disabled Volunteer Soldiers, 1866-1938.
Draft Records
The largest—and perhaps most genealogically useful—online collection related to US participation in World War I includes data on many men who never served. When the nation declared war in 1917, the standing army was nowhere near the size we expect today: only 120,000 federal troops, plus another 80,000 members of the National Guard. Those numbers were fewer than at any time besides the Civil War. The only recent action seen by US military had been Gen. John "Blackjack" Pershing's 1916 pursuit of Pancho Villa in Mexico.
To meet the new wartime needs of the nation's military, on May 18, 1917, Congress passed the Selective Service Act. It was America's first draft since the Civil War. Operating under what was termed "supervised decentralization," the Selective Service System employed 4,648 local draft boards in the 52 states and territories. Each county had at least one draft board, with one for about every 30,000 people in more populous counties and cities.
As the demand for "doughboys" grew, draft registration was expanded to both younger and older men. Ultimately, the Selective Service carried out three different registrations during World War I, totaling nearly 25 million men:
June 5, 1917, for all men between the ages of 21 and 31
June 5, 1918, for those who had turned 21 in the past year (a supplemental registration, filed with this second batch, covered those turning 21 by Aug. 24, 1918)
Sept. 12, 1918, for men ages 18 through 45 not previously registered
The resulting draft cards occupy 4,383 rolls of microfilm, available at NARA or from the Family History Library via your local FamilySearch Center. Fortunately, though, a recent digitization effort has made this entire trove of WWI-related data searchable online. All three registrations are free to search at FamilySearch and available to subscribers at Ancestry.com or Findmypast. You also can find WWI draft cards at several state sites, including Colorado, Nebraska and Oregon (see state table). These are worth checking if you can't find an ancestor in the nationwide database.
What you'll learn from WWI draft registration cards depends on when your ancestor registered. The first round, in June 1917, used what's sometimes called the "10-question card," which asked for name, age, address, birth date and place, citizenship status, employer, nearest relative, race and physical appearance. The second registration, a year later, used the "12-question card," adding occupation and any claimed exemption from the draft. Eligible ancestors who were older or younger than these first groups and who didn't get registered until the war was nearly over, in September 1918, appear in the most data-rich registration. That final 20-question form provides a more-detailed physical description.
Whether your ancestor served "over there" or simply registered here, the centennial of America's entry into World War I is the perfect time to take advantage of the records created during the "War to End All Wars."