Sign up for the Family Tree Newsletter Plus, you'll receive our 10 Essential Genealogy Research Forms PDF as a special thank you!
Get Your Free Genealogy Forms
"*" indicates required fields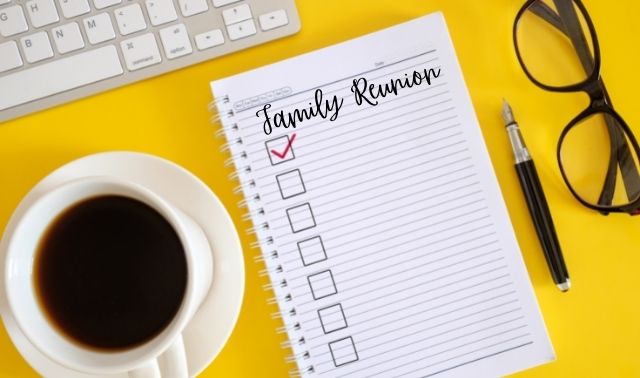 Planning a family reunion is a big job, but someone's got to do it—and in your family, that might be you. If so, take the first important step: Open your web browser. The help you want may only be a few clicks away—and more reliable than your cousin Fred (bless his heart).
A full range of free, convenient online tools make family-reunion planning easier from start to finish, from gathering the guest list to sharing priceless video footage afterward.
In many cases, you can use online platforms you may already know well, such as Google Drive , Google Maps and Pinterest. Even if you have to learn a new site or app, you'll likely find other great uses for it long after your family gathering ends.
Creating Your Guest List
When you start to generate your guest list, you may find that your address book (if you still have one) is sadly out of date. You may not have kept up with a cousin since she went away to school, joined the military, married, divorced, or took that job in Topeka…or was it Toledo?
Before finding fresh contact information for everyone, create a master list of everyone you want to invite. This is easy to do in Google Drive. From , click New > Google Sheets to create a blank spreadsheet. Create columns for name and different kinds of contact information, since you'll likely be reaching out to different people in different ways, from social media to traditional mail (image A). If you need it, find a YouTube tutorial on using Google Sheets.
I suggest adding a column for primary contact method, such as mail, email or Facebook. That way, when you're ready to send out messages, you can sort that column to group contact methods together, then easily address all the envelopes or send a group email. (You can copy and paste a column of email addresses directly into a Gmail email.)
Share this file with whomever may be helping you gather contact information. Google Drive saves your changes instantly; collaborators will see them even if they have the file open at the same time. Now it's time to gather everyone's current contact information. Online tools to try:
Facebook
Facebook is a good place to start, since about 70 percent of adult social media users are on it. Message your relatives to ask their preferred form of contact. (It may or may not be Facebook.) Scroll through their posts to remind yourself of a spouse's or grandchild's name. Browse their friend list to find more relatives.
Messenger
Even if you don't use Facebook, you can Facebook's Messenger or the Messenger app (iOS, Android) to reach out: 1.3 billion people around the world chat this way.
Whitepages
Consider investing in a trial or one-month subscription to Whitepages to find elusive relatives. This is an online equivalent of printed phone directories. It can help you retrieve addresses and phone numbers (mobile and landline). Entries even sometimes list other current or past household members, helping you confirm you've got the right person.
Web Browser
Or you can keep it simple by using your favorite web browser to search for long-lost relatives. Enter a name plus anything you know about someone: job, school, location, even a hobby. You may happen on a LinkedIn profile, listing on a company website or something they've posted on a fan or hobby site. Not sure if a relative has passed away? Google their name, town and the word obituary to see if one pops up.
Inviting Your Relatives
The way(s) you formally invite relatives to your family gathering will depend on their preferred contact methods. Consider using online event tools such as:
Facebook Events
Facebook events are one option, especially if your family has sufficient members who frequently use Facebook. Create a private Facebook event and invite them all. You can invite non-Facebook users by email, too.
Evite
Evite makes it easy to create e-invitations and send them by email or text. Track RSVPs and, if you like, ask attendees to sign up to bring something (like for a potluck meal). You can even request financial contributions right in the invitation to help cover reunion costs. Evite has several cute family reunion designs, some free and some requiring payment or subscription.
Paperless Post
Paperless Post is another freemium invitation site with tons of classy, customizable designs (including designs that incorporate your own family photo). Send out a "Save the Date" announcement and follow up with details in an invitation. Gather RSVPs and collect mailing addresses for any follow-up post communication. For a fee, you can also request printed versions of these invitations to be mailed—perfect for relatives who aren't online.
Remember, online event invitations won't be effective if your relative doesn't communicate that way. Some people will check email but may not be comfortable clicking through to your invitation site. So consider including an alternate form of contact in the message they'll receive by email. For example: "RSVP by clicking here or by calling 555-123-4567."
Use your event website to follow up with non- responders; reach out another way if they still don't answer. Remember that these sites only track RSVPs for those you've invited through the platform, so add a column to your master attendee spreadsheet to track all RSVPs.
Picking the Place
If Aunt Pat has volunteered her backyard again, you won't have to decide on a reunion location. Otherwise, you may want to head online and start researching venues.
Vacation House
Renting an entire vacation house is a good option for smaller groups, if you like the concept of all-inclusive, shared space (parking, kitchen and dining facilities, indoor gathering space and bedrooms). Rental reservation sites such as AirBnB, HomeAway and Vrbo list many large homes; run a search by location and the number of guests.
Campgrounds and RV Parks
Campgrounds and RV parks are more rustic but may include outdoor attractions. Group sites might be great for daytime use, even if your entire group doesn't want to camp. Search sites such as Campendium, Campground Reviews and GoCampingAmerica.com for locations and amenities.
Rental Spaces
Parks with pavilions, party centers and even rental spaces in churches or community centers also make great reunion headquarters. Search your web browser with the phrase party rentals, event rentals or even church hall rentals, plus the city and state. Unique Venues will even run assisted searches for those off-the-radar spaces that might work for your group.
Telling guests to book their own lodgings will save you a lot of time, hassle and possibly money. (Some hotels require deposits to hold group reservations.) In your online invitation's chat area, you might recommend hotels near the venue. Encourage guests who want to socialize 24/7 to share reservation information with each other so they can chat over the breakfast buffet or evening hot-tubbing.
Be sure your guests get to the right location by supplying them with the best GPS address for your event. Consider copying Google Maps' URL showing the destination and paste it in your event e-invitation.
Tip: Create a Google account (if you don't already have one) to take advantage of free online tools and cloud storage. From www.google.com, click Sign In, then Create Account. Follow the prompts. The collaborative tools and online storage space you'll have in Google Drive simplify the process of planning.
Figuring Out the Food
Professional event planners (and your Uncle Saul) will tell you that an abundance of good food makes any get-together worthwhile. If you're using a party center or caterer, they may provide all the help you need. Even outsourcing one big meal can be a help: Think buffet, where each person picks up their own tab and can eat what they want. Use Google Maps to locate these services (search caterers near Springfield, IL or buffet restaurants in Portland, OR, for example).
If your reunion is more a do-it-yourself affair, look for online menu inspirations and food calculators. Websites ranging from Pinterest to your favorite restaurant supply or bulk food store may offer easy recipes and cooking-for-a-crowd suggestions. Food calculators can help you determine how many sloppy joes and "Pineapple Party Punch" mixes to buy. Try these free online tools:
Calculate This Food
Calculate This Food offers both menu ideas and food calculators. The meat portion calculator is especially helpful, as are portion calculations for specific meals, such as potato bar, nacho bar and backyard BBQ.
Favorite Family Recipes
Favorite Family Recipes has a "Family Reunion Ideas for Meal Planning" guide that contains a mouthwatering list of meal ideas to feed a group. You'll also find smart strategies and tips for carrying out a more organized, confident food plan.
Pinterest
Pinterest has plenty of suggestions for family reunion food. Enter family reunion food feeding a crowd in the search box to find topics like "entrees for 50" or "easy sheet-pan desserts."
Whole Foods Market Servings Planner
Whole Foods Market Servings Planner has a servings calculator geared for holiday party planning. Use it to calculate quantities of soup, hors d'oeuvres, dips and more. Whole Foods also has a holiday-themed hub of inspirational recipes.
Potluck Online Tools
Hosting a potluck? Evite's meal sign-up tool or an app like PotluckHub can ensure you have toppings for the nacho bar—and that someone brings the plastic forks. The trick with PotluckHub Party Planner is that attendees have to be willing to download and use the app. Alternately, share a Google document for menu signups.
Acing the Activities
Some family reunion attendees are happy just to sit and visit. But many groups appreciate some form of entertainment. Consider using online tools to find:
Activities and games
Search Pinterest and Google for ideas that would appeal to the ages and interests of your group. Put a talent show sign-up in the Google Drive folder. Create a Kahoot, a custom trivia game that relatives can play on their mobile devices. (Send your tech-savvy nephew a list of family history questions and ask him to create the game, then pair phone-toting teens with deviceless grandpas.) Or bring in a photo- or video-booth service, magician or another entertainer by finding local talent on Thumbtack.
Local attractions
Fill downtime between reunion events with optional activities in town. Start at TripAdvisor; click Things to Do, then enter a location. You'll find crowd-sourced ratings and descriptions for attractions in different categories, such as free, outdoor and things to do with kids. Google can also be a good resource: Run a search such as: "things to do in Albuquerque NM."
Service
If volunteering is a good way to bring your family closer, look for opportunities at VolunteerMatch or JustServe. Even if you don't see a specific activity, contact potential organizations to see whether there's anything you could do for them, given the time and resources of your group.
Funding the Festivities
Unless you have a well-established reunion fund, you'll need to figure out how to pay for everything. You'll also want to keep track of expenses. Consider keeping a Google Sheet to track each expenditure and who paid for it. Put the Google Sheets in an Expenses folder where you can upload receipts.
"Cover Charge"
If one person is doing most or all of the planning, it may be easiest to have a "cover charge" for each attendee. It's easy to collect this with online personal payment tools such as Google Pay, PayPal, Venmo or Zelle. If you're the one collecting the money, you can send out requests for payment (with follow-up reminders for that forgetful aunt). Include an address for payment by check in a note with your request, in case they'd prefer to pay that way.
Fundraisers
Some families rely on fundraisers during their event, such as craft auctions, 50-50 raffles, guessing games or fundraising sales. Again, online services can help with some of these.
T-shirts
For example, some families enjoy getting T-shirts made. Getting the right sizes and collecting payment can be a headache. Why not simplify the process and turn the T-shirts into a fundraiser? Custom apparel printing websites such as Custom Ink let you design your shirt on the site. They gather orders and payment—with a monetary kickback to your group.
Cookbooks
Family cookbooks pass down beloved recipes and make a great fundraiser, too. Gathering recipes from relatives is already enough work, so get some support for publishing them. Cookbook Publishers printed a beautiful book designed by my mother-in-law for her family's 50th reunion. Explore designs and pricing, and request a free information kit on their website. If you're a complete do-it-yourselfer, Google cookbook template and explore options that might work for you.
Sharing the Experience
Someone's always using a camera at a family reunion—taking sibling selfies, video-recording ridiculous antics during the three-legged race and more. Here are a few ideas for sharing photos and videos with everyone:
Facebook Page
My extended family has a private Facebook page to which all reunion attendees are invited. During reunions, we ask those taking pictures and video to post them to our page. (Consider offering a prize for best upload.) This also reminds those who couldn't attend what they're missing!
Google Tools
If your family has done well working with a shared Google folder, continue to get the most out of it by sharing pictures there.
Use a free photo-sharing service like Google Photos , also accessible through the Google Photos app. Or post your videos—especially that sweet oral history interview you did with Grandma—privately on YouTube and share the link with attendees.
Custom Video Narratives
Create custom video narratives of your event with the free Adobe Spark or with a freemium service like Animoto. Compile the best photos into a "slide show," and add that short video clip of Uncle Saul singing during the talent show. You might even add some favorite pictures of shared ancestors or previous reunions.
With so many great online tools for your next family reunion, carrying out your next event may be easier than you thought. You might even be able to sit down and enjoy the Kahoot and a few glasses of Pineapple Party Punch.