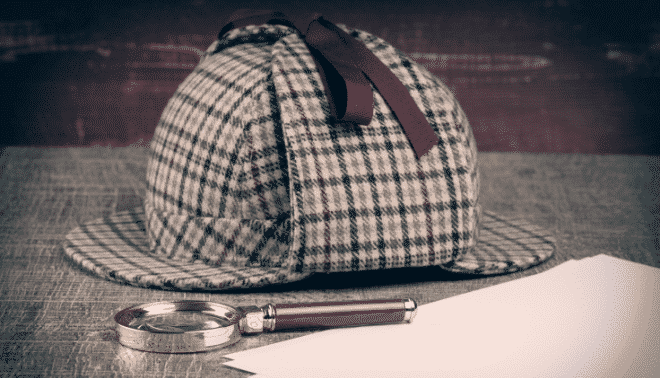 Can Sherlock Holmes, Miss Marple and Hercule Poirot help you solve your genealogy puzzles? Since the early 19th century, many such fictional sleuths have worked the pages of literature, and some have shared with their colleagues, and therefore with us, the methods and secrets of their successes. Their unraveling of mysteries often involves the same principles and techniques as our genealogical research.
As the incomparable Sherlock Holmes said, "There is a mystery about this which stimulates the imagination." This can be a crime waiting to be solved or an ancestor waiting to be found. This may be one newly discovered fact or the whole process of genealogy. Whichever it is at any given time, you are more likely to be successful with it when you let your imagination roam, when you question and ponder in the spirit of the sleuth, and when you remain open to imitate the sleuths. All of us can continue to grow in skill and understanding. And all of us would like to solve, during our lifetimes, some of our tough questions, to get beyond some of the proverbial brick walls.
When asked by a tourist to explain his methods (in Agatha Christie's Evil Under the Sun), Hercule Poirot responded, "It is a little like your puzzle, Madame. One assembles the pieces. … And every strange-shaped little piece must be fitted into its own place. … And sometimes it is like that piece of your puzzle just now. One arranges very methodically the pieces of the puzzle — one sorts the colours — and then perhaps a piece of one colour that 5 should fit in with — say, the fur rug, fits in instead in a black cat's tail."
Genealogy is the adventure of piecing together a puzzle of ancestors: the lives they lived and the people with whom they associated. The process of working the puzzle presents many questions and challenges to the researcher. Some of these are more readily answered than others, but all searches involve two basic elements: methods and sources. Generally, more success comes to genealogists who apply techniques of good research and use enough sources to find or propose answers. Obviously, some pieces of the puzzle may never be found, but success is often determined by the extent to which the researcher employs sound methods and legitimate sources.
Here are five lessons you can learn from fiction's great detectives to help solve your own genealogical mysteries:
1. Find clues in the cluster. As one literary sleuth said, "The lives of all of us are very subtly and intricately interwoven." In genealogy, this leads to the technique of "cluster genealogy": the idea that your ancestors did not live in a vacuum but in a cluster of relatives, neighbors, friends and associates. Studying the history of one person naturally puts you in contact with members of this group, as witnesses to each other's documents, as neighbors, as in-laws, as fraternal brothers and sisters, as business partners or clients and so forth. Ancestors often migrated in family groups, as church congregations, or as a group of neighbors. They often lived very close to other family members. They worshipped with, went to war with, bought land from and were buried near friends and relatives. Although you may not know the names of this group when you begin to research an ancestor you're focusing on, you must train yourself to look for its members.
Some researchers call this the "whole family" approach or the "big picture" approach. Regardless of name, the principle is the same: You can't have long-term success if you limit yourself to a one-name, one-person approach.
So when you run into that old brick wall in your search, what can you do? Take a clue from the sleuths and investigate the whole cluster of "suspects." Yes, some searches do come to a real dead end before you're ready, but the good news is that many tough searches can be solved. The successful ones often involve the cluster: the next of kin, extended family, neighbors, friends, associates and other people of the same surname.
2. Leave no stone unturned. In looking for the many pieces of the genealogical puzzle, we frequently need to imitate Poirot's practice of "leaving no stone unturned." This means finding evidence in family sources and in public documents. Many records on which genealogists rely were created as our ancestors interacted with governmental authorities. These records may be found today in all kinds of repositories and research facilities, but are often still found within the jurisdiction where they originated: town, county, state or federal. They include such sources as censuses and military, tax, immigration, court, land, marriage and probate records.
Genealogical studies boil down to four basic components: names, dates, places and relationships. We find these as we study the events and activities in an ancestor's life as revealed in the available records. In order to move backward in time from generation to generation, we need these details. They help define family members. They help us know that we have the right people at the right time and place. It may take 20 or 30 sources to prove the names, dates, places and relationships for one nuclear family.
We start with what we know — ourselves, our parents, siblings and grandparents — and search to discover the unknown. With these components, we work our way back one generation at a time. We seek to prove the relationships that link these people to each other and to us.
3. Look for "pointers" in your evidence. As genealogical sleuths, we can use the word evidence as the umbrella word for all the details that help us make research decisions and move toward conclusions. Even when we find direct statements of genealogical facts, it's reassuring to know that other evidence supports these statements. Thus, we often seek corroborating evidence.
For example, take the reported fact in the 1850 census that a middle child of a family was born in Georgia when all the others, older and younger, were born in Mississippi. What may seem to be evidence of little value, perhaps even an error, becomes a more substantial set of evidence when the researcher discovers that all five of this person's census records reported the same birthplace. In addition, the siblings' other census records reported their births consistently as Mississippi. The genealogist would want to know why, where and what were the overall implications in the family history. As one fictional sleuth said, "It's certainly just one interesting little fact that might be a pointer."
This example also indicates that each source or each record you consult may contain many pieces of evidence: dates, names, places, events, relationships and other information. You can't always tell what a piece of evidence means, alone and of itself. You must consult other sources and gather other evidence before you can make a determination.
Evidence can include such small things as a name on a Christmas gift tag in a scrapbook, a symbol on a tombstone, a name on a schoolbook, an age in a census record, a person's appellation on a tax roll, a date on a legal document or a slave's name in an estate inventory. Part of being an effective genealogist is paying attention to the little details, looking for the "interesting little facts" that might point you to more answers.
4. Keep an open mind. Genealogists often find conflicting statements, and often family tradition contradicts itself. Our task is to increase our evidence until we can evaluate the conflicting pieces. If we have no further ways to check family stories, as opposed to family versions of genealogical facts, we can preserve each one and attribute it to the person who told it. It may still enliven our family history.
But there's nothing wrong with reconsidering a conclusion or a piece of evidence. New evidence or a new day may call into question an analysis you thought you had finished and cause you to reevaluate it. You impair your gathering and analysis of evidence when you focus too narrowly on a preconceived idea or neglect part of the evidence. If you impair your observations and your thinking, you likely impair your conclusions.
In genealogy, the solution may seem impossible when you don't keep an open mind. Sometimes it seems impossible because you don't have enough evidence to make it obvious. It's wiser to keep an open mind until you can prove a conclusion, logically and convincingly, based on the evidence.
Present your case to yourself first. In order to do that, you need method and order. For this, you need an updated chronology of the ancestor's life or a chronological list of evidence known up to this point. Then you're prepared to think about it, one event at a time or one piece of evidence at a time, but also as a whole set of evidence.
Thinking can often be more effective if you change points of view when you're studying your evidence. As in a debating society, try taking one side and arguing for it. Then switch and argue the opposite side of the question. Then be an objective judge: Which side made the stronger case?
Perhaps you've discovered, as many others have, the value of thinking out loud. Explaining your research and analysis aloud to yourself — or the cat — has a way of keeping you on the subject, of not letting your mind wander or fall asleep. If being counsel, jury and judge at the same time is not to your liking, find another person willing to listen and play devil's advocate, gently, with your ideas. (Holmes had Watson, after all.) When you discuss your "cases" with well-chosen others, they can often provide insights that you haven't seen. In their objectivity, they can help direct your thoughts in ways you haven't considered.
When you believe you have found the correct conclusion for a set of evidence, try these three quotes from literary sleuths as a double-check:
Everything makes sense. Everything. — Hercule Poirot
Does your explanation cover every point? — Sherlock Holmes
I have found no evidence to justify any other conclusion. — Reggie Fortune
This article is excerpted from Emily Anne Croom's next book, The Sleuth Book for Genealogists, to be published this spring by Betterway Books. With advice and encouragement from many literary sleuths, the book features case studies throughout as well as a detailed guide to documentation.
5. Test your conclusions. Genealogists often ask, "How many sources are considered enough to prove something?" The only appropriate answer is: "as many as it takes." Proof may, but does not always, come in one direct statement. If it doesn't, you must search for as much evidence as it takes to convince the genealogy jury in your head that you have indeed made the case and proven the point.
In order to achieve "as accurate as possible" lineages, you must be as accurate as possible with the individual details that make up each lineage. You can't make a conclusion until you have enough facts to make a convincing argument, one that also seems clear and reasonable to someone else.
Evaluate what you know before, during and after research in order to determine whether you have enough facts to reach a solution. Facts is the key word: Your conclusions must be based on good, quality evidence and the pieces must fit together.
When you believe you have found the correct conclusion for a set of evidence, try these three quotes from literary sleuths as a double-check:
• "Everything makes sense. Everything." (Hercule Poirot)
• "Does your explanation cover every point?" (Sherlock Holmes)
• "I have found no evidence to justify any other conclusion." (Reggie Fortune)
Can you be equally confident about your solution to your genealogical mystery? If so, you're ready to move on to your next "case."
From the April 2000 issue of Family Tree Magazine