Sign up for the Family Tree Newsletter Plus, you'll receive our 10 Essential Genealogy Research Forms PDF as a special thank you!
Get Your Free Genealogy Forms
"*" indicates required fields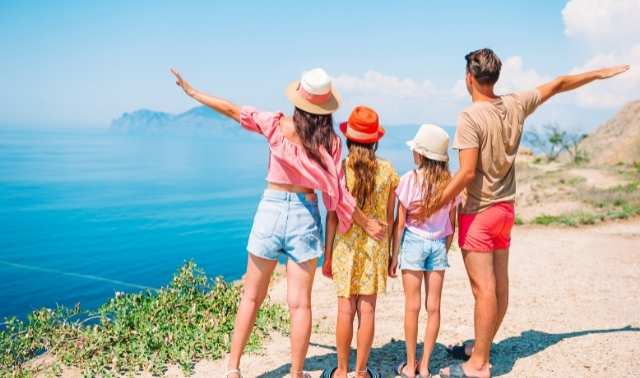 A trip back to an ancestor's homeland can be life-changing. There's a thrill that comes from walking your ancestor's street, standing in their church, or seeing their childhood home. Experiences such as these can't help but spark emotion, make you feel connected with your ancestors, and even re-affirm who you are.
One day in early 2018, my husband excitedly asked if I wanted to join some extended family touring Italy in a few months. I was skeptical, but he won me over me by throwing in my number one bucket-list item—a family history trip to Greece.
For as long as I can remember, I've been fascinated by my Greek heritage. My half-Greek grandfather died a week before I was born. I never met him (or his Greek immigrant father), but I became obsessed with my Greek heritage and one day visiting the country.
If you're like me, you've dreamed up the heritage trip of a lifetime, traversing from one ancestral village to the next. So what's been stopping you? (Besides the COVID-19 pandemic, of course.)
One roadblock: Some people try to plan family history trips with only genealogy in mind. That's likely not realistic, especially if a spouse or some friends will be joining you. But creating a trip that mixes family research and family fun? That's a no-brainer that your travel partners will love.
Having a successful trip require careful preparation, especially if you need to make plans last-minute. Here are a few tips for making the most out of your heritage travel experience—including your limited research time.
1. Know Your Purpose
Is it taking in the sights? Gathering pictures for your records? Connecting with relatives who might still live in the area? Obtaining records from a local archive, religious institution or office? Whatever your "why" is, know it. Once you do, you can prioritize and plan accordingly.
My goal in Greece was to visit the churches my ancestors worshiped and (if possible) browse through church records. I also wanted to try to connect with any living relatives in the area, and (more generally) absorb the culture of their villages and see how they lived.
With my purpose fully recognized, I determined my first priority was to attend the local Greek Orthodox church in my great-grandfather's hometown so we could learn about the village and its customs. We also decided to hire a local genealogist (see No. 2) to hopefully make some introductions.
2. Make a Plan
This is critical, even if you don't have much time to prepare. As we'll discuss, you never know what you'll find on a research trip—but careful planning puts you in the best position to accomplish your goals.
Our planning resulted in more than we could have hoped for, all thanks to our local guide. We hired a genealogist specializing in the area to help us navigate and make key introductions. Local genealogists can serve as guides and translators, helping you understand local customs, culture and access laws. Their focus on logistics will help you focus your time and energy on family history, making them well worth the expense.
Gregory Kontos, our local genealogist and founder of Greek Ancestry, was able to introduce us to the local papas (supervising priest) after we attended a service in my ancestor's hometown.
The papas told us so many stories about the town's history. For example, he talked about how my great-grandfather sent money to the church to pay for new pews after he emigrated to the United States in 1914. Those beautiful, wooden pews were still in the church when we visited. Even now, the papas and congregation were grateful for that assistance and welcomed us with open arms.
And because Gregory advised us to change our itinerary so our visit was on a Sunday, we were able to network with the community. We were invited to an after-service lunch with the congregation, and the papas graciously pulled out his church records going back 80 years. Although they didn't contain any of my direct ancestors, it was amazing to see the history of the place my great-grandfather called home.
You may even find the town's history and lore carries on to the present day. The papas told us how, according to tradition, the apostle Luke visited their village. Their church (originally built in the 13th century) was named in his honor—as was my immigrant great-grandfather, Loukas. That legacy inspired us to name our own son Lukas (who said it was "pretty cool" when he learned where his name came from).
Planning to have a local guide will also open you to new and unexpected connections. In another ancestral village, we stopped to chat with Gregory at a local tavern. While he was showing us old pictures of who we thought was my great-grandfather, the tavernkeeper stopped over and recognized a young boy in the photo. He returned with a grown man that looked remarkably like my great-grandfather.
As it turned out, the man and I are distant cousins—and he still owns my great-great-grandmother's childhood home. By coincidence, he was hosting several extended family members that weekend, leading to an impromptu family reunion with all of us, full of Greek shepherd's pie, olive trees and a beautiful cliffside view.
Those magical moments of hearing family stories and being reunited with living cousins wouldn't have happened without a good plan and the help and research of a local genealogist.
3. Research Beforehand
Do as much family history research as you can before the trip, so your time in the old country can be spent networking with living relatives and having memorable experiences (not confirming details you could have found at home). You'll also want to make sure the repositories and landmarks you want to visit will be open during your trip, and study any restrictions they might have.
Critically, you want to confirm the name of the town your ancestor came from. If possible, also learn:
what profession your ancestor had
what church they attended
other places they lived or visited
Put all these locations on a map, and learn about what life might have looked like for someone with their occupation. All of those details can serve as leads and potential stops on your trip.
Before you visit, make sure you get in touch with any known living relatives—especially elderly kin who have firsthand knowledge of the homeland. They might have contact information for cousins in the Old World.
For example, I learned from my great-uncle about a living relative in Athens and how to contact her through Facebook. I reached out, and she happily agreed to have lunch with us during our visit. I learned some fun things that day: that my mom has a Greek doppelgänger (the similarities were uncanny!), and that one of our ancestors was a horse thief who fellow villagers always hid from the law.
Scouting out those living relatives can enhance your experience, so work ahead and set up meeting times. Family tree-building programs and social media platforms are great resources.
4. Separate Tourist and Research Days
Divide time up between relaxing and work. (Your travel partners will thank you!) Be realistic, and give ample time to your priorities while not overlapping them with "down" time. Keep travel time in mind as you plan, and don't schedule activities too closely together. You don't want to miss out on a living relative connection just to make a 1 pm castle tour!
We spent two days dedicated to the traditional Greek tourist spots, and another two days for my heritage journey. This satisfied my husband's vacation goals while also helping me take in the history and culture of my ancestors. And when it came time to meet with my living relative in Athens on one of those research days, we scheduled the entire rest of the afternoon for that meeting, in case it went longer than planned.
Accept that this means you might not get to do all the things you planned. Talking with people and creating meaningful relationships takes time, and might make you miss out on something else. Likewise, unexpected travel delays or hours whittled away paging through old church records can easily eat away at your time, leaving some things unexplored.
5. Expect Disappointments, and Be Flexible
Maybe you can't find that record after all, or maybe a cousin isn't interested in connecting with you. Instead of sulking, move on to the next event. By holding on to what you hoped to achieve, you may miss out on things you can still do.
My dream of touring the inside of my great-grandfather's childhood home wasn't realized on that trip. The yard and home had a predominantly displayed "beware of dog" sign, presumably meant to keep strangers away. (Even the church members encouraged us not to try, as the homeowners were known to not be friendly.) And all the living relatives in my great-grandfather's village had since moved away, leaving us unable to form living familial connections there.
But I didn't let those setbacks get me down. Instead, I focused on the unexpected positives from my trip. While standing in the dimly lit church, the papas told of the original medieval icons still displayed on the walls. The gold dust used in them sparkled across the room. We were given framed St. Luke portraits (copies of the wall icons) as gifts. No Wikipedia article could have told me about the beautiful history of that tiny church building in Kamenitsa, Greece—the same church my ancestors worshiped in.
Sometimes, you'll find workarounds. I couldn't find a single church record or gravesite for my great-grandfather and his family on my trip. However, the papas told us older records were sent years ago to the main church in a nearby city. I might not have had time to search for them myself, but my local researcher could at a later time.
6. Take Lots of Photos, Videos and Notes
While you of course want to be "in the moment," it's easy for memories to fade without reminders. Give yourself time to take in the sights and experiences, but also document your journey. Even quickly scribbled notes can prove immensely helpful later, once you've had time to process everything. There can never be too many notes, pictures or videos—your trip is a once-in-a-lifetime opportunity.
I panicked when, during that first meeting with my relative in Athens, I didn't have any note-taking materials. I needed to record the stories and family relationships my relative was sharing with me. Fortunately, the restaurant's paper tablecloth and a loaned pencil were sufficient, and I snagged a quick snapshot of the tablecloth as I left.
And when that tavernkeeper made the family connection, I didn't have time to take notes. Fortunately, my husband hit the record button on our digital camera and captured the whole thing.
You don't want to rely on luck like I did! Pack recording materials (writing utensils, paper, a laptop, smartphone, camera, video recorder, chargers, etc.) and keep them on you at all times.
7. Document Your Trip
You'll cherish this trip for years to come, and even your descendants will appreciate the information you gathered there. So don't put off preserving memories from your trip.
Create a scrapbook, slideshow, video, blog or even social media posts about your journey. Add the photos, stories and newfound information to online family trees such as Ancestry.com and FamilySearch (which has a dedicated Memories tool for such pieces of data). Also don't forget to share it with your own family—after all, this is their family, too.
Numerous services allow you to create inexpensive scrapbooks. Shutterfly, Blurb, or even Costco or Walmart are a few options. Most give the option to use one of their predesigned book templates or you can design your own. To cut costs, design the entire scrapbook, then wait for a good deal (like Shutterfly's 50%-off coupons) before ordering.
Your goal of traveling to your ancestor's homeland is achievable. With the right mix of fun and family history, you'll be amazed at how the sights, culture, history and food make your ancestral connections come alive.
A version of this article appeared in the March/April 2021 issue of Family Tree Magazine.