Sign up for the Family Tree Newsletter Plus, you'll receive our 10 Essential Genealogy Research Forms PDF as a special thank you!
Get Your Free Genealogy Forms
"*" indicates required fields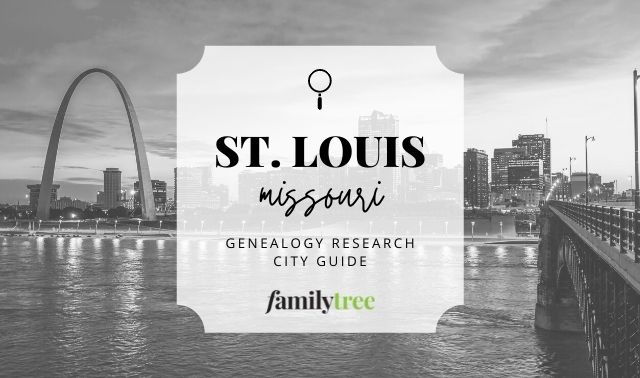 Even before its signature arch rose over the city, St. Louis was a gateway: for fur traders, then for the Mississippi River steamboats, and later for a World's Fair. Smack-dab in the nation's midsection, St. Louis is home to essential records and repositories—some of which are now online. Let this guide be your portal to finding your Gateway City ancestors.
A Brief History of St. Louis
People of the Mississippian culture (600-1400) built mounds in the area; some of the largest are still preserved just east of the Mississippi River in Illinois' Cahokia Mounds State Historic Site. In the 1670s, French explorers Louis Joliet and Jacques Marquette were the first whites to nose around the area, and less than a century later, a fur-trading post was set up in 1764.
Soon afterward, word of the treaty that ended the French and Indian War spread to the area. One of its provisions put all land east of the river into British hands, resulting in more French settlers moving to St. Louis; it soon became the capital of the Upper Louisiana territory. The same treaty made the area west of the river Spanish, but the French regained control briefly before selling the entire territory to the fledgling United States in 1803.
St. Louis County (with the city as its county seat) was created in 1812 as one of Missouri Territory's original counties. Missouri became the 24th state in 1821 — the Missouri Compromise allowed its admission as a slave state on the condition that Maine would be a free state. Thanks to steamboats, St. Louis became a boomtown in the 1820s. European immigrants (principally Germans, Italians and Irish) and freed blacks during the post-Civil War Reconstruction Era streamed into the city — making it the nation's fourth largest by 1900.
St. Louis Becomes an Independent City
The year 1876 is crucial for St. Louis genealogy. That's when the city seceded from St. Louis County to become an independent city (locals call it the Great Divorce). Records up to that point stayed in the custody of the city; after that, researchers may need to check two sets of records. Likewise, researchers should note that East St. Louis is a city in Illinois, not a part of the city of St. Louis ("East Side" refers to East St. Louis and the area east of the Mississippi).
And those details are important to know, says Patricia Walls Stamm, a certified genealogist from the area. "Neighborhoods were big here," she says. "Communities formed around houses of worship, businesses and shops in distinct areas. There were more than 100 small communities in the city and county of St. Louis."
Knowing the history of the neighborhoods is important, too, because many ethnic groups have moved around. For example, northern St. Louis was once home to German and other ethnic European enclaves; now it's home to many of the city's African Americans. A recent immigrant group is from Bosnia; thousands of refugees have made their homes in south St. Louis. Stamm also notes the city was an early center of Roman Catholicism in America, with records dating to 1776.
History Timeline
1764: A small band of men found St. Louis for fur traders
1804: Lewis and Clark expedition sets out from St. Louis
1817: The steamboat Zebulon M. Pike travels from Louisville, Ky., to St. Louis in six days
1847: Dred Scott case first tried in St. Louis
1849: Cholera epidemic kills 4,000
1859: Braille is introduced in America at the Missouri School for the Blind
1867: Missouri Woman's Suffrage Club, the first in the country, is established
1876: Adolphus Busch introduces Budweiser beer
1904: St. Louis hosts World's Fair and Summer Olympics
1965: Gateway Arch construction is completed
2006: St. Louis Cardinals win 10th World Series
St. Louis Genealogy Society
Researchers with St. Louis ancestors are fortunate to have an excellent home organization: the St. Louis Genealogical Society, which was founded in 1968 and goes by the acronym StLGS. The group's website is a great primer for St. Louis research.
StLGS member and former National Genealogical Society president Ann Carter Fleming wrote what Stamm calls the "gold standard" for research in the area: the St. Louis Family History Research Guide, a 274-page book outlining the area's genealogical riches from A to Z. It covers both St. Louis city and county, so it's the go-to reference for sorting out that source of confusion. The book gives a short history, looks at St. Louis neighborhoods, profiles research facilities and then launches into chapters on major record groups.
St. Louis Genealogy Records
In addition to a strong local genealogical society, you'll find some essential St. Louis records online. Others are available at multiple sites throughout the metropolitan area.
Vital records
Birth and death registers begin in 1850, but registration wasn't mandatory, so they don't cover everyone. Still, they're a good place to start and are available on microfilm at major repositories in the area.
Even after the state began requiring birth certificates in 1910, there's an index for births in the city from 1910 to 1929. Death certificates from 1910 until 50 years ago are digitized on the Missouri State Archives website.
Church records
St. Louis' Roman Catholic Archdiocese allowed the Family History Library to microfilm its parish registers, and the St. Louis County Library has a copy — a stark contrast from many other Catholic entities that have kept records practically inaccessible. StLGS published an index to early Catholic baptisms and marriages.
Many other denominations have genealogically useful records; Fleming's guide gives a good rundown of congregations with founding dates and likely record locations.
Land records
Missouri's early land grants utilized the metes and bounds system, but the township and range system was used while Missouri was a US territory (1812 to 1821) and when it became a state in 1821. The Works Projects Administration created a card file of early French and Spanish land grants. The federal government turned over much Missouri land to the state, which issued patents when private property owners bought that land; search a free database at the Missouri Archives website. The Recorder of Deeds holds regular land transactions after 1766.
Estate records
Pre-1900 probate files are digitized on the Missouri State Archives website. The city and county courthouses have later records; you'll find helpful indexes at the area's major repositories. StLGS' book of abstracts, St. Louis Probate Records, 1804-1876, includes probate information from the Spanish period (dating to 1766).
Cemeteries
Fleming's book lists nearly 500 St. Louis city and county cemeteries; StLGS also has a list on its website. StLGS volunteers are attempting to index all of the city and county's graveyards; the society sells CDs of the million-plus burials indexed so far.
Newspapers
The city now has one daily newspaper, the St. Louis Post-Dispatch, but the Globe (later, the Globe-Democrat) and the Star-Times are historically important. Other significant dailies and weeklies include the German Westliche-Post and African-American St. Louis Argus. The earliest newspapers, the Missouri Gazette and Missouri Republican, brought journalism to the city in 1808.
The Globe-Democrat morgue (clipping library) is one of the research gems at the Mercantile Library; you can search the collection at the library's website. Find obituary indexes for the Post-Dispatch and Argus on the St. Louis Public Library website.
City directories
Access paper copies at area repositories. Washington University is digitizing some 1800s directories on its website. Directories were sporadic in St. Louis until after the Civil War, and the first county directory wasn't published until 1893, though the county was still relatively sparsely populated at this time.
St. Louis Genealogy Resources
Websites
History of St. Louis Neighborhoods
Publications
History of Old Roads, Pioneers, and Early Communities of St. Louis County by Henry G. Hertich (Watchman-Advocate)
Plat Book of St. Louis County, Missouri, 1909 CD (St. Louis Genealogical Society)
Spanish and British Land Grants in Mississippi Territory, 1750-1784 by Clifford Neal Smith (Genealogical Publishing Co.)
St. Louis Family History Research Guide by Ann Carter Fleming (Fleming Publishing)
St. Louis, the Fourth City, 1764-1909, 3 volumes, by Walter B. Stevens (Clarke Publishing)
Archives and Organizations
Mercantile Library University of Missouri—St. Louis
St. Louis City Probate Court Office
St. Louis City Recorder of Deeds Archives Department
St. Louis Genealogical Society
St. Louis County Government Center
St. Louis County Library Special Collections
St. Louis County Vital Records Department
Records at a Glance
Birth records
Begin: 1850, but sporadic until 1910
Privacy restrictions: Only the individual named in the record, a guardian or other legal party can obtain state birth certificates.
Research tips: Pre-1910 records are on microfilm at major St. Louis repositories; search abstracts at the secretary of state's website. Order certificates from the state or through VitalChek (877-817-7363).
Censuses
Federal: 1830
State censuses: several 1700s Spanish censuses; a number of Missouri Territory and state censuses; as well as city enumerations during the 1840s through 1860s
Research tips: Only statistical abstracts remain for most territory and state censuses. The StLGS has a reconstructed 1776 St. Louis census on its website.
Death records
Begin: 1850, but sporadic until 1910
Privacy restrictions: all but the past 50 years open
Research tips: Death registers from 1850 to 1909 are available on microfilm at major St. Louis repositories and your local FamilySearch Center. Records from 1910 to the most recent available are online at the secretary of state's website.
Deeds
Begin: 1804
Research tips: The earliest deeds are in French or Spanish with English transcriptions. The city recorder retained county deeds until the 1876 city secession.
Marriage records
Begin: registers in 1804, licenses in 1881
Research tips: A marriage register was used from 1804 to 1881; a marriage license and application was required from 1881 to 1920. Those and marriage records since 1920 are available from the Recorder of Deeds. To locate a marriage after 1876, you might have to check city and county records.
St. Louis Fast Facts and Historic Sites
Settled: 1764
Incorporated: 1823
Nicknames: Gateway to the West, Mound City, STL
State: Missouri
County: independent city since 1876
Area: 66.2 square miles
State motto: Salus populi suprema lex esto (Latin for "The welfare of the people shall be the supreme law")
Primary historical ethnic groups: French, German, Irish, Italian, African-American, Bosnian
Primary historical industries: Fur trade, railroads, brewing, financial services
Famous residents: Maya Angelou, Yogi Berra, Chuck Berry, Phyllis Diller, Vincent Price, Marilyn vos Savant, T.S. Eliot, Kevin Kline
Historic Sites
Anheuser-Busch Brewery: Tour the world's largest brewery to see history merge with state-of-the-art technology, view extraordinary architecture and meet the Budweiser Clydesdales.
Basilica of St. Louis, King of France: Built in 1834, the first Roman Catholic cathedral west of the Mississippi has a museum containing artifacts and relics. A new cathedral in St. Louis was dedicated in 1914, but the basilica remains known as the "Old Cathedral" to this day.
Cahokia Mounds State Historic Site: Some 80 mounds remain from an American Indian city that was one of the largest in the world at its height of population around 1250. Now it's one of only 20 UNESCO World Heritage Sites in the United States.
Griot Museum of Black History and Culture: Named for a West African word for "village historians," this museum uses exhibits to fulfill its mission as "the keeper of the stories, culture and history of black people."
Missouri History Museum: Known for its exhibits and archival holdings, this museum is the place for quality programming, gallery tours and special events. Of course, there's also a gift shop, aptly named the Louisiana Purchase.
A version of this article appeared in the May 2011 issue of Family Tree Magazine.