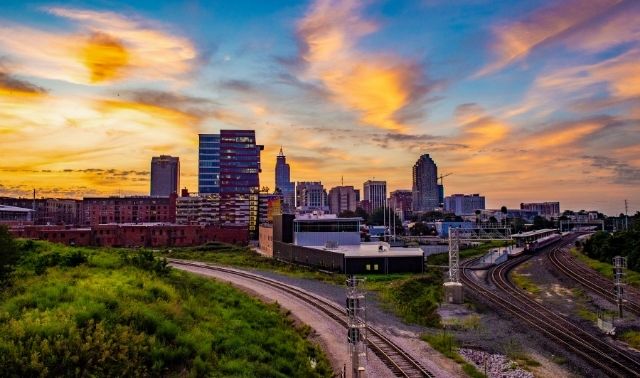 Like the stately trees that earned it the nickname City of Oaks, Raleigh, NC, embodies history and vitality with a dash of Southern charm. Thriving business and shopping venues, combined with a lively arts scene and its status as state capital, have propelled Raleigh into one of the fast-growing cities in America. But like the oaks, Raleigh doesn't take its roots for granted—which makes it a great place to search for yours.
Steeped in history
In 1792, when North Carolina sought a centrally located site for a capital, commissioners purchased 1,000 acres of land in Wake County from Joel Lane. They named the new city after Sir Walter Raleigh. Once the state house opened in 1794, businesses began to emerge on Fayetteville Street. Population gained momentum with the arrival of two railroads in the 1840s.

After North Carolina seceded from the Union in 1861, Confederate soldiers gathered in Raleigh for training. The city was spared destruction when Union Gen. John Logan held back his own troops at gunpoint after they received word of Lincoln's assassination.

Steady growth in retail, publishing and education—hallmarks of Raleigh's economy—followed the Civil War. The North Carolina College of Agriculture and Mechanical Arts, which evolved into NC State University, commenced classes in 1889.

By the early 1900s, Raleigh was known as a retail and cultural hub. The Southeast's first shopping center, Cameron Village, opened here in 1949. The creation of the Research Triangle Park near Raleigh, Durham and Chapel Hill in 1959 brought new technology and job opportunities. Today, 20 years after its bicentennial, Raleigh ranks as North Carolina's second-largest city.
Raleigh Genealogy Records
Raleigh researchers benefit from easy access to both state and county repositories. Top resources include the State Archives of North Carolina, the Government & Heritage Library (GHL) at the State Library of North Carolina, the Wake County Register of Deeds (ROD) and the Wake County Clerk of Court. These records will play a major role in your search:
 
Birth and death records: North Carolina began keeping birth and death records in 1913. Find indexes to records, as well as images of death certificates from 1913 to 1930, at FamilySearch.org. Images of death certificates from 1909 to 1975, in addition to birth and death indexes, are available at Ancestry.com. For quick access, search the Card Catalog (find the link under the Search tab) for the keyword North Carolina.
 
You can order records from the Wake County ROD. Although certified copies are restricted, anyone can get uncertified copies. On the online application form, indicate you want uncertified copies for genealogy research and check the appropriate box in Section C. Records of births from 1913 and deaths from 1930 also are available from North Carolina Vital Records.
 
The city of Raleigh kept some pre-1913 vital records. The Wake County Genealogical Society has published Raleigh 1887-to-1895 death registers in its newsletter, Wake Treasures. Copies can be found at the State Library and other area libraries, as well as the Allen County (Indiana) Public Library through PERSI.
 
Marriage records: Prior to 1868, North Carolina couples were permitted to marry either by publishing marriage banns (notices) or posting a bond. Only bonds had to be recorded. The state archives has collected surviving marriage bonds from 1741 to 1868. Use the corresponding index on Ancestry.com to find the record, then request a copy from the state archives. FHL microfilm copies of the bonds are being digitized, but Wake County images aren't yet online.
 
Starting in 1868, county RODs began issuing marriage licenses with accompanying certificates. Obtain copies in person or by mail. Both FamilySearch.org and Ancestry.com offer databases of North Carolina marriages, with some images. In addition, North Carolina Vital Records has certificates from 1962 to the present.
 
Censuses: Extant federal census records from 1790 to 1940 are available online at Ancestry.com, findmypast.com, MyHeritage and other sites. The 1810, 1820 and 1890 US censuses for Wake County are lost. North Carolina experimented briefly with state censuses, but no records for Wake County survive.
 
City directories: Head to the state library for the most complete collection of Raleigh city directories. Researching from afar? A number of digitized, searchable directories as early as 1883 are available online at Internet Archive. Just enter Raleigh directories in the Search box to find them.
 
Deeds: Land in North Carolina is measured by metes and bounds under the state land system. Find original deed records from 1785-present, as well as indexes to grantors and grantees, at the Wake County ROD. You can request copies by mail using an online form. Note that an 1832 fire destroyed some early deed books.
 
The FHL has microfilmed deed records from 1785 to 1936, in addition to North Carolina warrants and surveys from 1735 to 1957. Microfilmed records also are available at the state archives.
 
Probate records: North Carolina wills and estate settlements have been recorded at the county level since 1760. FamilySearch.org has digitized many Wake County records in its collection North Carolina Probate Records, 1735-1970. These include wills, inventories, administration bonds, dowers and sales. Most books, ranging from 1770 to the 1950s, contain an index, simplifying the browsing process. Find original records at the Wake County Clerk of Court, Estates Division. Microfilmed records are available at the State Archives, which also has a statewide collection of pre-1760 wills.
 
Newspapers: North Carolina Family Records Online offers a collection of newspaper marriage and death notices, including six volumes of entries from the Raleigh Register and North Carolina State Gazette from 1799 to 1952. A variety of Raleigh papers are digitized at the Library of Congress' free Chronicling America, and on subscription sites GenealogyBank and Newspaper­Archive.
 
In Raleigh, see the collection of newspapers at the State Library, using the index on the GHL website as a guide.
Cemetery records: Raleigh's oldest burial ground, City Cemetery, was established in 1798. Raleigh City Cemeteries Preservation offers interment databases for City Cemetery, Mt. Hope Cemetery and O'Rorke Cemetery. Transcribed gravestone inscriptions for many Raleigh-area cemeteries are on the Wake County NCGenWeb website. Cemetery buffs visiting the city may want to head to the scenic grounds of Historic Oakwood Cemetery.
North Carolina Genealogy Resources
Websites
• Genealogy Research/State Library of North Carolina
• North Carolina Digital Collections
• Online North Carolina Death Indexes
• Wake County NCGenWeb
• Wake County Genealogical Society
• Wake County Genealogy
• Wake County, North Carolina Research Wiki
Publications
• Carolina Families: A Bibliography of Books about North and South Carolina Families by Donald M. Hehir (Heritage Books)
• NGS Research in the States Series: North Carolina by Jeffrey L. Haines (National Genealogical Society)
• North Carolina Research: Genealogy and Local History by Helen F. M. Leary (North Carolina Genealogical Society)
• Raleigh: City of Oaks by James Vickers (American Historical Press)
Archives & Organizations
• North Carolina Genealogical Society
Box 30815, Raleigh, NC 27601
• Olivia Raney Local History Library
4016 Carya Drive, Raleigh, NC 27601, (919) 250-1196
• Raleigh FamilySearch Center
5060 Six Forks Road, Raleigh, NC 27609, (919) 783-7752
• State Archives of North Carolina
109 E. Jones St., Raleigh, NC 27601, (919) 807-7310
• State Library of North Carolina
109 E. Jones St., Raleigh, NC, 27601, (919) 807-7460
• Wake County Clerk of Court
316 Fayetteville St., Box 351, Raleigh, NC 27602, (919) 792-4000
• Wake County Historical Society
Box 2, Raleigh, NC 27602
• Wake County Register of Deeds
421 Fayetteville St., Suite 300, Raleigh, NC 27601, (919) 856-5460
Fast Facts
Settled: 1792
Chartered: Jan. 21, 1795
Nickname: City of Oaks
State: North Carolina
County: Wake (1771)
County seat: Raleigh
Parent counties: None; original county
Area: 144 square miles
Primary historical ethnic groups: English, German, Irish, African-American, American Indian
Primary historical industries: Government, education, textiles, retail, publishing
Famous residents: Clay Aiken, John Ivey Jr., President Andrew Johnson, Emily Procter, David Sedaris, Webb Simpson, Evan Rachel Wood, Kristi Yamaguchi

Population
1800: 669
1870: 7,790
1950: 65,679
Current: 416,468

Tip: The North Carolina State Library and Archives has posted several online genealogy databases.
Records at a Glance
Birth and Death Records
Begin: 1913
Privacy regulations: None for uncertified copies
Research tips: Request copies from Wake County Register of Deeds (ROD) using the online Birth or Death Certificate Application, indicating "Uncertified" in Section C. Use North Carolina birth and death databases on FamilySearch.org and Ancestry.com.

Cemeteries
Begin: 1798
Research tips: Start with the gravestone databases on Wake County NCGenWeb and Raleigh City Cemeteries Preservation.

City Directories
• Begin: 1880
• Research tips: Check the Raleigh directories on Internet Archive, or head to the state library.

Deeds
• Begin: 1785
• Research tips: Deeds from 1785 to 1936 are on microfilm at the state archives and FHL. Request copies from
original record books at Wake County ROD using a form online.

Marriage Records
• Begin: 1868
• Research tips: Search online indexes at FamilySearch.org and Ancestry.com first, as their collections include some earlier marriage bonds. Order post-1868 certificates from Wake County ROD.

Probate Records
• Begin: 1771
• Research tips: Browse through digitized probate records on FamilySearch.org, or find original books at the Wake County Clerk of Court.

Timeline
1771: Wake County created
1782: North Carolina becomes 12th US state
1792: General assembly selects site for capital city named Raleigh
1831: Fire destroys first statehouse
1840: Raleigh & Gaston Railroad begins operation with 86 miles of track
1861: Confederate troops drawn to Raleigh training grounds
1865: Shaw University, first coed college for African-Americans, opens
1880: The News & Observer consolidated as city's daily newspaper
1889: North Carolina State University holds initial classes
1929: Curtiss-Wright Flying Field airport opens
1959: Research Triangle Park created
1988: A category F4 tornado causes $75 million in damages
Top 5 Historic Sites
City Market
S. Martin Street near Moore Square, Raleigh, NC 27601, (919) 821-8023
Wander the cobblestone streets three blocks from the COR Museum to find a lively 1914 market with Old World ambience and unique shopping, food purveyors and entertainment.
2. City of Raleigh Museum
220 Fayetteville St., Raleigh, NC 27601, (919) 996-2220
In a historic building in the center of downtown, see exhibits on Raleigh's early days, civil rights and the evolution of media. Interactive tours are available.
3. Historic Yates Mill County Park
4620 Lake Wheeler Road, Raleigh, NC 27603, (919) 856-6675
Stroll this serene waterside park with walking trails, an 18th century gristmill and waterfall, and a kid-friendly history center. Mill tours are offered weekends seasonally.
4. North Carolina Museum of History
5 E. Edenton St., Raleigh, NC 27601, (919) 807-7850
This state museum features a variety of exhibits on life in North Carolina from prehistory through the 20th century. Current displays include North Carolina in the Civil War, vintage tourism memorabilia and Civil War-era freedom documents. On the website, click History Highlights for timelines of North Carolina history.
5. State Capitol
1 E. Edenton St., Raleigh, NC 27601, (919) 733-4994
Enjoy a self-guided or audio tour of the Greek Revival-style capitol building, completed in 1840, with its stately grounds and "Capitol 1863" Civil War exhibit. Free guided tours are offered on Saturdays.
Related Resources
• North Carolina Genealogy Crash Course video class
• North Carolina State Research Guide download
• State Research Guides, 2nd edition CD or e-book