Sign up for the Family Tree Newsletter Plus, you'll receive our 10 Essential Genealogy Research Forms PDF as a special thank you!
Get Your Free Genealogy Forms
"*" indicates required fields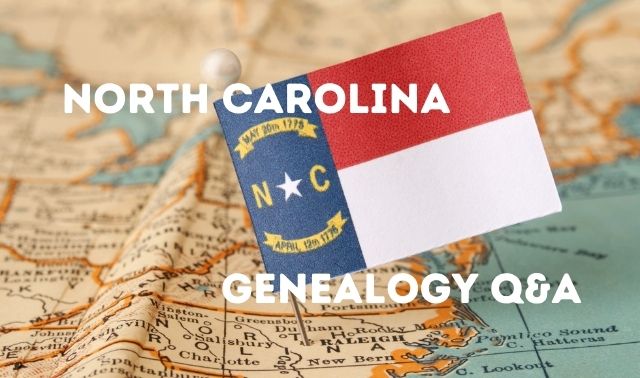 How can I find my North Carolina ancestors from the early 1800s?
Q: I've hit a brick wall with my North Carolina ancestors in the early 1800s. How can I find clues to their parentage?
Identifying relationships can be tricky before modern vital records and censuses that named everyone in the household. Ideally, you'd be able to find a will or other estate document listing your known ancestor as the child of the testator, or deceased. Ancestry has North Carolina wills and probate records, 1665-1998. The Family History Library (FHL) has microfilmed abstracts of many North Carolina wills, and FamilySearch has digitized estate files, 1663-1979.
You also can find clues to familial relationships in land records. These records are less likely to explicitly state two individuals' parent/child relationship, but they can suggest candidates to investigate. The FHL has microfilmed North Carolina land records, and Ancestry has land grant files, 1693 to 1960. The latter site's civil action court papers, 1712 to 1970 might offer clues in a similar fashion.
Don't overlook North Carolina marriage records, which date to colonial days. FamilySearch has two large collections of county marriages, covering 1762 to 1979, and 1759 to 1979, as well as a smaller database of civil marriages from 1763 to 1868. Ancestry has a marriage database, 1741 to 2011. Even if the marriage record doesn't list the couple's parents, it might contain clues such as the names of bondsmen, who were often siblings or in-laws. You might get truly lucky and find a bondsman with the same last name as the groom, and listed as a "Jr." If you can prove the groom and the bondsman are brothers, you then also have the groom's father.
Answer provided by David A. Fryxell
How can I find my North Carolina ancestors prior to the first US census?
Q: I've been searching for the parents of an ancestor who's listed in the 1790 census in Rowan County, NC. How can I look for him and his parents before this first US census?
A: Colonial censuses, tax lists, wills, estate files and land records can sometimes help you push back in time before the 1790 beginning of the federal census. North Carolina conducted a state census between 1784 and 1787, which is available on Ancestry.com. The site also has two digitized volumes of North Carolina Taxpayers by Clarence E. Ratcliff, a book transcribing these lists.
Also search an index to North Carolina estate files dating back to 1663 on FamilySearch.org. Results are linked to images of the originals, which includes more than 200 pre-1790 probate records from Rowan County. Search, too, for published abstracts of North Carolina wills, such as those by J. Bryan Grimes. Originals of pre-1760 wills are at the state archives, while later wills are in county offices.
Land records survive from as far back as 1679 and can be found at the state archives. FamilySearch's Family History Library has a partial index to these records on microfilm.   You can search the State Library of North Carolina's Family Records Collection, which includes family Bibles that might help you find your ancestor's parents, online.  
Answer provided by David A. Fryxell, from the May/June 2015 issue of Family Tree Magazine