Sign up for the Family Tree Newsletter Plus, you'll receive our 10 Essential Genealogy Research Forms PDF as a special thank you!
Get Your Free Genealogy Forms
"*" indicates required fields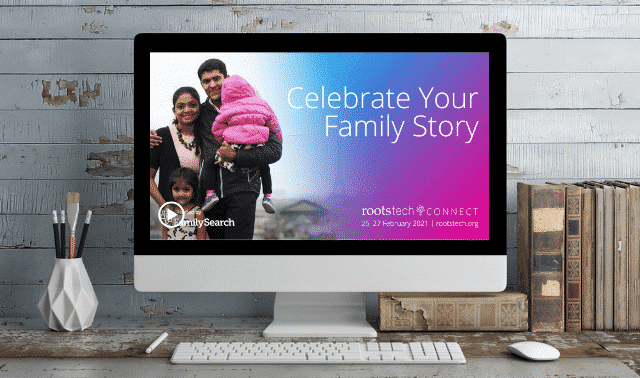 RootsTech is back and bigger than ever! The world's largest genealogy and technology conference was virtual-only during 2021 and 2022 due to the COVID-19 pandemic.
In 2023, RootsTech is a hybrid event that offers a hefty load of content and activities for both in-person and virtual participants.
While the hybrid format allows people everywhere to enjoy RootsTech, the sheer amount of content can make it hard to find what you want. Here we'll explain how to participate in the virtual aspect of this year's RootsTech conference—namely how to register and search for sessions.
What Does RootsTech Cost?
It is completely free to participate in the virtual part of this year's RootsTech conference. Attending RootsTech in-person costs $98, and this price includes access to the full virtual experience as well.
RootsTech Vocab
General Sessions occur at 11am MT on the main stage in the Salt Palace. There is one General Session each day of the conference, each featuring a celebrity keynote speaker. These General Sessions and other main stage content will be streamed online. You can see the lineup and watch here.
Keynotes are another term used to refer to the General Sessions in which a celebrity guest delivers a speech. In 2023, in addition to the in-person keynotes, there will be several Virtual Exclusive Keynotes.
Class Sessions (or simply "Sessions") are hour-long classes held throughout the day at the Salt Palace. According to the RootsTech website, some (but not all) of the class sessions taught in-person will be made available online.
On-Demand Sessions are class sessions that are available online in what's called the RootsTech On-Demand Library (see below).
The On-Demand Library houses all of the content that RootsTech has made available for free online. It includes over 1,500 sessions from years past, going back to 2019. If you want to know what in-person sessions from this year's conference will be added to the On-Demand Library, use the filters on the left to select 2023. Per the conference FAQs, RootsTech will be live-streaming 2-3 sessions each hour as well as four live webinars each hour during conference time.
The Expo Hall is the large room in the event center where all the exhibitors and sponsors will have their booths. RootsTech also offers a virtual exhibit hall where you can visit the booths online.
How to Find and Register for Sessions
Keep in mind that this process is different for online attendees and in-person attendees. If you're planning on just attending virtually, here's what you need to do:
Go to RootsTech home page
Click on Register for Virtual Event and fill in the information
Click "Explore All the Sessions"
Use the filters and search box to find sessions
Click the plus symbol in the upper right-hand corner to add sessions to your playlist
Access your playlist by clicking the play icon in the top right menu bar
Keep in mind that many exhibitors will be giving mini-sessions and classes in their booths, so be sure to check out the virtual exhibit hall and visit the booths that are interesting to you.
There's a lot to explore, it can be easily overwhelming! We've suggested some sessions below. According to the RootsTech FAQ, the classes and keynotes will be available for three years, so there's time to take it all in!
Our Session Picks
How to Milk a Source for All It's Worth by Amy Johnson Crow
Investigative Genetic Genealogy: A Conversation with Industry Leaders featuring CeCe Moore, Mitch Morrissey and Mckell Keeney
Follow the Money! Records of the Record Makers by Judy Russell
Considering Age When Researching Your Ancestors by Davina Wilcock
10 Things a Genealogist Should Do Before Leaving a Library or Archives by Melissa Barker
Help! My Ancestors Were Related to Each Other by Diahan Southard
Should I take a DNA test elsewhere? Or at all? by Diahan Southard
Related Reads