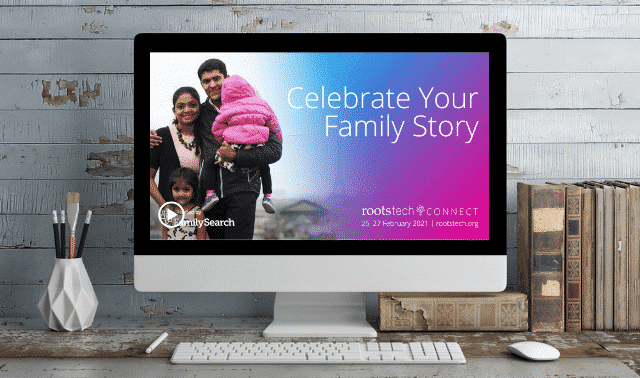 For the first time ever, FamilySearch's genealogy mega-conference RootsTech is completely online and completely free! RootsTech Connect features hundreds of both live and recorded sessions from a wide variety of topics. Check out both the "main stage" streaming schedule as well as the list of available classes to plan you own RootsTech Connect viewing schedule. Once you register, you'll have access to the RootsTech Connect website, which will feature video on-demand sessions (similar to how Netflix looks and works).
In addition to entertaining and informative sessions, RootsTech Connect will feature a virtual Expo Hall. Here, you can find products and services from your favorite genealogy and family history companies—including Family Tree Magazine! Finally, don't miss the virtual cultural celebrations, games and activities for youth of all ages. This is a true family event you don't want to miss!
For more insight into RootsTech Connect, check out our interview with Jen Allen from FamilySearch on the Family Tree Podcast.
DNA Sessions
4 Next Steps for Your DNA
Diahan Southard
Before You Test: DNA Basics You Need to Know
Drew Smith
DNA Brick Walls
Shannon Combs-Bennett
Family Tree Magazine Related Articles
Family History Storytelling Sessions
The Basics of Telling Your Family Stories
Shannon Combs-Bennett
Exploring Your Culinary Heritage
Lisa Lisson
Storytelling for Kids
Angie Lucas, Brittany Beattie and Wendy Smedley
Family Tree Magazine Related Articles
Genealogy Website Sessions
Ancestry® Content Updates
Echo Odunze
FamilySearch Facts
Paul Nauta
MyHeritage PedigreeMap™: An Interactive Map of Your Family History
Daniel Horowitz
Family Tree Magazine Related Articles
Immigration Sessions
Using the Family Handprint to Trace Immigrant Ancestors
David Ouimette
Immigration and the Homestead Act: Finding Your Ancestors
Amber Kirkendall and Jonathan Fairchild
Three Immigration Records You Need to Look For
Amie Tennant
Family Tree Magazine Related Articles
Genealogy Records Sessions
Analyzing Probate Records: Finding Our Ancestor's Stories
Cheri Hudson Passey
How City Directories Can Reveal Your Family History
Sunny Jane Morton
Prepping for the 1950 United States Federal Census
Josh Harman
Family Tree Magazine Related Articles
Organization Sessions
Creating YOUR Organizational System
Savannah Larson
How to Organize Digital Family Videos
Tom M. Perry
Unlocking the Shoebox: Digitizing, Organizing, and Identifying Family
Photos
Maureen Taylor, Christopher Desmond and Nancy Desmond
Research Strategies Sessions
Crowdsourcing Your Brick Walls
Drew Smith
The Genealogy Research Process: The WANDER Method
Amy Johnson Crow
Source Citations Are Easy
Shannon Combs-Bennett